John William "Will" Ferrell (born July 16, 1967) is an American actor, comedian, producer, and writer. He appears in "Truth or Square" playing himself.
Biography
After graduating with a B.A. degree in sports information in 1990, he knew he did not want to do broadcasting. He took up a job as a hotel valet where, on his second day, he tore a baggage rack off the top of a van by trying to drive it under a low beam. He also worked as a teller at Wells Fargo, but came up short $300 the first day and $280 the second; he was not stealing the money, but was just careless and error-prone. In 1991, encouraged by his mother to pursue something he liked, Ferrell moved to Los Angeles. He successfully auditioned for the comedy group The Groundlings where he spent time developing his improvisation skills.
Ferrell has acted in many movies and TV shows with bigger roles, such as playing Buddy in the movie Elf and voicing the titular character in Megamind. He has also made many appearances in Saturday Night Live in the past.
Credits
Trivia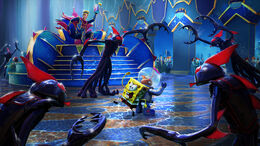 External links