"It's Squidward, silly!"

This article is in need of one or more better quality images. Please help Encyclopedia SpongeBobia by uploading a better image or editing the current image.
Please remove this message when finished.
Where's Gary? is a SpongeBob SquarePants DVD that contains one episode from season 3 and five episodes from season 4. It was released on November 15, 2005 and is based on the episode "Have You Seen This Snail?"
Episodes
Special features
Trivia
The back cover of this DVD contains pictures from the following episodes:
This DVD contains previews for various shows. These include Barnyard, Transformers: Cybertron DVDs and VHS tapes, older SpongeBob DVDs and VHS tapes, Rugrats Tales from the Crib: Snow White, and Lights, Camera, Pants!
 The Squidward's neck error from  "The Lost Mattress" is fixed on this DVD.
This DVD was re-released on the Triple Pack 4 DVD along with SpongeBob Goes Prehistoric and Home Sweet Pineapple on June 2, 2015.
On the international covers, SpongeBob seems to have already found Gary. This was carried over into Triple Pack 4.
The song "Where's Gary?" is not on this DVD.
On the Turkish release, there are five episodes. The disc does not include "The Great Snail Race."
This is the first DVD to contain a special episode from season 4.
This is the last DVD to be released in 2005.
"The Great Snail Race" is the only episode included that's not from season 4.
"The Great Snail Race" and "Have You Seen This Snail" are the only episodes in this DVD where Gary makes an appearance in. He plays a major role in both of these episodes.
Errors
Even though "Skill Crane" is 64a and "Good Neighbors" is 64b, this DVD has the opposite (64b and 64a respectively). This was fixed on the Turkish release.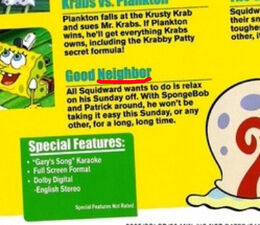 On the back of the DVD, "Good Neighbors" is listed as "Good Neighbor," forgetting the "S" at the end of the title.
On this DVD, "Skill Crane" has the SpongeBob SquarePants Theme Song at the beginning. This is probably due to the fact that the episode is not on the VHS version. This also happens on the Home Sweet Pineapple DVD for the episode "Culture Shock" and the SpongeBob's Truth or Square DVD for the episode "Porous Pockets". This also happens on The Fairly OddParents DVDs such as "The Big Superhero Wish" on the School's Out: The Musical DVD, "Spaced Out" on the Channel Chasers DVD, "Truth or Consequences" on the Fairy Idol DVD, and "Catman Meets the Crimson Chin" on the Scary GodParents DVD.
In the DVD credits The episode "Good Neighbors" credits end with a Nickelodeon 2005 bumper, but after that "Skill Crane" and "The Great Snail Race" credits roll and end with a second 2005 Nickelodeon Bumper
The DVD states that it is 88 minutes, but there is only 1 double length episode and 5 regular episodes which would only be at least 77 minutes long, but with the 2 theme songs and credits the DVD would be 83 minutes
Alternate covers
DVD Menu
Video