This is the page about
Where's Gary? (DVD)
. If you were looking for the article about
the episode this DVD is based on
, then see
Have You Seen This Snail?
.
Where's Gary? is a SpongeBob SquarePants DVD that contains one episode from season 3 and five episodes from season 4. It was released on November 15, 2005 and is based on the episode "Have You Seen This Snail?"
Episodes
Special features
Trivia
This DVD contains previews for various shows. These include Barnyard, Transformers: Cybertron DVDs and VHS tapes, older SpongeBob DVDs and VHS tapes, Rugrats Tales from the Crib: Snow White, and Lights, Camera, Pants!
"The Great Snail Race" is the only episode on this DVD that is not from season 4.
This DVD was re-released on the Triple Pack 4 DVD along with SpongeBob Goes Prehistoric and Home Sweet Pineapple on June 2, 2015.
On the international covers, SpongeBob seems to have already found Gary.
The song "Where's Gary?" is not on this DVD.
On the Turkish release, there are five episodes. The disc does not include "The Great Snail Race."
This is the first DVD to contain a special episode from season 4.
Errors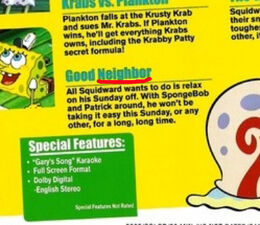 On the back of the DVD, "Good Neighbors" is listed as "Good Neighbor," forgetting the "S" at the end of the title.
Alternate covers
Community content is available under
CC-BY-SA
unless otherwise noted.