This is the page about
Whale of a Birthday (DVD)
. If you were looking for the article about
the episode
, then see
Whale of a Birthday
.
Whale of a Birthday is a SpongeBob SquarePants DVD that was released on October 31, 2006 and contains seven episodes from season 4. The DVD title is based on the episode of the same name.
Cover
The front cover shows SpongeBob holding Mr. Krabs' credit card, Mr. Krabs holding a bill, and Pearl in a mountain of presents, with it stating what the DVD name is and the series' logo.
Episodes
Bonus features
Your Brain on SpongeBob clips
Other
DVD-Rom game for Nick Arcade
Reception
Nicholas Breard of DVDSeries.net, in a review of this DVD, called it "A product quickly done well, but no more. Just history to find the delusions of SpongeBob and his friends for nearly 90 minutes."[2]
Trivia
On the international covers, the title font color is changed to green.
On the international and VCD covers, Patrick and Gary are seen, both of which are not on the DVD North American cover, nor are they in the "Whale of a Birthday" episode.
This DVD also contains short trailers for various Paramount Pictures DVDs. These include older SpongeBob DVDs, Nick Picks DVDs, Avatar: The Last Airbender season 1 DVDs, Rugrats Tales from the Crib: Three Jack's and a Beanstalk, and G.I. Joe Sigma 6: First Strike.
"All That Glitters" comes first before "Whale of a Birthday" on this DVD.
"Wigstruck and "That's No Lady" were released on this DVD before premiering on American TV.
Despite the clips in the "Your Brain on SpongeBob" section, "Jellyfishing," "Suds," "SB-129," 'F.U.N.," and "The Bully" are all not on the DVD.
This is the last DVD to only contain season 4 episodes.
This DVD was released on Halloween, but wasn't at all Halloween-related.
This DVD was released on Brian Doyle-Murray's 64th birthday and four years after Nickelodeon Party Blast was released on Windows in North America.
This DVD was re-released in the Triple Pack 1 DVD along with SpongeBob's Truth or Square and SpongeBob's WhoBob WhatPants? on March 13, 2012.
Errors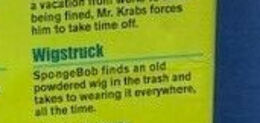 The DVD description for "Wigstruck" shown on the back cover states that SpongeBob found a wig in the trash. But in the actual episode, it was flying through the air smacking him in the face.
Alternate covers
References
Community content is available under
CC-BY-SA
unless otherwise noted.