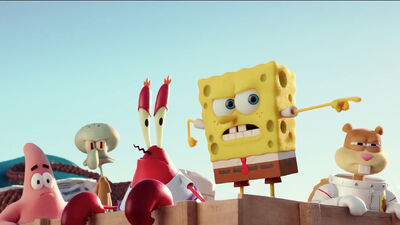 It's just under two years until The SpongeBob Movie: It's a Wonderful Sponge hits the big screen, but we have some new details about the plot and animation style of the movie.
An article by Cartoon Brew documents the president of Paramount Animation, Mireille Soria, talking about the movie.
There, she revealed the new movie would be a "nice homage to the classic movie" with similarities to It's a Wonderful Life. Importantly, the movie will be an origin story detailing "how SpongeBob met the rest of the Bikini Bottom gang at summer camp." She also revealed "The film's opening will take place at Camp Coral when all of our favorite characters meet for the first time."
Furthermore, the movie is going to use full-CG characters and environments by Mikros Image, with hybrid sequences in the real world as The SpongeBob Movie: Sponge Out of Water did. The score will be completed by the highly regarded Hans Zimmer! Other music from yet-to-be-announced "big names" will also be included.
What do you guys think of this news? Leave your thoughts below!