Ahoy-er-er! Today I will review the first season of SpongeBob SquarePants!
...
What do you mean I've already done this twice?
Eh, whatever! It doesn't matter because this review is a lot different from the other two I made. First, I have my episode ratings listed. Then, I will rank the season's episodes worst to best, with mini reviews for each episode. Finally, there is a conclusion and overall rating for the season. Note that I am using a very simple rating scale:
Amazing
Great
Good
Meh
Bad
Terrible

BIG NOTE: This review is just MY OPINION. It is not fact in any way. It's fine if you disagree- in fact I like hearing other peoples' perspectives. But please don't start a flame war in the comments- I don't like unfriendly arguments. Also, some of these opinions might be cursed but I will try to explain them all. If you want a larger, more explanatory review of a specific episode, you may ask in the comments.
Season 1 Stats
19 Amazing episodes
9 Great episodes
7 Good episodes
4 Meh episodes
2 Bad episodes
0 Terrible episodes

Both the mean and median ratings for Season 1 are Great, so this looks like a Great season. Season 1 definitely fits that description for me, but first I need to cover each episode in detail.
Time to rank this season from worst to best!
Terrible episodes
There were actually no episodes I really hated in this season. Awesome!
Bad episodes
I didn't like these two a whole lot...
#41: I Was a Teenage Gary

You might be thinking: oh you're just a stupid SpongeBoomer! Why else would you have this as the worst episode of season one? Well... this episode... I don't really get what it was going for. I kind of like the beginning (it has a little bit of charm to it) but the rest of it just feels so poorly paced and like it can't decide on a plot. I don't like seeing poor Gary sick like that, and that whole scene with the doctor was just lame. Why would he not be able to inject the snail plasma? I get that it was a joke, but it ends up causing the entire rest of the episode, and it's just stupid IMO. Of course that turns out to be pointless because all Gary needed was water. And the second half of the episode is SpongeBob disturbingly turning into a snail and then just harassing Squidward... for some reason. This could've been a really good horror episode if they bothered to clean up the pacing and give it a consistent plot. Oh, and the jokes aren't much to write home about either. It's not a terrible episode, but I do think it is a pretty bad one.
#40: Jellyfishing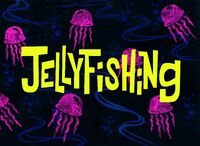 Out of all of the season 1 episodes that introduce new concepts to the show, this is by far the worst one. I just find it so boring and repetitive, and the treatment that Squidward gets isn't justified nor is it funny. It takes over half of the episode before they actually start jellyfishing, and most of that is full of unfunny gags that go on for too long. The actual jellyfishing scenes are dragged out too. There were a few funny scenes, such as the opening where SpongeBob and Patrick get ready to go jellyfishing, but not many. This was overall just an extremely boring episode for me, but I respect your opinion if you like it.
Meh episodes
Mixed episodes, boring episodes, middle of the road episodes... mehhhhhhh.
#39: MuscleBob BuffPants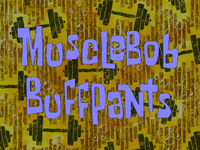 You can apply most of what I said about Jellyfishing to this episode. This one's a bit funnier though, so it managed to get a low meh rank. The concept is cool, but I wish they did more with SpongeBob and his fake muscles. It's obvious that SpongeBob is going to lose the competition before it even starts. It's a rare case of foreshadowing being used in a bad way, because it just makes the entire second half of the episode extremely predictable and boring. Also, SpongeBob really should be able to lift a CUP. He can't be that weak. I know it's played for laughs but it's honestly just unfunny and badly executed, like most of this episode.
#38: Jellyfish Jam

Well, this pick is going to get my behind mounted on the wall for sure. Yeah, I don't care for Jellyfish Jam. Don't get me wrong, I like Stadium Rave (mostly just because of the visuals though) but the rest of this episode is really boring and kinda cruel. It's just SpongeBob trying to get jellyfish out of his house, but they're being really selfish and it isn't funny. There are things that bring this episode up to a higher meh though. I found the beginning with the first jellyfish pretty amusing, all of Squidward's scenes were hilarious and probably the best part of the episode, and the ending song while a bit slow was quite creative. I know some people really love this episode, but I just found it okay.
#37: Hooky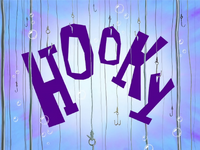 I feel so bad for this episode. Most of it was actually really good. Like in most of season one, Mr. Krabs actually cares for SpongeBob and will do anything to keep him safe. When Mr. Krabs gets on to SpongeBob about the hooks, it's justified because SpongeBob didn't listen to him and did something dangerous. However, the ending is so confusing and unfair that it brought this episode down to a high meh. I get why Krabs would have hooked SpongeBob to get him to realize how dangerous the hooks were, but he went a bit too far. He didn't need to be treated so cruelly. I get why he did it, but I didn't find it funny- I just felt bad for SpongeBob. This episode is really close to good, but it didn't quite get there for me.
#36: Fools in April

I really like the first half of the episode- SpongeBob's pranks were actually funny, and Squidward gets him back in a really clever (yet cruel) way. However, the entire second half of the episode is basically Squidward struggling to say sorry to SpongeBob, and it doesn't even matter in the end because SpongeBob gets over it without hearing what Squidward said. The jokes here aren't very funny either compared to the first half. This is a really high meh, mostly because the beginning is really blessed (with stuff like extreme thirst or the ice cube scene) but I can't call it good because the second half is really subpar.
Good episodes
On to episodes I actually liked (though not a whole lot).
#35: Nature Pants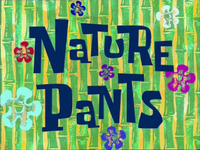 Most consider this a meh episode, but I found this one to barely scratch the border into good territory. This isn't really a great episode by any means, but it definitely managed to entertain me. It's a bit out of character for SpongeBob to not like his job, but this is the first season, and he was still new to his job. He isn't addicted to it like he is in the later seasons. So honestly I don't find it too much of a problem. Anyways, the animation in this episode is AMAZING. The Jellyfish Fields environment looks so real and colorful because of the cel animation, and honestly it helps my sympathize with SpongeBob more. There's some pretty funny jokes here too, such as the itchy gag, "I'll give him 11 minutes", and Patrick's freakout over losing his friend. The reason I don't rate it higher is because some scenes drag on too long, but this is a pretty good episode nonetheless.
#34: Sandy's Rocket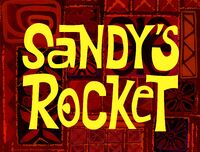 A space themed episode sounds really cool, especially this early on in the show. The first half of this episode is really funny- I loved the sequences of SpongeBob and Patrick fiddling around with the rocket and talking about aliens. The second half is honestly really funny too- I just think the episode could've been better if they actually took a trip to the moon (although this was done in a much later episode). Not sure why this episode actually gets hated though- it's not hilarious all the way through but it has some gags that made me laugh my pants off.
#33: The Chaperone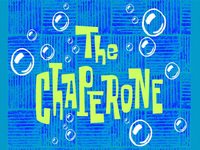 This is a pretty nice episode. It has an interesting concept that hasn't been done on the show any other time, and I really like SpongeBob and Pearl's characters. There's some cool gags like SpongeBob's extra tall legs, the whack, and the whole "doing the sponge" part. The only reason this isn't higher is because some scenes aren't all that entertaining (the beginning mostly) and the ending dummy gag was kind of stupid and confusing.
#32: Neptune's Spatula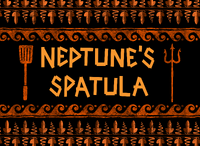 I used to think this was a fairly average episode, but now I like it a lot more. It's hard to put my finger on what I liked about it, too. It's pretty obvious that this episode actually has many scenes that drag on for too long, but for some reason this episode was still able to entertain me. That's what I find difficult about forming opinions for pre-movie episodes- I often enjoy them without knowing why, or being aware of flaws in the episode. I guess I really liked how creative the plot was, and some parts made me laugh too. Overall a solid episode.
#31: The Paper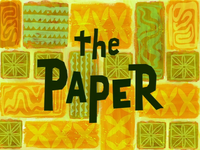 This episode is a bit overrated IMO. It's definitely a good episode, in fact close to great, but I don't find it amazing or anything. Generally I love the episodes that take simple concepts and turn them into really humorous episodes. There's definitely a lot of gags here, but I didn't really find them to be on par with the humor of episodes like Naughty Nautical Neighbors or Bubblestand. The thing I enjoyed most about this one is how creative it actually gets with just a simple piece of paper. I could understand finding this episode amazing based on the creativity alone. However, I just prefer other episodes within this season as to me they have more interesting plots and wittier humor.
#30: Boating School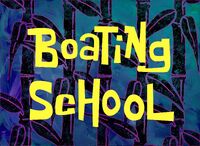 Ah, the very first boating school episode. Again, I only ranked this one so low because I think other episodes are funnier, but this one did a really great job with introducing the boating school environment, and I think it has one of the best plots out of all the boating school episodes. I wish Mrs. Puff always remained a teacher character like she is here, and not just a hater of SpongeBob like she is in some later episodes... anyways, this is a swell episode that has the usual amount of creativity for season one. And... the introduction of... M Y L E G !
#29: Reef Blower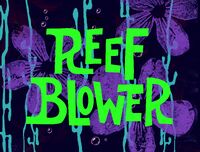 The first episode after the pilot is surprisingly one of the most unique episodes in the show's entire run. It's a 2 minute short, and it also has absolutely no dialogue. You would think that this episode would be quite boring because of that, but it actually takes advantage of the short format really well through the use of visual comedy. The whole premise is that SpongeBob wants to get a shell off his yard. Squidward gets it out of his by simply kicking it into SpongeBob's yard, but SpongeBob, being basically the exact opposite of Squidward, has to try to get it off in a more elaborate manner. This is where this episode's comedy comes from- SpongeBob tries to use a reef blower to blow the shell away, but it ends up just making the situation worse, and SpongeBob tries to resolve these problems in increasingly more exaggerated and hilarious ways. I especially love how SpongeBob literally has to fix the reef blower, and how he ends up sucking up the ENTIRE OCEAN after doing so. Then, his yard is a mess afterward, but he doesn't care because the shell is gone, and of course it lands on top of Squidward in the end. Although I prefer more dialogue based episodes, this episode's use of visuals is remarkable. A solid episode.
Great episodes
I enjoyed these a bit more than the good episodes- they're more thoroughly entertaining.
#28: Home Sweet Pineapple

This episode wouldn't be good if it didn't have that atmosphere and charm this season is so good at doing. This episode isn't jam packed with humor or anything, but it had a lot of things that made me chuckle, like the whole construction montage, the spiders gag, and the nematodes. I mostly just enjoyed the plot in this one. Sure, it wasn't paced very well, but I enjoyed this one quite a bit. Also Sunshine in Hawaii is an underrated track. It's honestly what I think of when I think of this episode.
#27: Valentine's Day

This is the first true Patrick centered episode, and it's a pretty great one. I love how Patrick is so excited for his gift that he literally thinks EVERYTHING SpongeBob gives/shows him is his gift. As seen many times throughout this season, the running gag is made funny by the different ways it is executed. But the conflict is what really pushed this episode from good to great. SpongeBob has to resort to giving Patrick a handshake, and that face he makes the whole time while looking at his hand is really funny. Patrick's jealousy doesn't start immediately, though, which I really appreciated. It isn't until after he sees all of these gifts that SpongeBob gave to other people. Of course this one's highlight is definitely Patrick's freak out at the carnival. That's one of the funniest scenes in the whole season. I DEFY YOU, HEART MAN!
#26: Karate Choppers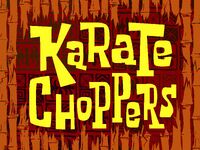 I used to not care much for this episode a few years ago. I like it a lot more now, but I still find parts of it kind of dragged out (mostly the beginning). It's still funny for the most part though, especially the hot sauce scene, which is actually a really great surreal joke. The second half more than makes up for the first though. The my leg gag (and its setup) in this episode was genius. It's probably my favorite my leg gag in season 1. I also like how SpongeBob and Sandy's urges to play karate gradually increase as they cut the sandwiches until eventually they just can't resist anymore. The ending was great too. One line from each character that was both funny and represented their character. Overall a really great episode.
#25: Scaredy Pants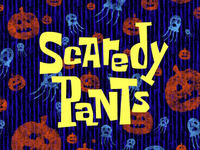 This one's honestly a bit overrated. I don't see it as great as some other specials from the later seasons, but like the previous episode its second half is way better than the first half. The beginning established a great scary atmosphere, though I wasn't a huge fan of the middle of this episode. Patrick was being funny as usual though, so I still enjoyed it. Huh, it seems like Patrick alone can bring up episodes or parts of episodes in pre movie. He's just so funny! ("I DON'T KNOW WHOOOO I AM!") What pushed this episode to great was of course the Flying Dutchman. He made an awesome first appearance, and he was the perfect character for a Halloween special. The ending was also hilarious- SpongeBob's brain managed to scare the Dutchman right after he said he was "not scary". And then Patrick doesn't freak out until he hears that it is SpongeBob's brain, which is hilarious because he was the one who shaved SpongeBob's head in the first place! Sure it's overrated, but this was still a great episode.
#24: Bubblestand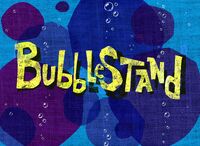 Bubblestand is a classic. It's so simple yet so memorable. The plot is something that only SpongeBob could turn into an experience as fun as this. This actually used to be my favorite episode of the ENTIRE SHOW when I was younger, purely because of how calm and relaxed this episode is. While it's nowhere near my favorite episode anymore, that's just because I now find other episodes funnier and more exciting. But I don't mean that the episode is boring. It's very cheerful, and the cel animation is colorful and vibrant. There's also some really amazing yet simple humor in here, including the bubble technique, "IT'S A GIRAFFE!", and Squidward's attitude about bubble blowing throughout the entire episode. Also, normally episodes that don't take place in more than one location are quite boring, but this episode seems to be an exception. Probably because of the charm this episode has.
#23: Tea at the Treedome

Ah, Tea at the Treedome, Sandy's debut episode. This one's got a charm that I can't really explain, much like Bubblestand does. This would be pretty enjoyable on its own because Sandy's introduction scene is pretty solid, but what really makes this episode is the fact that SpongeBob has to deal with the air in the treedome. I couldn't stop laughing as he kept freaking out about the lack of water- I know he literally needs it to breathe, but they made SpongeBob sound funny, and he was funny! Patrick is also hilarious in this episode with his pinky out gag. I wouldn't call this amazing because the beginning was a bit slow, but it's still pretty great.
#22: Mermaid Man and Barnacle Boy II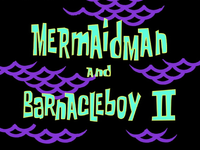 Mermaid Man and Barnacle Boy episodes are usually some of the most entertaining episodes to watch. This was actually the final episode of season 1, and it was a great note to end on. I like how this episode follows the previous MM&BB episode- in that episode SpongeBob meets Mermaid Man and Barnacle Boy for the first time (and they think he is evil because he's causing shenanigans), and in this episode we see more of the superheroes' backstory, including some of their villains making an appearance, and SpongeBob actually manages to befriend them and go on an adventure with them. Yeah, this episode has an epic plot, no doubt about that! The first half got a bit repetitive with the conch signal gag, but it still managed to get a lot of laughs out of me. Oh and SpringBoob SquirePin is so stupid yet it made me laugh- I guess it was the randomness of the gag. The second half is amazing, though- we get scenes with the Atomic Flounder and the Dirty Bubble. The former's scene is funny, and the latter's scene is too but also full of action. Overall a terrific finale for SpongeBob's first season and a great Mermaid Man and Barnacle Boy sequel, even though I prefer the first one.
#21: Culture Shock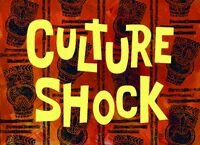 This episode has an interesting premise, and a lot of humorous scenes. I enjoy how well the characters contrast here, mostly as seen in the various acts of the talent show. Pearl's act is funny because it makes sense that she would shake everything around- she's a whale! Patrick laughing when Squidward kept trying to talk, though, made me my laugh a lot more. It's funny because Patrick is laughing when Squidward just speaks. I loved Gary's act as well as Sandy's ironic line, as well as Plankton's act failing just like his plans do. Squidward and SpongeBob fighting over the stage was definitely the highlight though. Squidward's dance was so weird it was funny, and it's hilarious that SpongeBob was just meant to clean up the show yet he ended up saving the entire thing. There's some hilarious gags here, with the crowd only caring about SpongeBob, even if just his hand is on stage, and even if Squidward is doing the same thing SpongeBob is doing. This is a really awesome episode and probably one of the show's more unique ones!
#20: Employee of the Month

This is a really cool episode. A true rivalry with SpongeBob and Squidward is an amazing concept for an episode, and here they really roll with it. Squidward at first doesn't care about the employee of the month award, but after seeing how much SpongeBob gloats about it, he ends up wanting it. I love how their character contrast actually escalates until they just become the same character. By that I mean they basically both are only focused on hindering the other from getting to the Krusty Krab, and the shenanigans they get into here are absolutely HILARIOUS. I don't have much else to say about this one, but it was a really great episode. Close to amazing, but I wouldn't call it one of my favorites.
Amazing episodes
I enjoyed these episodes a lot!
#19: Walking Small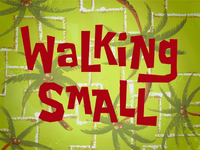 The last of the three Plankton episodes in season 1 (in production order that is). This one was the worst one, but it was still amazing, so that really says something. I love episodes with unique settings, and Goo Lagoon isn't used as often as it should be. Thankfully we saw it quite a bit in the early seasons. I love Plankton and SpongeBob's interactions in this episode. SpongeBob takes a while to understand what it is like to be assertive, but in my opinion it is funny because each time it happens, it's from a different situation. There's great lines in this episode, like "I can deny it no longer! I am small...", "Not INSERTIVE!", "YOU USED ME... FOR LAND DEVELOPMENT!", and every time SpongeBob misinterprets what Plankton says. I also enjoy the montages of SpongeBob wrecking everything by being assertive, then fixing all of it. This is a really memorable episode for me and it's honestly really rewatchable too. The lowest amazing episode, but still awesome.
#18: Squidward the Unfriendly Ghost

UNDERRATED EPISODE. This episode needs more praise. It does dark humor pretty much perfectly. Like, it's questionable, but it's funny. For example Mr. Krabs's line: "We all came as soon as we were sure you were dead." That joke shows how much of a nobody Squidward really is in Bikini Bottom! While it's dark, I laughed at it because of the timing. I also love the spooky themes in this one. The scenes with Squidward's "ghost" are always accompanied by some very foreboding music and I love the creepy vibe it gives. Also SpongeBob and Patrick wanting to "put Squidward to rest" was an amazing twist. Of course, it's all hilarious because Squidward isn't actually dead! There's some other more lighthearted humor too, such as Patrick randomly giving Squidward a watermelon, or SpongeBob and Patrick's ridiculous game they play in the beginning. Overall this is one of the most underrated episodes of not only season 1, but pre movie as a whole. I just wish it was Tuesday, because I want to get kinged and lose some G E E S E V E N !
#17: Suds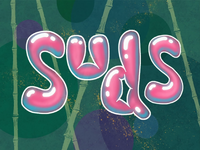 Yes, the episode with Doctor Patrick! This episode is very relatable and very funny. How SpongeBob gets sick is so weird that it's funny, and honestly it's a much better way to portray disease than if SpongeBob caught it from something. (ahem...) It's realistic yet wacky at this same time. I do feel bad for SpongeBob here, but his illness is not portrayed in a disgusting manner, and it is actually unique to sponges, which benefits the episode. I also like that Mr. Krabs actually cares for SpongeBob here (he's awesome in most of this season though). However the highlight of this episode is definitely Doctor Patrick. Unlike in his other appearance, Doctor Patrick isn't mean to SpongeBob, but rather actually cares about him and wants to "protect" him from a real doctor. Even though he is making SpongeBob scared for no reason, it's actually funny because of the great lengths that Patrick goes to try to help SpongeBob. And his conflict with Sandy is honestly hilarious here. What is really awesome about this episode though is the ending, where SpongeBob gets the sponge treatment, because he actually is a sponge. Patrick also gets this treatment, but it's much worse than SpongeBob's, and honestly he deserves it, and it's funny as heck. Hilarious episode overall.
#16: Arrgh!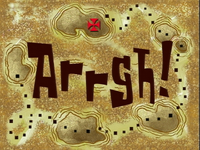 I always love episodes that explore the pirate side of Mr. Krabs. And this is probably the biggest example. This episode is actually a true adventure, which very few other episodes actually are. I love Mr. Krabs at the beginning. He just keeps appearing over and over again with the dice, no matter what SpongeBob does to keep him out. Krabs actually setting up a real pirate adventure is one of the best premises I've ever seen on SpongeBob, and they do a lot with it. This episode is basically a parody of pirates- it makes fun of eye patches, peg legs, the relationship between captain and crew, and even a pirate's dialect. ("I think-ARG-what-ARG-he's trying to say-ARG-is... (crash) ...land.") Also, weast is one of the most Patrick jokes ever, and I love it. The Flying Dutchman's appearance was also awesome, as was the my leg gag. This gag literally comes out of NOWHERE and it's built up really well within about five seconds. It makes me laugh my pants off. To me this episode screams EPIC and it's also really funny.
#15: Hall Monitor

This is one of the best boating school episodes- I really like what it does with its concept. It makes a lot of sense for SpongeBob to make such a big deal about being a hall monitor- he takes everything to the extreme. SpongeBob actually ends up being so passionate about safety that he actually causes danger and chaos in the process. For example, the traffic scene. When I first watched it, I thought he was actually directing traffic, as seen by the boats driving by. However, it is revealed after SpongeBob walks away that he actually caused a huge wreck, which is a nice twist. We get a my leg gag too, which is awesome. This episode has several hilarious gags, like open window maniac, that delivery boy's voice changing, Patrick screaming at the photo of the maniac, WEE WOO!, and more. The last third of the episode is easily the best part though. It's so funny to have Patrick recognize SpongeBob as the maniac but also not have him connect the fact that the maniac is SpongeBob. He is telling SpongeBob to run away, but he doesn't know that the maniac he is seeing is actually SpongeBob, and not someone else following him. That's just brilliant. Also, Mrs. Puff getting arrested really wasn't justified, but at least she actually said something that made it happen, and we got her line ""I'll see you after class... SIX MONTHS FROM NOW!". Overall this is definitely an amazing episode.
#14: Help Wanted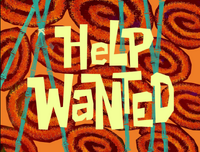 What could be more classic than this? It's the episode that started at all, where SpongeBob first got hired at the Krusty Krab. And it still holds up to this day. This episode has amazing pacing and gets right to the point. We don't get a huge exposition about each of the characters- SpongeBob SquarePants chooses to take the route of introducing the characters' personalities through dialogue and their actions, and I really like it here. You can tell how eager SpongeBob is just by his catchphrase, "I'm ready!". You can tell that Patrick is dumb but has his smart moments by his motivational speech to SpongeBob. There's also some really creative visuals, such as the anchovies acting like an ocean, and Squidward's workstation functioning as a boat. There's moments that make this episode extremely memorable for me, such as the smelly smell quote, that whole thing about the hydrodynamic spatula, and the ending where SpongeBob clearly still needs some training to work at the Krusty Krab. The Krabby Patty making scene is also extremely memorable because of how creative it is with its visuals. I like the song too, but I actually remember the scene in the episode that goes along with it more, which is very impressive! Honestly this is one of the best pilots I've ever seen of any show, if not THE best. This is just such a fun episode!
#13: Mermaid Man and Barnacle Boy

The first ever Mermaid Man and Barnacle Boy episode! This one is honestly really epic. I love the idea of SpongeBob and Patrick's favorite superheroes being retired as well as their shenanigans to bring them out of retirement. Pretty much every joke in this episode is hilarious, including Mermaid Man thinking that SpongeBob is a TV repairman, Mermaid Man screaming EEEEEEEEEVVIILL!!!, that whole scene where Mermaid Man is napping, "To the meatloaf", "You may kiss the bride!", and more. This is probably the best comedy I've seen about elderly people, since it's not just that Mermaid Man and Barnacle Boy are old, they are also old superheroes, which makes the humor a bit more developed. I also love how SpongeBob and Patrick got Mermaid Man and Barnacle Boy to come out of retirement by acting so annoying that they basically became villains to them. So yeah, this episode is not EEEEEEEEEEEEEEEEVVIILLLLL in any way.
#12: Pickles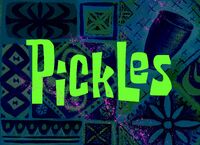 This episode is epic. I know the post sequel Bubble Bass is funny, but honestly this is by far Bubble Bass' best appearance. I prefer some other episodes with him in it to this one, but as far as Bubble Bass himself, his character is definitely the best here. I love how SpongeBob and Bubble Bass are rivals, and the episode establishes a perfect atmosphere for their characters. Also, this episode has a very accurate portrayal of criticism. When someone gives you bad marks, it honestly hurts. And it hurt SpongeBob in the form of him forgetting how to make a Krabby Patty, which led to him forgetting how to do literally anything. It's a sad situation, but honestly most of it is pretty creative and funny. There's little details that make me laugh a lot, especially SpongeBob's mixed up kitchen. I also like how the music becomes distorted when these things are revealed, as it really shows how messed up SpongeBob's life has become. The best part of this episode though is the final confrontation with Bubble Bass. It has excellent buildup with several gags and manages to keep the atmosphere throughout the entire scene. Also, Bubble Bass keeping the pickles under his tongue was a nice twist... though I don't know how you could keep someone's car keys under your tongue. This episode was a joy to watch, but I did think other episodes were funnier, so it isn't any higher.
#11: Texas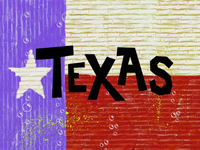 This episode is a mix of heartwarming and hilarious. I can honestly relate to Sandy a lot in this episode, though on a smaller scale. There are times that I feel really homesick for a lot of reasons. The Texas song is really heartwarming and just plain nice. SpongeBob and Patrick making fun of Texas is actually something that surprised me, since they actually don't have them discuss a plan before Patrick calls Texas dumb (hilariously causing Sandy to return within five seconds) and that seemed like an accident. You'd think this episode would come off as mean spirited, but it really doesn't because of the execution. It's actually really funny to see SpongeBob and Patrick mocking Texas followed by Sandy's reaction. I loved the twist that it was all to help Sandy feel more at home all along, and the fact that they tried to make the Krusty Krab feel like Texas but misinterpreted just about everything, but it still convinced Sandy to stay. And the ending was golden. "Yeah, who needs dumb old Texas?" "What did you just say?" "Should I start running now?".
#10: Squeaky Boots

The most overhated and underrated episode of season 1. I don't get how a whole episode is bad because of the squeaking when the episode has good humor and a spectacular story. This is basically the season 6 episode Slide Whistle Stooges done right, because the squeaking here is actually accompanied by very creative and kind of eerie visuals most of the time (mostly Mr. Krabs going insane) and unlike what happens to Squidward in Slide Whistle Stooges, Mr. Krabs going insane does not hurt his character. I love the character development that Mr. Krabs has in this episode. Here, money isn't his motivation. In fact, money is barely mentioned throughout this entire episode. No, Krabs sincerely gave SpongeBob the boots, and through how annoyed he got with the boots, he realizes that he made a mistake by not buying the boots that Pearl wanted, and ends up buying them for her in the end. Yes, Mr. Krabs actually did used to be generous! I would say that this is out of character for him, but Krabs is supposed to be the protagonist of this episode, so it makes sense for him to do good things. Plus, I like seeing a side of Krabs that isn't thinking about money for every second that is on screen. I loved this episode a lot on rewatch- enough to have it kick off my top 10 of the first season, and I was pretty surprised to find out it was somewhat hated when I joined this wiki. I respect your opinion though if you don't care for it.
#9: F.U.N.

This episode is well... fun! This is another one of those really charming episodes, mostly because of the blessed song and the friendship between SpongeBob and Plankton. Even though Plankton returns to being evil in the end, there are definitely signs during the episode that Plankton did actually enjoy hanging out with SpongeBob. I really loved seeing that- it gives a kind of uniqueness and charm to this episode. This episode doesn't have a whole lot in terms of humor, so it isn't higher in my top 10, but its story and charm alone managed to land it #8, which is pretty awesome. The beginning scenes are really cool and action packed too. Overall everyone has already praised this episode to death so I won't say much else, but this is definitely an amazing episode.
#8: Ripped Pants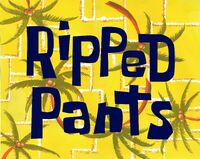 Wow, this episode gets hate. Well, I can honestly kind of understand that. But for me, this episode really delivers in the story department, and honestly it was pretty funny too. Not as funny as other episodes, but this is still amazing. I respect your opinion if you found this episode repetitive, but I honestly loved the ripped pants gag because it's executed in a different way each time, just like the bus gag in Rock Bottom. The times that SpongeBob rips his pants progressively get more exaggerated and wacky, which keeps me entertained throughout. And it all is intended to build up to when SpongeBob finally takes it too far and actually pretends to drown for attention. Well, he got it- not the attention he wanted though. To me this buildup makes the episode exciting and charming. And the song is BLESSED, mostly because SpongeBob suddenly is able to relate to people he's never met. This episode teaches two morals: that you shouldn't take something too far for attention without knowing the consequences, and that you are never truly without a friend, even if you have to find a new one. Wait, I'm actually praising this? Yeah, Ripped Pants actually teaches a moral in a really amazing way without it seeming too generic. And it's only the fifth episode of the show! This episode is BLESSED and deserves its praise in my opinion.
#7: Plankton!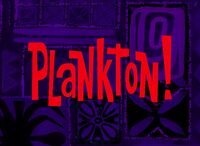 Plankton's debut! This episode is awesome. This is a really cool episode. Plankton is honestly a much better villain here than he is in most of the series. He actually has a very smart plan, and what makes this one amazing is that it actually comes so close to working. There's lots of little things I liked about this one- the record that Plankton plays when he does his evil laugh, a college educated plan being a very simple blueprint, the lab vs. laboratory gag, mediocre clarinet player, the fact that Plankton is actually tiny, BOOSTER SEAT HOT DOG... I could go on and on. Basically this episode is memorable, hilarious, and does an excellent job at introducing Plankton. In fact, out of all of the character introduction episodes in season 1, this is definitely the best. You really just have to watch it for yourself to understand why.
#6: Rock Bottom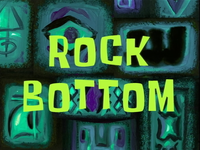 Rock Bottom absolutely blew my mind when I first saw it. I can't think of a pre movie episode that has a better atmosphere than this to be honest, except for maybe SB-129. Anyways, this episode is paced BRILLIANTLY. This episode's whole running gag is that the buses are too fast for SpongeBob to catch (or the bus driver is trolling him for some reason, because some of these situations are really that ridiculous). The bus gag would be annoying if it was the same exact thing every time (looking at you and you) but this episode actually experiments with it to its fullest potential. There's even a point where the bus drives based on how far SpongeBob reaches for a candy bar, and the situation is so exaggerated and unrealistic that it made me laugh like crazy. Because of this creativity and atmosphere combined, this episode's pacing feels just right, and is honestly some of the best pacing in the entire season. The guy (I don't know his name...) running after the glove balloon was great foreshadowing for the ending as well. What makes Rock Bottom so memorable though is the mystery element. Basically, like why do the buses behave so strangely towards SpongeBob? How can the buses literally DRIVE UP WALLS? And how does the guy who blew up the balloon know English instead of the Rock Bottom language? These things are never solved throughout the episode and are left open for the viewer to think about, and I love that about this magnificent episode.
#5: Naughty Nautical Neighbors

Why does no one ever talk about this episode? I find it really memorable and hilarious. Its humor is so simple, but it's so brilliantly executed that I can't help but laugh at pretty much every joke this episode throws at me. Naughty Nautical Neighbors also has an atmosphere that few other episodes rival for me. It's so calm and paced perfectly, especially in the beginning. Even just SpongeBob and Patrick blowing bubbles managed to entertain me in this episode. The plot is a generic "friends fight" story, but this episode puts a twist on it by having SpongeBob and Patrick fight over Squidward. And of course Squidward was who caused them to get mad at each other, so their shenanigans are like karma for him. This episode is also extremely memorable- I remember just about all of the beginning especially. Because of all of these amazing qualities combined, this is one of my favorite episodes of the season and of the series as well.
#4: SB-129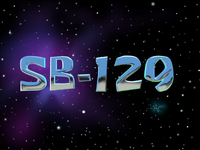 Oh man, this episode... this is such a weird episode, but I mean that in a good way. They had to premiere something special on the last day of the 2nd millenium, right? And this episode definitely fits the bill. Squidward gets stuck in a freaking FREEZER for TWO THOUSAND YEARS. Yeah, that's apparently how far he will go to get away from SpongeBob. Someone surely should have found him, but that flaw is forgivable because this is probably the most creative episode in the entire season because of it. Freaking chrome future, SpongeTron, a time machine, as well as the past with primitive versions of SpongeBob and Patrick, and then a dimension of literal NOWHERE. This episode has some of the best visuals in the series, especially involving the time machine and the nowhere dimension. It's pretty funny too, with things like Squidward literally inventing jellyfishing, FUUUUTUURRREE (which is so random it's hilarious), and of course Primitive Sponge. What really sells this episode for me though is the nowhere dimension segment. It's so eerie and disturbing, but in a good way. Funny that this episode literally comes right after I Was a Teenage Gary in production order and does everything that episode tried to do, but actually in an amazing way. Season 1 may have some simple plots, but you can't say it doesn't have great ones, because this masterpiece exists.
The Top Three
I really loved these episodes and they are going to get the bronze, silver, and gold medals for this season.
#3: Opposite Day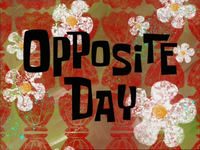 AAAAAAAAAAAAAA this episode is absolutely terrible and a disgrace to SpongeBob's first season... on opposite day of course.
Jokes aside this is one of the most underrated episodes ever. I could not stop laughing at Opposite Day for its really simple but hilariously executed premise. It's just a prank that Squidward pulls on SpongeBob, and it ends up biting Squidward back in the end. SpongeBob and Patrick just playing opposite day is one of the most enjoyable things I've seen on SpongeBob. They get so creative and funny with it, with them talking backwards, Gary barking like a dog, them pretending to be Squidward, and all of the jokes they throw in between. This is the perfect example of Season 1's superb ability to turn a plot so simple into one of my favorite episodes of the series, purely through humor and atmosphere. Really, it's a lot like Naughty Nautical Neighbors, except I prefer this one slightly because I like its plot more. And while this episode's plot still pales in comparison to SB-129, I still managed to enjoy this episode even more because of its top notch humor. Overall this is pretty much a perfect episode because it was just so hilarious and charming.
#2: Sleepy Time

My goodness. Sleepy Time is literally perfection. It has everything- humor, creativity, amazing pacing, amazing characters, a well executed plot, phenomenal atmosphere... literally everything. I love the concept of SpongeBob going into various dreams of the other characters. If I was going to show someone SpongeBob for the first time, this is one of the first I would show them. Why? Because this episode captures everyone's character perfectly in their dreams. And because this episode takes place primarily in dreams, it doesn't have a limit to its creativity. We get SpongeBob driving in a world of Krabby Patties, a talking Gary with a huge library, Squidward performing live at a concert and using SpongeBob as an instrument, and Mr. Krabs literally fishing for a giant dollar. All of the dreams have such amazing atmosphere and are so well animated and colorful as well. It's episodes like this that make me think that season 1 has the best animation of the series. Also, this episode is perfectly paced. It honestly probably has the best pacing in all of season 1. There's great humor and action, too. I absolutely ADORE this episode and can't recommend it enough. ...Oh, the ending? It's justified in my opinion. He did ruin most of his friends' dreams. I don't really get why Gary and Pearl were there, but it's not a huge issue. I still find this episode a masterpiece and I love it to death. It's one of my favorites of the entire show and is honestly underrated.
#1: Pizza Delivery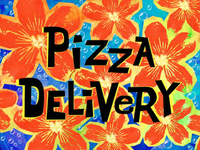 Yeah, I bet some of you guys knew it from the start as this a really predictable favorite of season 1, but honestly I can't justify ranking this episode any lower than #1. It's just such a joy to watch for me. Pretty much every joke landed here for me (tire pressure, spoons rattling, the KK pizza song, the whole storm gag, the ending... and much more) and I really enjoyed SpongeBob's and Squidward's characters. In this episode, Squidward knows he has to cooperate with SpongeBob, and even somewhat cares about him! The ending is simply amazing- normally Squidward would just laugh at SpongeBob and walk away, but here he actually stands up for him, as he too had to go on that long pizza delivery journey. And the fact that they were right next to the Krusty Krab the whole time might seem stupid, but it made me laugh my pants off. Another thing I really enjoyed was the fact that they mentioned SpongeBob's driving directly after Boating School, the previous episode, and then also put a twist on it by making SpongeBob reluctant to drive, possibly because he failed his test in the previous episode. I love little details like that. I hate to sound like a SpongeBoomer (even though I am partially one of them), but Pizza Delivery really does deserve all of the praise it gets, and I think it deserves to be called my favorite episode of SpongeBob's first season.

Well, that was my rankings for season 1! I hope you enjoyed them. Onto the actual season review...
As you could probably tell, I loved this season a lot. Season 1 is generally the least praised of the three pre movie seasons, but I still think it was a very entertaining experience. This was really impressive for a first season. First seasons always have the hardest job. They have to introduce all of the characters, settings, and also the general style and tone of the show. What SpongeBob did right was not waste too much time on exposition. Even so early on in the show, we got episodes jam packed with jokes, amazing characters, and awesome and charming atmosphere. That is because this season knows what it's doing most of the time. Every episode has a clear purpose (IWATG is debatable but I could tell the writers were trying something at least). Season 1's humor is generally not quite as developed as Season 2 or Season 3's humor, but it's still one of the funniest seasons in my opinion. I'd say the funniest episodes of the season were Pizza Delivery and Opposite Day, which is ultimately why they made it so high. A good portion of my favorite season 1 episodes, though, made it into the top 10 because of their atmosphere, charm, pacing, and just overall amazing story. Sleepy Time is an amazing example because it literally does all of those perfectly. ...Especially atmosphere.
The primary reason I enjoyed season 1 so much was ATMOSPHERE. The cel animation of season 1 may look dated, but it has no animation errors anywhere, and it looks so colorful and vibrant. The characters' expressions also fit with the animation. It's not overly wacky, but you can see a character's emotion in everything that they do in this season. This makes some scenes that would otherwise drag on for too long actually have entertaining buildup from visual comedy. This isn't always the case, but it is the case for a lot of episodes in season 1. Another thing I noticed is that Season 1 uses this atmosphere to its advantage to make episodes with simple premises extremely entertaining, such as Bubblestand, Naughty Nautical Neighbors, or even The Paper. There were a handful of episodes that I thought didn't use this to their full potential and ended up being somewhat mediocre because of it, but most of this season in general excels at using the animation and atmosphere to its advantage. The characters, despite all being introduced in this season, already have clear traits and honestly are better than in most of the later seasons. For example, Mr. Krabs. We usually think of him as a penny pinching money grubber, but before the other aspects of his character were dwarfed in favor of cheap Krabs jokes (which are still sometimes funny), but in this season, we see his original character, which has a pirate side (seen in Arrgh! and Hooky) and he uses to be much nicer to both his daughter and his employees(Squeaky Boots and Suds are the biggest examples). When Krabs is cheap, he is usually not a main character in the episode, and it's just for a simple gag. This works better than a plot driven by purely him being cheap in my opinion. Krabs is the best example, but the other characters are really on point too, such as Plankton, who is actually shown to be much more of an evil mastermind than just a lowly thief.
Both the mean and median ratings for season 1 were Great. And honestly, I think that rating suits this season. I don't consider it flat out amazing, because there were a few subpar and even bad episodes in this season, but it was certainly a joy to watch, and a season I would likely come back to again. This is the season that started all of SpongeBob, and I think it really deserves its praise. Seasons 2-3 are also some of my favorite seasons from what I remember, but people should really remember this season exists when they talk about pre movie. Its best episodes are truly masterpieces. So, based on this giant ranking and analysis, I can conclude that Season 1 is a GREAT SEASON.

I hope you enjoyed the review, and there will be more to come! I will be doing all of seasons 2-12 eventually. Oh, the next season is season 2...
... y e s
Community content is available under
CC-BY-SA
unless otherwise noted.