Credit goes to MagicSponge123 for making this title card!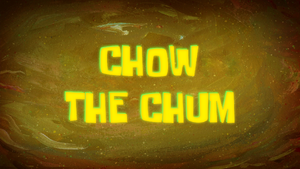 Mavnol333: Last time on ESB Underwater: after YOIMKYLE served me a delicious breakfast in bed, I woke the contestants up at 4:30 AM to do some breaking, entering, and searching for a few clues. Sharko got mauled and JoJo got knocked out by a rock. GuyBesideYou3 went dumpster diving, almost swallowed a retainer, puked his guts out, and stuck his hand in the toilet. In the end, the Liquid Leaders took victory, until they realized that they left Sharko and JoJo in the dust. The Wet Warriors won the challenge and JoJo got booted off the show. If you thought the players went through hell last time… you were right. But, they'll go through it twice in a row, here, on ESB Underwater!
[Theme song plays]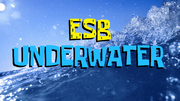 [Cmcgrath26, PlanKrab, and SpongeTron D are sitting at a table eating some dinner]
Cmcgrath26: [picking at his food with his fork] Eugh, what is this?
PlanKrab: Beats me-er-er. Looks like paste dipped in mayonnaise.
Koolkitty108 (from another table): Ugh, I know! It looks like my great-grandpa's toupee!
Cmcgrath26 (in the confessional): It's pretty clear that this place sucks big time, but aside from ending the day with a snooze, breakfast, lunch, and dinner are what I look forward to during this game. Mavnol kidnapped some pretty skilled interns, because their cooking's great! But today's dinner was… how can I put this delicately… just like shoving melted marshmallows with urine drizzled on them down my throat.
Cmcgrath26: Ight uh, you guys hungry?
SpongeTron D: No-er- erm, no. Not at all.
PlanKrab: Definitely not-er-er. The school supplies that the Wet-er-er Warriors ate after the shopping-er-er challenge looked more appetizing.
Cmcgrath26: Yeah. I wonder why the food tastes so awful today.
YOIMKYLE (in the confessional): Man, cooking's hard.
SpongeTron D: Mind if I ask you guys a question?
PlanKrab: Shoot-er-er.
SpongeTron D: If you-er-er- [sigh]- YOU were to win ESB Underwater, what would you do with the money?
Cmcgrath26: Well, I solely entered this competition for Unnamed. She used to have a brother, a named one of course, who got sucked up by my sibling's vacuum cleaner. She has been very depressed and lonely ever since. I want to win the cash so I can buy Unnamed the best rat possible for her to play with.
SpongeTron D: Awesome. Well, I want to win the money so I can buy the equipment I need to build a new time machine. SpongeTron X spilled diet soda all over it and it busted. I gotta get the cash so three of my clones and I can build a time machine to send me back to my time period.
Cmcgrath26: Time machines actually exist?
SpongeTron D: Well, not any time soon, but on April 20, 2069, it will be invented by some brilliant-minded people.
PlanKrab: Who?
SpongeTron D: A few dudes at Obamacare, I don't know.
PlanKrab: Well-er-er, I want the money because I… uh, want the money. After all-er-er, I'm 50% cheapskate.
Cmcgrath26: Ah, nice. Welp, I might as well starve tonight. I'm gonna read Unnamed's autobiography and go to bed.
Mavnol333 (on the intercom): There won't be any sleeping tonight! Hahahaha!
TheKorraFanatic: Augh, really? You woke us up at 4:30 AM this morning and I was just about to get in the tub!
Mavnol333 (on the intercom): Man, you've been using that bathtub quite a bit since I installed it. Too bad some of the footage will be on international television, hahaha!
TheKorraFanatic (in the confessional): [punching a punching bag with Mavnol's face on it]
Mavnol333 (on the intercom): Oh, and Cmc?
Cmcgrath26: Yeah?
Mavnol333 (on the intercom): I ran out of toilet paper in my private bathroom, and your rat's autobiography was the first thing I saw. Hahaha, sorry man.
Cmcgrath26 (in the confessional): [punching Korra's punching bag with Mavnol's face on it]
Mavnol333 (on the intercom): Anywho, just letting you guys know that you will be doing TWO challenges today. The next one starts in 20 minutes.
Dededeletethis: Damn it! We already had to sneak into the Krusty Krab at 4:30 this morning!
Mavnol333 (on the intercom): Whoa, watch your mouth, Dede! Say that again and I'll drop your phone in the toilet.
Dededeletethis: WHAT?! People say "damn it" here all the time! Why are you just punishing m-
[A flushing sound is heard by the intercom]
Mavnol333 (on the intercom): You were saying? Anyways, today's challenge will take place in the same general area as the last one.
Sharko: Gee, branch out much?
Mavnol333 (on the intercom): Close it. In a moment, I'll be taking you all to the restaurant across the street from the Krusty Krab. Meet me at the exit in 5 minutes so I can reluctantly give you your helmets and explain the challenge.
Alex: Two challenges in one day? We just kicked somebody off our team 20 minutes ago! Goddamn, that guy creases me.
Mavnol333 (on the intercom): I can hear you, bro! Just for that, Sharko, tell him your special joke 20 times.
Alex: What? No! NOOO!
Alex: AUGGHHHH! I HATE you, Mavnol!
Mavnol333 (on the intercom): Thanks, I try. Now meet me at the exit everyone.
CartoonGuy (in the confessional): What? ANOTHER challenge? Mavnol must either be bored, malicious, or both. Probably the second, to be honest. [yawn] I've barely had any sleep all season. Mavnol has got to end this "waking us up before 5 AM" crap and let me sleep!
[The contestants walk towards the exit]
TheKorraFanatic: [to GoldenSpongebob] Welp, I thought I would finally be able to get some rest on this show, but I was wrong.
GoldenSpongebob: Wha? Are you Santa? [collapses on the floor]
GoldenSpongebob (in the confessional): Heh, snorting that hand soap during the last challenge wasn't my brightest idea. The worst thing is that Mavnol never even bothered to bring me to the infirmary. He was too busy screaming at YOIMKYLE for not setting his toilet seat down gently enough.
TheKorraFanatic: Is there anybody sane in this freaking game?
Mavnol333: Hello, everybody! For this challenge, you're gonna be violently shoving smelly wet chum in your pieholes!
TheKorraFanatic: I'll take that as a no.
Mavnol333: Can it, Sweetheart. The restaurant we'll be heading to is called the Chum Bucket. Everything on the menu there is entirely made of chum, even the iced tea.
Albert's Country: [raises his hand] Will you be buying us any iced tea?
Mavnol333: No I will not. Now STOP interrupting me, you know I hate that. As punishment, give me your 137 year-old magazines.
Albert's Country: What? Why?!
Mavnol333: Give it.
Albert's Country: Augh. [gives him the magazines]
Mavnol333: [rips the magazines up] There. Now you have a huge puzzle to work on whenever you're bored.
Albert's Country: What?!?! NOOOOOOOO! You are a MONSTER!
Mavnol333: Been called worse. Anywho, for today's challenge, every contestant will be receiving a HUGE bucket full of raw chum. Each player will have to scarf their entire bucket down in an hour at the very longest. However, if you refuse to eat or vomit, you will lose the challenge and be forced to listen to the restaurant owner's personal stories.
Shut Up: Yeah, yeah, great. But will we be expecting a REWARD at the end of this challenge? It feels like forever since we've gotten one.
Mavnol333: Shut the hell up, 0fflinejoe! But yes, you will.
Shut Up: STOP CALLING ME 0FFLINEJOE! I HATE THAT NAME!
Mavnol333: Yeah, well, I hate being interrupted all the time when I'm trying to explain something! Anyways, the winning team will be rewarded with a 5-star breakfast, lunch, and dinner tomorrow. The losing team will sadly go hungry tonight if they refuse to eat their chum or their… whatever I forced YOIMKYLE to cook for y'all. Speaking of YOIMKYLE… I'll be talking to him soon, hehehe. Anyways, with that out of the way, scat!
Alex: Uh… where? I have no clue where this place is because I never bothered to memorize the route.
Mavnol333: Man, and I thought I was a lazy pig.
Alex: You are.
Mavnol333: Whatever. How about this? The first team to arrive at the Chum Bucket will receive an advantage during the challenge. Now MOVE!
[The two teams sprint out the submarine]
Mavnol333: Alright, now where the hell are you, YOIMKYLE? I KNOW YOU'RE OUT THERE SOMEWHERE!
[Transition to the teams running]
YOIMKYLE: Thanks for letting me blend in, guys.
GuyBesideYou3: No problem, dude. It was nothing. Now c'mon, let's get to the Chum Bucket.
YOIMKYLE: I'm gonna stay here and tie my shoe first. I'll be hiding at the mall. Mavnol will never find me there.
GuyBesideYou3: Alright. [runs off with the others]
YOIMKYLE: [starts to tie his shoe]
[Mavnol catches up to YOIMKYLE by boat]
Mavnol333: Yo, YOIMKYLE. I think you forgot that you're being filmed at all times. I know where you are all the time. [grabs and takes him] You're comin' with me boyo.
YOIMKYLE: Aw, crap. I'm doomed.
[Transition to the other contestants running]
Shut Up: Aw, man. [wheeze] I'm tired. I'm gonna go crawl through the broken Krusty Krab window and get a drink.
Sharko: Me too.
SpongeTron D: Yeah, I'm coming too. Running underwater is hard as hell.
[The three contestants run off]
Koolkitty108: Hey guys, wait for me! I wanna know what drinking root beer underwater feels like! [follows them]
[The other contestants arrive at the Chum Bucket]
GuyBesideYou3: We made it first!
Louis219: Great job, ChumBesideYou3.
GuyBesideYou3 (in the confessional): I'm the new Sweetheart, aren't I?
PlanKrab: Aw, damn-er-er! We lost!
TheKorraFanatic: Not necessarily. A few people from both teams ran off.
Cmcgrath26: Whatever, I know that we'll win this challenge. I can feel it.
[Transition to Mavnol and YOIMKYLE driving away in a boat]
Mavnol333: Where's my ice, YOIMKYLE?
YOIMKYLE: Why do you want it anyways? You finished your drink this morning!
Mavnol333: Oh, you're right. [stops driving the boat] But I'm still making you do something because I really need a laugh right now. Go shoot one of the cameramen with this tranquilizer gun. [hands him the gun] Just a tip, he'll become unconscious right when you hit him.
YOIMKYLE: Oh, you don't say? [shoots Mavnol with the dart]
Mavnol333: WHAT? What the hell are you doing?! I'm the host of the show you piece of- [collapses on the floorboard of his boat, unconscious]
YOIMKYLE: Suck it, hostman. Better get rid of the evidence. [throws the gun in the Krusty Krab and runs off]
MEANWHILE AT THE CHUM BUCKET
Plankton: -and that's how I got melted by a handshake.
PlanKrab: Hehe, I remember-er-er.
Chickenkrispies: Okay, where in the hell is Mavnol? He should've been here 15 minutes ago.
Chickenkrispies (in the confessional): Mavnol's gotta pay. A few hours ago, I saw him gorging himself with my precious chicken. It has GOT to end!
Louis219: Uh, maybe he's outside? [walks outside the Chum Bucket] Huh, don't see him anywhere. [wanders around the area until he sees Mavnol's boat] Ho. Ly. Crap. [yelling] YOU GUYS GOTTA COME SEE THIS!
[The contestants rush out of the Chum Bucket and to Louis]
Louis219: Look.
[The contestants see Mavnol lying in his boat]
Alex: He… isn't moving.
GuyBesideYou3: It doesn't look like a stunt double…
PlanKrab: Or a dummy-er-er.
Albert's Country: Is Mavnol… dead?
Chickenkrispies (in the confessional): I have had dreams of this happening, and now that it came true, I'm scared as hell!
CartoonGuy: Okay… so we're stranded in the middle of the Pacific Ocean with nobody else around?
Koolkitty108: Well, the cameramen are right over there! Hi guys!
Cameraman: [whispers] Shhh, I'm not here!
Koolkitty108: Yes you are, silly!
TheKorraFanatic: Yeah, well, the cameramen won't help us. They're supposed to be getting everything on tape.
GuyBesideYou3: Guys, let's not immediately assume that Mavnol's dead. He could be unconscious or something.
Louis219: I don't know, DieBesideYou3. He looks pretty dead.
GuyBesideYou3: Now's not the time for nicknames! Dead or not, someone hurt Mavnol and I don't know who it is. It could be any of us, really. Dededeletethis, he destroyed your phone.
Dededeletethis: [sniff] Don't remind me.
GuyBesideYou3: Albert, he tore up your 137 year-old magazines! Magazines that old must be worth a fortune!
Albert's Country: Uh, well, they aren't old magazines. They're magazines with 137 year-old women in them.
GuyBesideYou3: Blech. CartoonGuy, he's depriving you of your sleep. GoldenSpongebob, he never took you to the infirmary after you… did that… thing. Chickenkrispies, he's always eating your KFC-
Chickenkrispies: AUGHHHH, MY KFC! I miss it so much! I just want to rub that greasy chicken skin all over my-
GuyBesideYou3: Korra, he always calls you "Sweetheart".
TheKorraFanatic: Pfft, you should talk.
GuyBesideYou3: Alex, he made Sharko annoy you with his jokes. Cmc, he destroyed your rat's autobiography.
Cmcgrath26: It was the only copy…
GuyBesideYou3: Louis, he read your diary.
Louis219: You did too, you sack of-
GuyBesideYou3: That's besides that point. And, well, we all can't forget the absolutely awful food he served us today. As far as I know, we're all potential murderers. You know, if he's dead.
Alex: Yeah, nice thinking and all, but, why should we help this guy in the first place?
GuyBesideYou3: I'm not saying we have to, because I don't know what to do. However, he is the only guy who's watching over us so whoever hurt or… killed him needs to fess up, or we'll be alone in the ocean with nobody here.
Louis219: Hey, how do we know that YOU didn't kill this guy? Are you trying to cover yourself up by yapping your mouth?
GuyBesideYou3: Hell no! I was running to the Chum Bucket the entire time! The ones who didn't, however, were… Koolkitty, SpongeTron, Sharko, and Shut Up. Hmmm.
Chickenkrispies: Do you think they have something to do with this?
GuyBesideYou3: They might. C'mon, let's go to the Krusty Krab and see if they're still there.
GuyBesideYou3 (in the confessional): Honestly, this is the most freaked out I've ever been. Our reality show host could be dead, which means that I'm stuck here with all of these… neanderthals.
[The contestants enter the Krusty Krab]
TheKorraFanatic: Dear God, it's freakin' dark in here. Lemme turn on the lights. [turns the lights on]
[The Krusty Krab is a huge mess, with tables that are flipped over, windows that are shattered, and floorboards that are broken]
TheKorraFanatic: What the hell happened in here…?
Albert's Country: [shouting] SPONGETRON? WHERE ARE YOU? Sharko? Laundry stops if you can hear me! Shut Up? Koolkitty?!
Cmcgrath26: I don't think they're here.
Dededeletethis: But… who tore this place apart? And why?
PlanKrab: Hold on-er-er. Look. [picks something up] Mavnol's hair gel is here. It's still warm-er-er. That means he's been here recently.
SpongeTron D: Does that-er-er, um, that mean that Mavnol got chased by one of the contestants here earlier?
SpongeTron D (in the confessional): I've never been in one of these kinds of situations before. This was more stressful than the time SpongeTron Z was mistaken as an alien when we used our time travel machine to get to 1947.
PlanKrab: I don't know-er-er. This is just so… confusing.
Louis219: Wait just a damn minute. What's this? [shows them the tranquilizer gun]
Dededeletethis: It looks like a gun!
Chickenkrispies: Did Mavnol get shot?!
Louis219: Augh, I don't know. If only we had something to discover fingerprints.
Albert's Country: Oh, I know! That little green guy kept blabbing on and on about how great his scientific gadgets were when we got to his restaurant. I think he said something about a machine that discovers whose fingerprints are whose.
Louis219: What an ego.
PlanKrab: That's great-er-er! Let's all go to the Chum Bucket!
[The contestants exit the Krusty Krab]
[Transition to SpongeTron D, Sharko, Shut Up, and Koolkitty108 lying down on the ground and sleeping in the middle of nowhere]
SpongeTron D: [wakes up] Huh, oh good God, my head hurts. Wake up, guys! [shakes them to wake them up]
Shut Up: [wakes up] Huh? Wha-? Where are we?
Sharko: [wakes up] Uh, where's everyone else?
SpongeTron D: I don't know…
Sharko:
Shut Up: [shakes Koolkitty108] What the hell did you do?
[Transition to the contestants entering the Chum Bucket]
Plankton: Karen, they're back! Just think how jealous Krabs will be when he finds out that I had game show contestants come to MY restaurant!
Karen: These guys visited his restaurant 4 times during this competition.
Plankton: WHAT?! Ergh, that Krabs!
CartoonGuy: Hey, uh? You got a minute?
Plankton: No, you mean nothing to me anymore. Get out or I will annihilate you!
CartoonGuy: We just want to check out one of your gadgets-
Plankton: Why didn't you say so?! Come in! [to Karen] I bet they were never fascinated this much with his food, aye, Karen?
Karen: [sighs and rolls her eyes]
Plankton: What do you fellas wanna see?
Alex: Well, we wanna check out your… what is your fingerprint machine called?
Plankton: The Fingerprinter Printer 3000.
Alex: Ah, nice. Anyways, we need that for something.
Plankton: My pleasure, here you go! [puts the machine on the table]
Alex: How does it work?
Plankton: Well, you place an item on the surface and it will tell you the last three people who have touched the item.
Alex: Yeah, thanks. PlanKrab, give me the hair gel and Louis, give me the gun.
[PlanKrab and Louis give Alex their items]
Alex: [places the hair gel on the machine] Huh. The only person who has ever touched this is Mavnol. [places the gun on the machine] The last three people to touch this gun are me, Louis, and… [gasp] Koolkitty!
[Transition to the four other contestants in the middle of nowhere]
Shut Up: [finally wakes Koolkitty up] Koolkitty! Look where we are!
Koolkitty108: Huh? Oh! Hahaha, wow! That was a mistake.
SpongeTron D: Damn right.
Shut Up: Can't believe you freakin' did that. Let's go.
Sharko: Uh… where?
Shut Up: I… don't know. We're stranded!
[Transition back to the Chum Bucket]
Alex: Koolkitty was the last one to touch the gun? Did SHE shoot Mavnol?!
GoldenSpongebob: Oh my God, this is all too much for me.
Cmcgrath26: Where did she go?
Albert's Country: She's gotta be nearby! She was at the Krusty Krab a while ago!
Plankton: Really?! Augh.
CartoonGuy: Let's go look! Thanks Plankton!
Plankton: Wait! Aren't you gonna buy anything first?!
Karen: One of the cameramen of this show tried your food the other day and was hospitalized.
Plankton: Well aren't YOU supportive.
[The contestants make their way back to the Krusty Krab]
Albert's Country: I see footprints! But they go so far! We'll never catch them!
PlanKrab: Wait-er-er, I know! Come with me to the kitchen!
[The contestants follow PlanKrab into the restaurant and soon the kitchen]
PlanKrab: Okay, so-er-er, when I was the manager of this restaurant, I found out that there's a basement under this restaurant with a car shaped like a patty. The employees called it the "Patty Wagon". We can use that to follow Koolkitty's footprints!
Cmcgrath26: Wahoo! Let's go!
[The contestants make their way to the basement and find the Patty Wagon]
PlanKrab: It's a bit small-er-er, so you guys have to cram in.
Alex: Cool, I'm not sitting in the trunk again.
[The contestants manage to squeeze themselves in]
PlanKrab: Let's ride-er-er.
[PlanKrab drives through the wall and follows Koolkitty's footprints.
[Transition to the four lost contestants]
SpongeTron D: I think we're just right outside the city limits, but it'll take about 45 minutes to get back to the Krusty Krab.
Shut Up: Aw, damn. Mavnol's probably gonna punish us for being late to the challenge!
SpongeTron D: No doubt.
[Transition to the other contestants in the Patty Wagon]
PlanKrab (in the confessional): We were this close to solving the crime-er-er! It was so exciting!
Albert's Country: Augh, my carsickness. I think I'm gonna- [vomits on the wagon]
Louis219: Augh, gross!
[The Patty Wagon stops]
Augh, Albert's puke busted the Patty Wagon!
The contestants: Awwww.
Alex: [to Albert] Thanks a lot, Pukezilla.
PlanKrab: Whatever-er-er. We'll just have to run.
[The contestants get out of the Wagon and follow Koolkitty's footprints]
GoldenSpongebob: Hold on. There's different footprints here.
Cmcgrath26: Oh God, there are.
CartoonGuy: Did Shut Up, Sharko, and SpongeTron help Koolkitty shoot Mavnol?!?
Louis219: Just shut up and follow the prints!
[Transition to the four lost contestants]
SpongeTron D: Alright guys, let's head back.
Koolkitty108: Woohoo, fun!
[The four contestants start running back to the Krusty Krab]
[Transition to the other contestants running away from the Krusty Krab]
GoldenSpongebob: Hey, I see something in front of us…
The other contestants: What?
[All of the contestants run into each other]
Everyone: Ow!!!
GoldenSpongebob (in the confessional): I knew I should've gone to the optometrist before entering.
PlanKrab: [grabs Koolkitty108] You're comin' with us-er-er.
Koolkitty108: Ow! Nice grip! Hahaha!
Sharko: What are you doing?
Cmcgrath26: Koolkitty shot Mavnol! She might have killed her!
SpongeTron D: What? Since when?
Cmcgrath26: Since an hour ago! Mavnol got shot and Koolkitty's fingerprints were on this gun! [shows them the gun]
Shut Up: Aw, I remember that gun.
Sharko: Me too.
Alex: From where?!
GuyBesideYou3: Just tell us what goddamn happened!
Sharko: Wow, you guys are tense.
SpongeTron D: Let me take it from here. So, we were all pretty thirsty because of all the running that we had to do, so we went to the Krusty Krab. Koolkitty wanted to try some root beer, but… taking off your helmet to do so wasn't the right idea. Something about root beer and salt water made her go off-the-wall crazy. She destroyed the entire restaurant and eventually carried all three of us and sprinted away from the Krusty Krab to burn off some energy. Soon she tripped on her own foot, and our heads went crashing to the ground and we were unconscious for a few minutes. We eventually woke up and found you guys here.
Alex: Yeah, but that doesn't explain the gun!
SpongeTron D: Oh, that? She picked it up and shot a few tranquilizers at bystanders who were nearby.
Albert's Country: Wait… tranquilizers? You mean this gun is a tranquilizer gun.
SpongeTron D: Uh, yeah, I guess so.
[The rest of the contestants let out a sigh of relief]
CartoonGuy: So Mavnol's just unconscious?
SpongeTron D: What? Mavnol's unconscious?
CartoonGuy: Long story.
Koolkitty108: C'mon guys! The challenge isn't gonna start itself! Vroom, vroom! [runs off at the speed of light]
Shut Up: I guess she had some more root beer in her system. Let's go.
[The contestants run back to the Krusty Krab]
45 MINUTES LATER
TheKorraFanatic: Woo! We're back!
TheKorraFanatic (in the confessional): Just so the producers know, I almost had a heart attack. Thank you all for helping us with this situation.
Cmcgrath26 (in the confessional): That was the scariest crap I've ever experienced, and I've seen a rat getting sucked by a vacuum cleaner!
Alex (in the confessional): I have one thing to say to all of you producers, interns, cameraman, and bystanders. [CENSOR NOISE] you.
[Everybody walks up to Mavnol's boat]
Louis219: Okay, we know he isn't dead anymore, but who shot him? Like StressBesideYou3 said, it could be any of us. Well, except for me of course. I'd do much worse to him, trust me.
TheKorraFanatic: Well, I wouldn't shoot him, because unlike this egotistical maniac, I'm civilized.
Dededeletethis: Don't get me wrong, I'd shoot him if I knew there was a gun nearby, but I didn't do it.
GuyBesideYou3: Hang on. Besides SpongeTron, Koolkitty, Sharko, and Shut Up, the only person who wasn't with us was-
YOIMKYLE: [walks up to them] Hey guys! Is it safe to come out?
[Everybody takes a long and silent look at YOIMKYLE]
Dededeletethis: I think your days as an intern are over, bro.
Mavnol333: [wakes up] Huh, what are you guys doing here- [spots YOIMKYLE] I should've just locked you in the storage closet.
LATER AT THE ROCK BOTTOM BUS STATION
Mavnol333: You might be wondering why I invited EVERYONE here. Sorry for the lack of a challenge tonight-
Alex: Lack of challenge? We were running all over the place because we thought you died!
Mavnol333: Yeah, and I'm touched. But I won't be treating you any different, haha. However, I invited you all here today so you could witness what I'm about to do right now. [walks up to a cannon with YOIMKYLE] You, sir, are SO gone! [shoots him out of the canon and out of the ocean] Hah, this cannon is freakin' powerful. It'll be days before he stops flying.
Louis219: So does that mean he'll eventually get to space?
Mavnol333: Not my problem. Now get to bed, everyone. It's 1 AM and you need your beauty rest for your next challenge, assuming that there will be a legitimate one next time.
Albert's Country: Pleeeeease, no.
Mavnol333: Welp, and that's that. After looking at the footage, you guys had great teamwork. You could use that for tomorrow. Hahaha.
The contestants: Awwww.
Mavnol333: Glad that's over with. I really didn't want to sleep on the floorboard of my car tonight. Anywho, 15 contestants still remain and the 500 grand is still up for grabs! Will I actually be killed by one of these guys soon? Find out next time on ESB Underwater!
[Credits play]
Community content is available under
CC-BY-SA
unless otherwise noted.