Warning: this is a joke. This is not my real opinion.
Introduction
Today I will be reviewing THE WORST of Season 6 and THE WHOLE ENTIRE SERIES. THIS EPISODE MAKES ME WANT TO PUKE.
Review 
Okay so first off, this episode opens in the Krusty Krab. and it's just STUPID FILLER SHOWING SPONGEBOB WORKING! And then the 
real 
part starts. SpongeBob gets the splinter. THEY. SHOW. IT. IN. SUCH. GREAT. DETAIL. DISGUSTING. AND THEN SPONGEBOB TRIES TO BITE IT OFF. AND THEN PATRICK SHOWS UP AND HE ALSO HAS A FOOT FETISH. AND THEN THE SPLINTER GETS BIGGER. AND THEN MR KRABS SHOWS AND HE PICKS IT OFF!!!!!!!!! AND THEN THE EPISODE ENDS.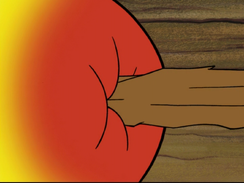 Rating
0/10- DISGUSTING! THE ONLY GOOD PART OF THIS EPISODE IS THAT IT ENDS. 
End
ANYWAYS, THE REVIEW IS OVER NOW. NEVER WATCH THIS EPISODE. DON'T.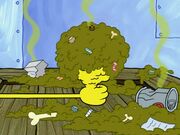 Community content is available under
CC-BY-SA
unless otherwise noted.