About Me
Hi <insert name here> I am WoofWoofGam3r, I'm a very big fan of cartoons and my favourites are SpongeBob Squarepants, Rugrats, The Fairly Oddparents and The Simpsons. My favourite of these shows is of course SpongeBob SquarePants, I like making friends and taking quizzes about SpongeBob.
Oh yeah, I also LOVE Mustard!
This user is currently blocked. The latest block log entry is provided below for reference:
Top 10 best episodes of each season
Season 10
Season 11
Season 12
BONUS!
11. Dirty Bubble Returns
My Favorite SpongeBob SquarePants Seasons worst to best
11. Season 7
10. Season 8
9. Season 6
8. Season 5
7. Season 10
6. Season 9
5. Season 4
4. Season 1
3. Season 11
2. Season 2
Season 3
Friends
Anthony2306
Golfpecks256
Figmeister
IsaacHanto777
CheeseCrocker
A Wikia Contributor ITALIAN's Return
Spongebob456
Chachingchaching
Sponge Number1
Sinkingship1910
Doctor Patrick
Toxicsponge
BDTYA
My Favorite Episodes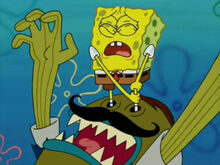 Community content is available under
CC-BY-SA
unless otherwise noted.