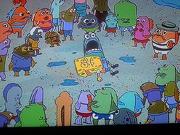 Hi im Superspongefan.
Dear fellow Wikians, im currently working on a series of relationship articles for all main characters involved in the show, this includes
*SpongeBob SquarePant's Relationships
And all other main Characters
If You have any questions, or you are willing to help me on this project, please leave me a message on my talk page, Thank you.
Articles i've created
Things I Do
Undo Harmful Vandalism
I Dont delete articles, unless they have nothing to do with SpongeBob
I would try to help out if Main Characters, The Main Page, or Special episodes are vandilised.
Vandilism is Not Funny
Favorite Episodes
.
Community content is available under
CC-BY-SA
unless otherwise noted.