| | |
| --- | --- |
| | This page should only be edited by Qwertyxp2000 the second unless you are given permission to do so by Qwertyxp2000 the second. |
Qwertyxp2000 the second
Name
Ron (but call me Qwertyxp2000)
Age
16
Birthday
August 1st (just don't mention)
Gender
Male
Likes
Squidward, Patrick, Mr. Krabs, My Singing Monsters franchise, Bloons TD franchise, Wikia (FANDOM), Pre-Movie SpongeBob Era, ...
Dislikes
A Pal for Gary, Puffy Fluffy, trolls, spammers, ...
Interests
Playing My Singing Monsters (and its sequel), playing games of the Bloons TD franchise, interest in SpongeBob franchise, editing wikis, fascinating at the Alex Voice in Macintosh, making videos
Date Joined
October 1, 2014, though I started editing much more in October 4, 2016
Where I live
Hamilton, New Zealand
On This Wiki
User (October 1, 2014 - present)
Rollback (November 11, 2016 – June 4, 2018)
Assistant (January 26, 2017 – June 4, 2018)
Discussion moderator (September 6, 2017 - October 27, 2020)
About Me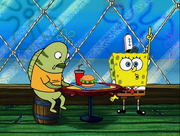 Wikia stuff
I have been editing Encyclopedia SpongeBobia since I had been new to Wikia. I edit a couple of other wikis, but also editing here occasionally too. Mostly I edit My Singing Monsters Wiki, hence my blue gorilla in headphones profile image, and also Bloons Wiki too.
I have promotions as Content Moderator in Bloons Wiki and My Singing Monsters Wiki.
I also create various animations, such as the animation with the Apple voices as heard on Macintosh computers that you can see at the right (or at the top if you are looking at mobile).
Note that I have grown up mostly in small wikis, less so large wikis like this one. So I may sometimes forget certain procedures for big-wiki sorts of thing. Also, sometimes I may make poor grammar accidentally of unintention to type quicker.
I had been editing a lot earlier, but have edited much more strongly since October 4th 2016. Funny that I met the Halloween art some time around October 15th or so, rapidly changing in 5:20 UTC November 1st 2016.
SpongeBob stuff
I watched SpongeBob since I was younger, maybe since 2005 or something like that, and since have related aspects of life quite well. I even watch SpongeBob nowadays (mostly between 2016-2018), though I do this mostly for helping improve this wiki more easily. But sometimes I may watch just for fun.
My first episode I don't specifically remember. However, one of the first episodes I remember watching was Opposite Day. And I confused this as the first SpongeBob episode, even though Help Wanted is a lot earlier than that.
My favorite episodes are really difficult choose from as to pick one single most favorite. However, I do enjoy many Krusty Krab and/or Plankton episodes quite well. I don't seem to enjoy pet-related episodes, and I seem to dislike this episode type the most, especially the dreaded Season 7 pet torture episode (Shall I say it? No, so figure out yourself).
I enjoy editing this wiki for the purpose of both just helping the wiki and for helping to aid my understanding and enjoyment of SpongeBob. I edit best on galleries and transcripts, but also APM stuff too, though I am best in galleries.
The SpongeBob MacPants Universe
I created my own version of SpongeBob SquarePants called "SpongeBob MacPants", involving a bunch of mostly logos of famous companies and/or their products. They are represented as (so far):
SpongeBob SquarePants - Macintosh's Finder (sometimes White Chess Bishop instead)
Patrick Star - Macintosh Classic "Classic Mac"
Squidward Tentacles - Windows Vista
Mr. Krabs - Apple's logo "Mr Apple"
Plankton - Internet Explorer
Gary - Windows XP Recycle Bin
Mrs. Puff - Pixar Lamp
Squilliam - Windows 7
Jellyfish - Flying smartphone blueprints
My Singing Monsters stuff
I do mention a lot about My Singing Monsters, so don't worry if I mention so much of that stuff.
Basically in My Singing Monsters, you breed and buy monsters that sing and play music. The aim is to build your own monster orchestra, but the way you do so is up to you.
For more info of this MSM stuff, see this link at My Singing Monsters Wiki.
I am in real-life a New Zealand teenage boy, passionate in SpongeBob, My Singing Monsters, and Bloons TD 5.
I play the cello since 2010, after not enjoying the violin's shoulder rests. I play the piano, but not to a high extent. I will play the clarinet from mid-April 2017, with inspiration of Squidward and so I can exercise my tummy muscles (don't want a potbelly).
Some time in 2014 or 2015, I uploaded a picture of a can of spam in transparent form on Wikipedia. It got deleted a few years later, on late-2019, because it was found to be copied from a website with only a transparency added. But yeah, I got credited for making the transparent spam can. Wow. If you're really curious, search "Qwertyxp2000" on Google and then you can find a can of spam credited to me under that same name.
Crewcard
Qwertyxp2000 the second
Qwertyxp2000 the second is a discussion mod on Encyclopedia SpongeBobia and an admin of Bloons Wiki and My Singing Monsters Wiki. In Encyclopedia SpongeBobia, he monitors the comment sections of every article he explores, as well as occasionally checks the forums. His motivation for the wiki is driven primarily by editing wiki articles and expanding episode galleries.
Message Wall
In 2019, Crewcards were developed. Here is my Crewcard for reference of my intentions for the wiki.
My wordbubble
Qwertyxp2000 the second

– Qwertyxp2000 II (talk | contribs)


WALL

–

CONTRIBS

–

BLOG

I am a Rare Deedge, with the greatest contributions of adding images to galleries in order to make them complete plotwise.
Sandbox
My Contributions
My Favorite Pages
Episode preferences
Favorites
I have various favorites, mostly from Seasons 1-3.
Dislikes
I did not like much of the "New SpongeBob" episodes, but my least favorites...
Scenes I like
"Is mayonnaise an instrument?" scene
"May I take your hat sir" scene
Deleted scene in Just One Bite
"Claustrophobia" scene
The Ugly Barnacle scene
Barnacle Chips scene
Scenes I dislike
Scenes pertaining to scariness of Puffy Fluffy.
The scary Patrick face when he holds his face for long.
SpongeBob's creepy breathing close-up in Tutor Sauce.
Plankton's attempt suicidal acts and Mr. Krabs's laughing at Plankton in One Coarse Meal.
SpongeBob breaking his knuckles
SpongeBob suddenly changing to really upset crying face in "Karate Choppers"
I don't know what else.... Got ideas?
SpongeBob "plad" scene and the "chicken cluck" of "Little Yellow Book".
Most Favorite Episodes
Some seasons were very hard to decide, particularly Season 1, 2 and 3, since many of my favorites are at those seasons, and also Seasons 6, 7 and 8 because of their notorious reputation.
Note that I haven't seen certain episodes, but I do feel they are good by interest by articles in the wiki.
I haven't seen Season 10 at all, but I feel one better than the other by article interest.
Least Favorite Episodes
Season 7 is easy to find worst, but I found some difficult, like Seasons 1, 2 and 3. For Seasons 1-3, I found the ones I didn't appreciate the best. For all others, even though I haven't seen some episodes before but feel are very bad episodes, they are whatever is worst.
Episodes I like that many dislike
Season 1-3
Season 4-5
Seasons 6-8
Seasons 9-10
Episodes I dislike that many like
Season 1-3
MuscleBob BuffPants – I didn't like how SpongeBob was listening to a stupid "wimpy-wimpy-wimpy" ad that makes him want to show off fake muscles. Contradicts Ripped Pants.
Prehibernation Week – I didn't like the extreme sports parts, and I didn't like how so much hassle has to be done just because of too much extreme sports. But at least there is a well-done message there...
Doing Time – Plot is far too confusing. I didn't even understand the entire plot of this episode until reading it on wiki. Even watching it again I found the plot confusing.
Seasons 4-5
Mrs. Puff, You're Fired – I didn't like how illogical it was for SpongeBob to drive well with eyes closed but not with open eyes! That is blatantly obvious, gosh!
Once Bitten – Zombies? Mad snail disease? Mad Gary? Outright gross to me! Maybe not as gross as The Splinter, but it is not pleasant to watch for the 11 minutes!
Krusty Plate – Why would you just go use so much energy and resources as well as risking the entire restaurant just to get one plate completely tip-top shape?
Season 9-10
Lost and Found – I really didn't like the Squidward torture. Squidward did not deserve his box of lost clarinets to be crushed, nor did he deserve to be stuck in "the lost world" of the dinosaurs. No, Squidward doesn't deserve this torture, and he did nothing wrong to do so.
Out of the Picture – Out of all Season 10 episodes, I found this the worst so far (as far as seen). I really didn't like how Squidward was continually being desired to be, subliminally, killed to get more monetary value in Squidward's paintings. Also, House of Horror Part 5 didn't play in the right form of situation, being used in only a minor fear, rather than major fear, and overall that music didn't play at the right occasion. Wouldn't recommend it in my opinion.
Episodes I like that others like
Seasons 1-3
Help Wanted – The original episode; original characterization, original plot, original creator, original locations, original jokes. The basis of every good SpongeBob episode.
Band Geeks – The ultimate episode of SpongeBob. Amazing character balance, amazing music, and of course, I love music-centered episodes (or at least most of them).
Episodes I dislike that others dislike
Season 6-8
Keep Bikini Bottom Beautiful – I didn't really enjoy Squidward being teased by Squilliam about Squidward having to do community service. Though much worse is when the policeman, Officer John, is always giving punish tickets for every single "littering" Squidward does. But hey, at least A Pal for Gary is worse than this.
A Pal for Gary – Urrgh! I just HATE the disgusting beast called Nudibranches, and I hate the episode more when people talk about how SpongeBob had been a total jerk, and in particular the second-half of the episode. To me, all bad episodes combined is better than this episode.
Demolition Doofus – Even though I never recall watching it in childhood, what people are saying about it and the content involved in it make me want to avoid this episode altogether. Especially a well-developed recurring character wanting to KILL the protagonist of the show! Darn you Mrs. Puff.
Hateable episodes that deserve hate but are overhated
Seasons 6-8
One Coarse Meal – Bad episode, but not the most terrible. Torture of your rivals and a truly evil boss is bad, but you can explore other bad aspects from many other episodes. Variety of disgraceable aspects is everywhere around you. Don't just stick to one measly aspect of an episode; episodes with their variety of bad aspects are everywhere around you.
Seasons 9-11
Whole episode ratings
Will add later.
Episode PosNegs
"PosNegs" are basically screenshot portrayals of the episode in a positive light and a negative light using respective screenshots that reflect such light.
For example, for The Sponge Who Could Fly, to reflect the episode in a positive light I would put a happy flying SpongeBob during the "I Could Fly!" song to portray the best light of the episode; in contrast, I'd put a scene of rioting Bikini Bottomites to reflect the negative light of the episode.
Or another example, I'm With Stupid. While I really enjoy this episode, I do acknowledge that there are very negative scenes too, such as the scene where Marty and Janet are laughing weirdly, perfectly reflecting the dark side of the episode. While I am not offended by the episode's negative scenes, such scenes do show the dark side of the episode. The positive light though is probably more difficult to convince, despite how much I love this episode.
Sample PosNegs
Potential notice descriptions
"Arrrgh! It's the maniac! Take it away, take it away!"

Warning: This article may contain images that may disturb some people. This article contains: scenes of Plankton with severe paranoia.
"What kind of fool do you take me for? He's Squidward, he's Squidward, you're Squidward? I'm Squidward!"

This article contains images that contain default filenames, such as "Image.png." Please help by uploading images that are properly named, preferably using the naming scheme. An admin or assistant may be able to rename the filenames to more specific filenames.
Polls
Userboxes
| | |
| --- | --- |
| ♂ | Qwertyxp2000 the second is male. |
This user has the Pushin' Tables Badge (contributed to the wiki every day for 5 days) on Encyclopedia SpongeBobia. (

verify

)
This user has the Free Balloon Day Badge (contributed to the wiki every day for 14 days) on Encyclopedia SpongeBobia. (

verify

)
This user has the Grandma Tentacles Badge (contributed to the wiki every day for 30 days) on Encyclopedia SpongeBobia. (

verify

)
This user has the ONE WEEK LATER Badge (contributed to the wiki every day for 60 days) on Encyclopedia SpongeBobia. (

verify

)
Gallery
Personal stuffs
Profiles History
Drawing of characters
Backgrounds
Videos of SpongeBob scenes I made
Some meme stuffs I was making
More cool stuff
Sounds
Phone call
Daytime Drama (Dumped) – Qwertyxp2000 version
Sweet Victory (Band Geeks) – Qwertyxp2000 version
Community content is available under
CC-BY-SA
unless otherwise noted.