PhazerGazer5000 is currently online.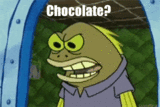 About me
Name
PhazerGazer5000
Favorite Animated Shows
SpongeBob SquarePants, The Simpsons, Futurama, Hey Arnold, Dexter's Laboratory, The Flintstones, Scooby-Doo
Favorite SpongeBob Character
SpongeBob SquarePants
Friends
(No order) ChocolateBrownieBoy, ZeoSpark, JonthePlayerxD, SpongeFreddy777 (Mark), Mismagius Star, SonicTheEpic (Adam), Dejavukitkat13, Tominator777, President Dubstep, Auron~Guardian, DeviantPooper, FlyingDutchman,
Favorite SpongeBob episode
Krusty Krab Training Video
Favorite Line from the Show
Sounds like a lot of...HOOPLA!!!
Least Favorite Episode
A Pal for Gary
Least Favorite Line from the Show
Gary! You put Fluffy down right now!
Computer
Windows 10
Scorecards
Past Avatars
Gifs
Community content is available under
CC-BY-SA
unless otherwise noted.