Welcome

Hi, welcome to my Userpage my name is Laserdance aka keith or migz and I am one of the Contributors of this wiki, and being one of the contributors of this wiki I am willing to help to make this wiki better and the best.
I have been promoted to a Chat Moderator so I need to take care of the chat from spammers together with Editing.
My Favorite Characters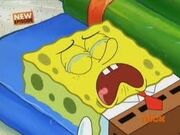 with a happy-go-lucky personality. He is an extremely determined person, and will often stop at nothing to accomplish a task. He is also somewhat dramatic to the people who are kind to him, for example, to the Mailfish.









He's not the smartest fish in the sea. Patrick is quite overweight and loves ice cream and many other junk foods. He is the deuteragonist of the show. He resides under a rock. SpongeBob and Squidward are his neighbors. He has a big sister named Sam.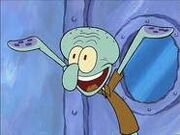 Squidward has a personality that is presented as that of a smart, cynical, and snobbish individual whose style is generally not appreciated by others. In spite of this, he is still one of the most intelligent characters, and out of the ten major characters, he can be categorized as the most educated ones, along with Sandy and Gary. He has a sarcastic attitude and sees others as uncivilized morons, while failing to accept his own personal shortcomings. Squidward sees himself as misunderstood and unappreciated, blaming society for his failures.
My Favorite Episodes
Season 1
Season 2
Season 3
Season 4
Season 5
Season 6
Season 7
Season 8
My Favorite Photos
My Friends in this Wiki
Top 3 Best Admins in this Wiki
everybody is 1st theres no loser everyone is fair.
My Favorite Quotes
SpongeBob
"I'm ready!"
"Order up!!!"
"Holy Shrimp!"
Patrick
"Who are you people?!"
"Nooooo!!! my name's not Rick!!"
"Lets get naked!"
Squidward
"Oh please... I have no soul."
"This is idiotic!"
"I hate all of you!"
Sandy
"YEEEEEE-HAW!!!"
"Doggone it!"
"Howdy y'all!"
Community content is available under
CC-BY-SA
unless otherwise noted.