Desinged by
Tiff or Nick
WARNING: This wiki contains Spoiler (media) on Wikipedia. Most have been tagged, but please read at your own risk!
For more information, please view the site's Spoiler policy.

Help Wanted
A narrator with a French accent introduces SpongeBob SquarePants, a sponge who lives in a pineapple under the sea. SpongeBob's foghorn alarm clock rings (honk! takes a quite long time), waking him up in the morning. He tells his pet, Gary the Snail that he must be in good shape because this particular day is important. He jumps off his diving board, and lands in his pants.
He goes to his exercise room and lifts a bar-weight (which is actually two stuffed animals). Afterwards, SpongeBob declares that he is ready. He runs outside and down the street to the Krusty Krab, repeatedly saying, "I'm ready" while his neighbor and best friend, Patrick Star, cheers him on.
patrick star
Patrick Star is the deuteragonist of SpongeBob SquarePants. He is SpongeBob's best friend. He is a dim-witted yet, pleasant Starfish. Patrick is quite overweight and loves to eat ice cream and many other foods. He resides under a rock. SpongeBob and Squidward are his neighbors. Patrick and SpongeBob like to bug Squidward. Patrick has a big sister named Sam Star, who appeared in the episode "Big Sister Sam." He is the third character to appear in the SpongeBob series, behind Squidward with 295 appearances and SpongeBob with 370 appearances.
Jellyfish Fields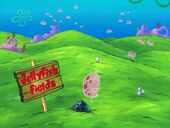 Jellyfish Fields (Jellyfish Area in the two Korean versions) is a vast area in which jellyfish reside which was first seen in the episode, "Tea at the Treedome." Over 4,000,000 jellyfish reside here, as evidenced in "Jellyfish Hunter." In "Born to Be Wild", it's revealed that Jellyfish Fields is 50 miles long. There are two entrances. (1 at the beginning and 1 at the end, so it stretches out to other towns.) Other creatures live there such as clams, leeches, poisonous sea urchins, and a giant green monster. It is also a place where SpongeBob and Patrick enjoy Jellyfishing. Objects found are a treasure chest, an anchor, and hooks. Features include seaweed, rocks, coral plants, and big cliffs. Also, every year, for 3 days, different kinds of jellyfish all over the world come to Jellyfish Fields. This is known as "Jellyfish Migration".
|}
LIKE / FOLLOW US ON:
<chat />

Your Feedback!

Not sure where to start?
Questions? Look at the Help Pages or contact an admin. We'll be more than happy to help out! :)
<createbox> width=40 break=no buttonlabel=Create new article! </createbox>
=Hi
<div style="font-family:Trajan; font-size:300%; font-weight:bold; text-align:center; padding:3px; -moz-border-radius:3ex; border-radius:3ex;"
| | |
| --- | --- |
| 2000 | This user has made over 2000 edits at Encyclopedia SpongeBobia. |


Goals
1 edit = done 5 edit's = done 10 edit's = done 25 edit's = done 50 edit's = done 100 edit's = done 250 edit's = done 500 edit's = done 1000 edit's = done 1500 edit's = done 2000 edit's = done 3000 edit's = undone 3500 edit's = undone 4000 edit's = undone 4500 edit's = undone 5000 edit's = undone 5500 edit's = undone 6000 edit's = undone 6500 edit's = undone 7000 edit's = undone 7500 edit's = undone 8000 edit's = undone 8500 edit's = undone 9000 edit's = undone 9500 edit's = undone 10000 edit's = undone 20000 edit's = undone
Davebrayfbu Userpage
Hello, <insert name here>! Welcome to my userpage! If you have any questions, contact me here! Thanks!
No title
Date Joined
2012
Hi.I like SpongeBob.

<div style="border:8px ridge
Community content is available under
CC-BY-SA
unless otherwise noted.