Person
Yosito "Tom" Yasumi (born August 20, 1965; age 55) is a SpongeBob SquarePants crew member. He is an animation director who frequently collaborates with Alan Smart.
Originally, the animation directing was swapped between Yasumi and Smart, along with other animators such as Frank Weiss; however, after Andrew Overtoom left the crew at the end of season 8, Tom Yasumi and Alan Smart became the core animation directors for season 9.
Biography
Tom Yasumi was born in Tokyo, Japan on August 20, 1965. He is an animation director best known for his work on SpongeBob SquarePants. He has been working on the show since it began in 1999.

Trivia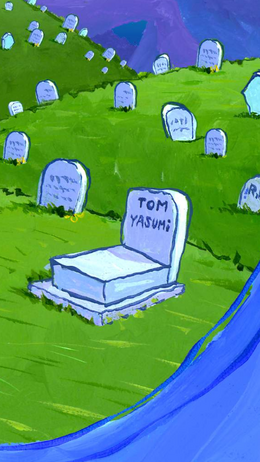 His name can seen on a gravestone in a cemetery in the episode "Sandy's Rocket."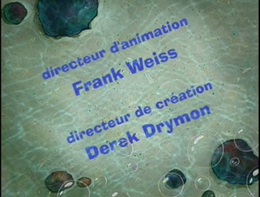 References
Emmy Awards

Primetime Emmy Awards
Outstanding Animated Program (for Programming Less Than One Hour)
Nominees: Sean Dempsey, Derek Drymon, Juli Murphy Hashiguchi, Sam Henderson, Stephen Hillenburg, Jay Lender, Mark O'Hare, Kent Osborne, Alan Smart, Paul Tibbitt, Tom Yasumi (for "New Student Starfish"/"Clams," 2003) • Derek Drymon, Juli Murphy Hashiguchi, Stephen Hillenburg, Kent Osborne, Andrew Overtoom, Alan Smart, Paul Tibbitt (for "Ugh," 2004) • Mike Bell, C.H. Greenblatt, Stephen Hillenburg, Alan Smart, Paul Tibbitt, Vincent Waller, Tom Yasumi (for "Fear of a Krabby Patty"/"Shell of a Man," 2005) • Casey Alexander, Luke Brookshier, Stephen Hillenburg, Tom King, Dani Michaeli, Chris Mitchell, Andrew Overtoom, Alan Smart, Paul Tibbitt and Tom Yasumi (for "Bummer Vacation"/"Wigstruck," 2007) • Steven Banks, Charlie Bean, Stephen Hillenburg, Dani Michaeli, Chris Reccardi, Alan Smart, Aaron Springer, Paul Tibbitt, Tom Yasumi (for "The Inmates of Summer"/"The Two Faces of Squidward," 2008)

Outstanding Special Class - Short-Format Animated Programs
Nominees: Dina Buteyn, Stephen Hillenburg, Dani Michaeli, Alan Smart, Aaron Springer, Paul Tibbitt and Tom Yasumi (for "Dear Vikings," 2009)

Outstanding Short-format Animated Program
Nominees: Luke Brookshier, Dina Buteyn, Nate Cash, Stephen Hillenburg, Doug Lawrence, Andrew Overtoom, Alan Smart and Paul Tibbitt (for "That Sinking Feeling," 2011) • Marc Ceccarelli, Stephen Hillenburg, Kyle McCulloch, Jennie Monica, Jack Pendarvis, Alan Smart, Paul Tibbitt, Vincent Waller, Tom Yasumi (for "Company Picnic," 2016) • Luke Brookshier, Marc Ceccarelli, Stephen Hillenburg, Jennie Monica, Adam Paloian, Alan Smart, Vincent Waller, Tom Yasumi (for "Plankton Paranoia," 2019)

---
Daytime Emmy Awards
Outstanding Directing in an Animated Program
Directors: Andrew Overtoom, Andrea Romano, Alan Smart and Tom Yasumi (2010) • Casey Alexander, Luke Brookshier, Nate Cash, Zeus Cervas, Sean Charmatz, Andrew Overtoom, Andrea Romano, Alan Smart, Aaron Springer, Paul Tibbitt, Vincent Waller and Tom Yasumi (2012)
Outstanding Special Class Animated Program
Animators: Dina Buteyn, Stephen Hillenburg and Paul Tibbitt (2010)

Outstanding Children's Animated Program
Nominees: Stephen Hillenburg, Jennie Monica Hammond and Paul Tibbitt (2012) • Stephen Hillenburg, Marc Ceccarelli, Vincent Waller and Jennie Monica (2018)

Outstanding Performer in an Animated Program
Voice actors: Rodger Bumpass as Squidward Tentacles (2012) • Tom Kenny as SpongeBob SquarePants (2018) • Tom Kenny as SpongeBob SquarePants (2020)

Outstanding Sound Editing – Animation
Nominees: Todd Brodie, Nicolas Carr, Mishelle Fordham, Chris Gresham, Matt Hall, Jeffrey Hutchins, James Lifton, Paulette Lifton, D.J. Lynch, Aran Tanchum and Kimberlee Vanek (2012) • Mishelle Fordham, Vincent Guisetti, Jeffrey Hutchins, James Lifton, Paulette Lifton, D.J. Lynch, Wes Otis, Monique Reymond and Aran Tanchum (2013) • Devon Bowman, Nicolas Carr, Mishelle Fordham, Jeff Hutchins, Aran Tanchum and Vincent Guisetti (2014)

Outstanding Sound Mixing for an Animated Program
Nominees: D.J. Lynch, Justin Brinsfield, Ryan Greene, Manny Grijalva, Jeff Hutchins and Aran Tanchum (2020)