Online game
Tighty Whitey Tumble is a SpongeBob SquarePants online game.
It was released in 2009 to celebrate SpongeBob's 10th anniversary.
Gameplay
The player plays as an arm, and can pull on SpongeBob's underwear to make him go flying. SpongeBob can be flung high or low, depending on how far back one pulls his underwear. One can receive a boost from bouncing on umbrellas and beans.
Walkthrough
Trivia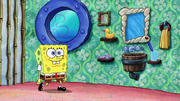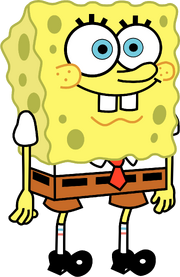 The animation of SpongeBob in this game is based on a scene from The SpongeBob SquarePants Movie, where he walks to brush his teeth. The same animation was used in many Flash games and loading screens on Nickelodeon's website.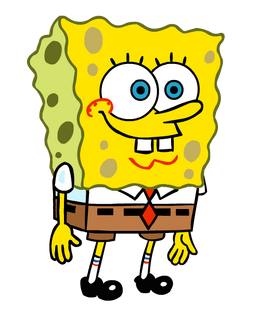 The menu image of SpongeBob in his underwear is an edited version of his classic appearance from the first to third seasons which can also be seen in the title card for "The Krabby Kronicle."