"It's Squidward, silly!"

This article is in need of one or more better quality images. Please help Encyclopedia SpongeBobia by uploading a better image or editing the current image.
Please remove this message when finished.
Tide and Seek is a SpongeBob SquarePants DVD that was released on July 29, 2003 and consists of two episodes from season 1, six episodes from season 2, and two episodes from season 3.
Episodes
Special features
Audio commentaries
Storyboards
Specials
Trivia
Cultural references
The title of this DVD is a pun on the children's game hide-and-seek.
Errors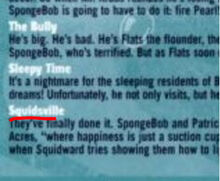 On the DVD cover, Patrick is missing his left leg. This was fixed only on some of the international covers.
The main menu shows clips from "Krab Borg," "Nature Pants," "Just One Bite," and "Something Smells," although these four episodes are not on this DVD.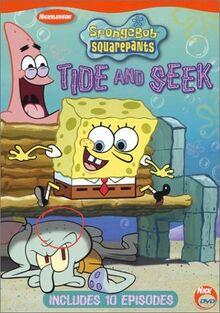 Alternate covers
DVD Menus
Print advertisement