"It's Squidward, silly!"

This article is in need of one or more better quality images. Please help Encyclopedia SpongeBobia by uploading a better image or editing the current image.
Please remove this message when finished.
Tide and Seek is a SpongeBob SquarePants DVD that was released on July 29, 2003 and contains two episodes from season 1, six episodes from season 2, and two episodes from season 3.
Episodes
Special features
Audio commentaries
Storyboards
Specials
Trivia
SpongeBob's face was redesigned for some of the re-release versions of the cover.
The back cover of this DVD contains pictures from these episodes:
This DVD contains previews for various shows. These include older SpongeBob DVDs and VHS tapes, The Wild Thornberrys Movie, The Adventures of Jimmy Neutron: Boy Genius DVDs and VHS tapes, Jimmy Neutron: Boy Genius, and Tak and the Power of Juju.
The "Mermaid Man and Barnacle Boy 3" storyboards can also be found on The Complete 2nd/Second Season DVD.
This is the first SpongeBob DVD release for three things:
This is also the last SpongeBob DVD release for three things:

The last DVD to have the orange wavy line and oval Nickelodeon logo on the cover.
The last DVD until Where's Gary? to use a font other than impact.
The last DVD to have episodes from two separate VHS releases. All future releases would be released both on VHS and DVD and starting with "Karate Island," there would be no more VHS counterparts since that format was discontinued in 2006.

The picture of Squidward on the cover is also on the logo for the Persian SpongeBob dub.
In 2007, at some point, this, Nautical Nonsense and Sponge Buddies and The SpongeBob SquarePants Movie were released together in a bundle called Sponge Crazy.
Cultural references
The title of this DVD is a pun on the children's game hide-and-seek.
Errors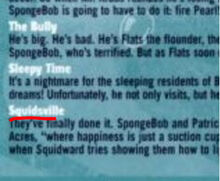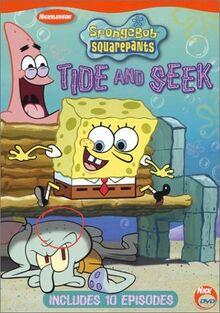 On the DVD cover, Patrick is missing his left leg. This was fixed only on some of the international covers.
The main menu shows clips from "Krab Borg," "Nature Pants," "Just One Bite," and "Something Smells," although these four episodes are not on this DVD.
Alternate covers
DVD Menus
Print advertisement
Community content is available under
CC-BY-SA
unless otherwise noted.