If you were looking for the article about
the book
, then see
Think Happy!
.
"
"We do not lose laughter during times of crisis, on the contrary! Bad mood is the best reason to spread some fun and optimism. We deliberately chose this date for the biggest TV event in the history of MTV Networks and we hope that the audience picks up our message: Think Happy!"
"
 

— Patrick Alders, General Manager of Nickelodeon North Europe for

Think Happy Day[1]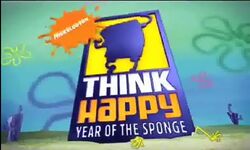 Think Happy - The Year of the Sponge, known as Happy Yellow in Japan, was a year-long campaign that was held internationally and similarly to The Ultimate SpongeBob SpongeBash, it was celebrating the 10th anniversary of SpongeBob SquarePants. A 24-hour marathon named Think Happy Day was commissioned by Nickelodeon North Europe as part of the campaign, and was broadcasted in a total of 22 Viacom networks in 9 countries.[1] Also, new season 6 episodes and the double-length specials "SpongeBob SquarePants vs. The Big One" and "What Ever Happened to SpongeBob?" debuted internationally.[2][3]
The Think Happy Day event was held again in Northern Europe, on May 22, 2011 and May 27, 2012 in the same country.
Commissions in the United Kingdom
The Sponge Who Could Fly musical
The Sponge Who Could Fly is an international musical, based on the episode "The Sponge Who Could Fly." The script was written by Steven Banks, who had become the head writer for the series in season 4, with songs by Eban Schletter. Gip Hoppe served as director, with choreographer and associate director Jenn Rapp, and the set was designed by Rialto vet David Gallo. The musical was produced by Nickelodeon and MTVN Kids and Family Group, partnered with Broadway Asia Entertainment.
SpongeBob SuperFan
SpongeBob SuperFan was a contest where people could vote about their favorite SpongeBob SquarePants fan. The five finalists were named Laura, Hannah, Courtney, Rhianna, and Lucy.
Bollywood Bob
Bollywood Bob is a music video that was produced by Nickelodeon UK. It first aired on the said network on November 14, 2009[4] and was followed by showings of a 30-second version in Vue and Cineworld cinemas nationwide. It follows Rohan, who enters a Bollywood palace to present the King with a golden sponge.[4]
New episode premieres

New season 6 episodes and the double-length specials "SpongeBob SquarePants vs. The Big One" and "What Ever Happened to SpongeBob?" debuted in the UK. Also, a contest was held for the latter, with prizes including Think Happy t-shirts.
Commissions in Germany
Think Happy Day
On November 28, nine countries across North Europe like the Netherlands, Scandinavia, and Belgium would show from Viacom channels including Nickelodeon, Comedy Central, MTV, and TMF, a 24-hour SpongeBob marathon. In addition, the viewers would decide what to see during the SpongeBob Top 100, from the Nickelodeon website. During the marathon, statements of celebrities and kids, such as the cast of House of Anubis, would pass by, in which they are told what makes them happy.[1] Viewers could submit messages, or photos and videos, that "show their personal moments of happiness", so they can have a chance to appear.[5]
Viacom pay-TV stations in Germany were not affected by this special and showed their normal program that day.
Episodes
Nickelodeon Germany
VIVA Germany
The music channel VIVA showed over 50 SpongeBob episodes with themes about love, friendship and music until 8:00 pm, from 06:00 am. From 20:00 there was a "Planet VIVA Special: Underwater Hits" and from 22:00 a "Planet VIVA Special: Think Happy Day". From 0:00 to 6:00, VIVA again broadcasted six hours of SpongeBob episodes.
MTV Germany
MTV started the day at 6:00 am with the documentary "Square Roots: The Story of SpongeBob SquarePants." Afterwards, the SpongeBob episodes were broadcast. Focus at MTV was "beach and sea." Then the best "Underwater Hits" were shown in a clip section.
"I can turn into a skyscraper!"

This section is too short. You can help Encyclopedia SpongeBobia by

expanding it

.
Captain's Secrets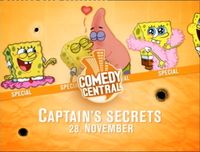 On Comedy Central Germany, there was a marathon called "Captain's Secrets", broadcasted as part of the Think Happy Day, on November 28, on 8:15 PM. Selected episodes from the marathon would have to do with rumors surrounding SpongeBob SquarePants and other main characters. The event was presented by the Captain.[1]
Limited edition plush toy
10.000 copies of a limited edition plush toys of SpongeBob, were produced with gold color, as part of the campaign by Simba.
2011 Think Happy Day event: Day of Laughter
Nickelodeon launched the second Think Happy Day marathon on May 22 at 6am. Until 20:15, an episode marathon of the "funniest" SpongeBob episodes would air on the screen. "With this special program, Nickelodeon celebrates the day of laughter and invites all fans of the yellow sponge to a great SpongeBob party with lots of great winnings!" In the countdown to Think Happy Day Online, there would be hands-on activities for fans.
SpongeBob fans would help shape the program on Think Happy Day this year, adding a laugh of laughter to the Day of Laughter. With the help of the SpongeBob app for Think Happy Day sponge fans could cut their own favorite scenes together and create an individual minute of laughter. The "funniest minutes" of laughter would air on May 22.
They could also invite friends to the SpongeBob party on Facebook and win one of many SpongeBob party packages. From SpongeBob chips to SpongeBob streamers to SpongeBob showers, there's everything you need for a fun SpongeBob party.[6]
Episodes
Errors
At 6:00 pm, while the episode planned to, aired, the title card that was shown, was the "Bubblestand" one.
At 7:30 pm, the title card of "To Save a Squirrel" was visible, but was changed directly afterwards on advertisements.
2012 Think Happy Day event: Be Spongy!
A special "SpongeBob SquarePants" programming marathon with 55 episodes between 6.00am and 8.15pm, plus a special showing of "The SpongeBob SquarePants Movie" at 2.00pm were broadcasted in Nickelodeon Germany, as part of the third annual "Think Happy Day", that would be held on May 27, 2012.[8] The slogan was "Be Spongy!".
Between May 27 and July 14, 2012, European Nickelodeon viewers and fans of the show could log in to the official Nickelodeon Germany website, Nick.de, to add their photos of themselves pulling "SpongeBob SquarePants" facial expressions, where each photograph would be added to a giant photo mosaic, featuring several thousand fans' photos. The finished "SpongeBob SquarePants" mosaic was then unveiled and displayed on a special street banner around Europe during Summer 2012.[9]
Episodes
Commissions in other countries
Pavillon de l'Eau exhibition
Between July 10 and November 21, 2009, an exhibition in Pavillon de l'Eau happened in France, in partnership with Eau de Paris and the Paris City Council. After the end of it in the museum, it would tour around France.
Idents and promos
International idents and commercials produced as part of the campaign depict well-known sites around the world. The Milano Design Studio and Nickelodeon Italy created an ident with that premise for the campaign, directed and produced by Davide Tappero Merlo for Bonsaininja, and Eleonora Cremascoli. Sound design was done by Carlos Zarattini, and Jinglebell Communication, and art direction by Fabio Ardemagni.[10]

Other commercials for the UK depict SpongeBob in various world attractions, such as the Statue of Liberty, the Great Sphinx of Giza, the Mount Rushmore (replacing Abraham Lincoln's head sculpture). They were written, edited and produced by Phil Ball. Graphics were made by Blue Zoo, and audio by The Jungle Group, companies who would later work on bumpers and promos for the SpongeBob's Top 100 marathon event. Narration was done by The X Factor brand voice artist Peter Dickson.[11]

Other promos for events centered around the event were made by Derek Best, such as the SpongeBob SuperFan one, with the "WhoBob WhatPants?" one winning a UK silver Promax award.[12] Another promo for general episode airings on weekdays including the song I Need a Hero was produced by Jungle Studios, directed and written by Jonny Mazur, and sound designed by Gez Lloyd. It also won a gold Promax award.[13][14][15]
Trivia
The Think Happy Day event is similar to the German SpongeBob 24-Hour Marathon.
Gallery
Videos
References
External links
Miscellaneous
British Academy Children's Awards

---
Annecy International Animated Film Festival
---
Artios Awards
Outstanding Achievement in Casting – Animation TV Programming
Nominees: Sarah Noonan (2010)
Outstanding Achievement in Casting – Television Animation
Nominees: Sarah Noonan (2011; 2013)
---
ASCAP Film and Television Music Awards

---
BMI Film & TV Awards

BMI Cable Award
Nominees: Michael Bolger, Sage Guyton, Eban Schletter and Jeremy Wakefield (2013)
---
Satellite Awards

---
THEA Awards

---