Unreleased

Disclaimer: this article contains information that has not yet been released. The information may rapidly change as soon as more details become available.
This article is under construction.

This article is currently in the middle of an expansion or major revamping. Please help Encyclopedia SpongeBobia by contributing to it.
Please remove this message when finished.
The SpongeBob Movie: It's a Wonderful Sponge is a film based on Nickelodeon's hit TV show SpongeBob SquarePants. In this movie, SpongeBob and Patrick go on a rescue mission to save Gary, who's been kidnapped by Poseidon and taken to the Lost City of Atlantic City[5].

It is the third SpongeBob SquarePants film in the franchise[6], set for release on May 22, 2020.[7]
Characters
Plot
SpongeBob and Patrick go on a rescue mission to save Gary, who's been kidnapped by Poseidon and taken to the Lost City of Atlantic City. The movie will reveal the first time our beloved characters (as kids) met at Camp…a magical moment that brings meaning to the power of true friendship.[8]
Production
It will likely consist of both computer-generated (CG) animation and traditional 2D animation, as used in the second movie.[9] Vincent Waller has given the reason for the mix of 2D and 3D animation as expense-based.[9]
In a February 2015 interview discussing the film's financial success, Megan Collison, president of worldwide distribution and marketing at Paramount, stated the possibility of a third film was "a good bet."[10] In another interview, Paramount vice-chairman Rob Moore remarked, "Hopefully, it won't take 10 years to make another film."[11] Later in 2015, in a tweet by Viacom, it was revealed that Paramount Pictures would be developing sequels to existing franchises such as World War Z, Jack Reacher and a third SpongeBob Movie.[12]
On August 3, 2015, in a tweet by Vincent Waller, it was confirmed that the sequel is in pre-production,[13] and that Paul Tibbitt will be directing it.[14] It was later revealed that Tim Hill would be directing the movie[15] with Tibbitt leaving the project.[16] Waller suggested the release date of the film "should be in 2018" but may "land in 2017."[17] He also revealed that the crew working on the series would not necessarily be working on the movie.[18][19] This enables the series to be produced in tandem with the movie[20]
Ruben Hickman is helping out with preliminary developments of the movie, with the same group of producers being present - Cale Boyter, Mary Parent, and Craig Sost.[21] Kristen Caplan is the production manager of the movie. [22] Furthermore, Zeus Cervas has been brought in to help with the movie storyboards.[23]
As of March 2017, animatics for the film have already been completed.[24]
On March 28, 2017, Yahoo! Movies reported on its Twitter feed that the movie had been given the placeholder title of The SpongeBob Movie and the release date had been pushed back to August 2, 2019.[25][26][27] In 2018, the movie received its final title, The SpongeBob Movie: It's a Wonderful Sponge.[28]
On October 23 the president of Paramount Animation revealed that the movie will have a "nice homage to the classic movie" with references to It's a Wonderful Life. The movie will also be an origin story detailing "how SpongeBob met the rest of the Bikini Bottom gang at summer camp." The opening sequence will take place at Camp Coral where all the characters first meet.[29]
The movie is going to use full-CG characters and environments, with hybrid sequences in the real world. This animation will be completed by Mikros Image and the score will be completed by Hans Zimmer. Music from "big names" will also be included.[29]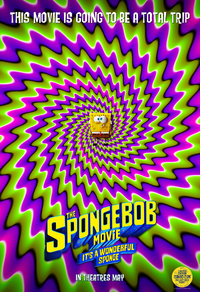 On January 22, 2018 it was confirmed principal photography had begun.[30] Tom Kenny, Bill Fagerbakke, Rodger Bumpass, Clancy Brown, Mr. Lawrence, Jill Talley, Carolyn Lawrence, Mary Jo Catlett, and Lori Alan are expected to reprise their roles.[31]
On February 2, 2019 the release date of the movie was moved forward to May 22, 2020.[1]
On June 12, 2019 it was announced that Awkwafina and Reggie Watts will appear in guest voice roles. Cyndi Lauper, Rob Hyman, and Ali Dee will work on songs for the film. Ryan Harris will produce the film and Mia Michaels will act as its choreographer.[32]
At San Diego Comic Con (SDCC) 2019, an SDCC exclusive poster was revealed.
Deleted storyline
Below follows a set of storyboards by Wolf-Rudiger Bloss from a storyline that Vincent Waller believes was "a first pass at the story, but the entire alien cat storyline was later tossed out and rewritten."[33][34]
Trivia
General
This will be the second SpongeBob SquarePants production to be animated in CGI.
This will be the first SpongeBob SquarePants film to be shot in the 2.35:1 aspect ratio, unlike the SpongeBob films that were produced in 1.85:1.
References
Community content is available under
CC-BY-SA
unless otherwise noted.