"It is I, Kelp Thing! Do what I do!"

This article is in need of a better quality video. Please help Encyclopedia SpongeBobia by uploading a better video.
Please remove this message when finished.
The Seascape Capers is a SpongeBob SquarePants DVD that was released on January 6, 2004 and contains one episode from season 1, six episodes from season 2, and three episodes from season 3. It was re-released on September 25, 2012.
Synopsis
Amazon Prime Video
Are you ready for a bubble blowing good time with SpongeBob and his pals? Dive down to Bikini Bottom for these 10 underwater nuggets in which bad breath, invisible spray pranks, and a Mr. Krabs robot just touch the surface of deep-sea tomfoolery!
iTunes
Dive down to Bikini Bottom for this collection of 10 underwater nuggets featuring everyone's favorite sponge. SpongeBob and his Bikini Bottom pals are ready to have a hilariously good time when SpongeBob and Patrick face off in the Fast Food Olympics, where only one will be victorious, SpongeBob tries to teach Squidward and Patrick the fine art of bubble blowing, and Squidward only has one student enroll in his art class – SpongeBob – who proves to be, hands-down, more talented than his instructor. Then whoa! What has SpongeBob's breath smelling so bad?! Then it's time for some underwater pranks when SpongeBob and Patrick get their hands on invisible spray, an underwater romance is brewing when Mr. Krabs and Mrs. Puff start dating, SpongeBob declares himself too old for Grandma's kissy kisses, a screaming giant oyster wreaks havoc, SpongeBob tells on the Tattletale Strangler, and… is Mr. Krabs a robot?! Find out in this waterlogged collection that'll really float your boat!
Episodes
Special features
Storyboards
Reception
Currently retired critic Bill Treadway of the DVD Verdict praised the episodes featured. "With a suggested retail price of $16.99, and many stores discounting to $12.99, I can easily recommend the disc. It's worth the purchase price for the two new shorts, which are among the very best SpongeBob SquarePants episodes ever made." He also noted the lack of special features in comparison previous DVD releases of the series, and the inclusion of "Bubblestand," an episode that "has its moments, but it is far from the best this series has to offer," which was featured on The Complete 1st Season box set, which was released in October the year before. "Chances are the fans and admirers own the episode on the earlier set. A much better solution would have been to provide a short that has yet to make its DVD debut, or better yet, give us another unreleased short."[2]
Trivia
General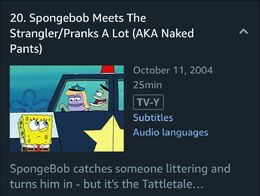 Alternate covers
Print advertisement
Videos
References
Digital media (V • E)
Themed:
10 Happiest Moments • Absorbingly SpongeBob • All Hands on Deck! • All Aboard for Laughs • Best of SpongeBob • Beware the Hooks • Bizarro Bikini Bottom • Bikini Bottom Tales • Bikini Bottom Getaways • Bob Esponja Vol. 1 • Bundled Up in Bikini Bottom • Calling All Heroes! • Celebrate the Sea • Driving Bikini Bottom Crazy! • Extreme Kah-Rah-Tay • Factory Fresh • Fine Arts Collection • Friend or Foe? • From the Beginning, Part 1 • From the Beginning, Part 2 • Get to Work! • Ghouls Fools • Glumly Squidward • Heroes of Bikini Bottom • High Tides and Wild Rides • It's a SpongeBob Christmas! • It Came from Goo Lagoon • Laugh Pack • Let's Play • Loveable Sponge • Mermaid Man & Barnacle Boy: Defenders of the Deep • Nautical Nonsense (digital release) • Mighty Sporting of You • Out to Sea • On the Road • On the Road Again • Oceans of Laughs • Orange Collection • Patchy's Playlist • Patrick's Day • Patrick SquarePants • Rockin' Bikini Bottom • Sheldon Plankton: Mean and Green • Simply Patrick • Snail's Meow • Seaworthy Celebrations • SpongeBob's Atlantis SquarePantis • SpongeBob's Frozen Face-Off • SpongeBob's Pest of the West • SpongeBob SquarePants, iSponge Offer Pack • SpongeBob SquarePants Has Hit Rock Bottom • SpongeBob SquarePants Specials Collection, Vol. 1 • SpongeBob SquarePants Specials Collection, Vol. 2 • SpongeBob vs. The Big One • SpongeBob, You're Fired! • SpongeShorts • Spongicus • SpookTacular • Sportingly Sandy • Super Spongy Square Games • Treasures of the Sea • Sweet & Sour Squidward • Tales of a Teenage Whale • The Seascape Capers • The SpongeBob Musical: Live on Stage! • Viking-Sized Adventures • Waves of Adventure
Season:
The Complete 1st Season • The Complete First Season • The Complete 2nd Season • The Complete Second Season • The Complete 3rd Season • The Complete Third Season • The Complete Fourth Season • The Complete Fifth Season • The Complete Sixth Season • Complete Seventh Season • The Complete Eighth Season • The Complete Ninth Season • The Complete Tenth Season • The Complete Eleventh Season • The Complete Twelfth Season
Movies:
The SpongeBob SquarePants Movie • The SpongeBob Movie: Sponge Out of Water • The SpongeBob Movie Double Pack • SpongeBob Double Feature • The SpongeBob SquarePants Double Feature
Nickelodeon Compilations:
Holly Jolly Holiday Specials • Jolly Saint Nick • Love is Everywhere! • Nick-or-Treat! • Nickelodeon 5 Family Films • Nickelodeon Fool Proof Fun • Nickelodeon's Happy Holiday Pack • Nickelodeon Holly Jolly Holiday Specials • Nickelodeon Hot Picks! • Nickelodeon Kids Choice Awards 2009 • Nickelodeon Summer Pack 2009 • Shocktober! • Shocktober! Vol. 2
Miscellaneous:
Season 6 Volume 5 • Season 7 Volume 1 • Season 7 Volume 2 • Season 7 Volume 3 • Season 7 Volume 4 • SpongeBob Schwammkopf, Staffel 8, Vol. 1 • SpongeBob Schwammkopf, Staffel 9, Vol. 1 • SpongeBob Schwammkopf, Staffel 9, Vol. 2 • SpongeBob Schwammkopf, Staffel 11, Vol. 1 • SpongeBob Schwammkopf, Staffel 11, Vol. 2 • SpongeBob Schwammkopf, Staffel 11, Vol. 3 • SpongeBob Schwammkopf, Staffel 11, Vol. 4 • The Tom Kenny Collection