"The Great Snail Race" is a SpongeBob SquarePants episode from season 3. In this episode, SpongeBob is fed up over Squidward's insults towards his snail Gary, and when Squidward rents his own snail for a snail race tournament, SpongeBob forcefully trains Gary to enter it as well.
Characters
Synopsis
As the episode begins, SpongeBob wakes up and sees Squidward getting a package in the mail. Squidward opens what ends up being a cage, which turns out to contain a female snail named Snellie. He explains that Snellie is a purebred of the highest pedigree and that she is going to be entered in the Bikini Bottom Snail Race on Sunday, which he is sure Snellie will win easily. Upon hearing this, SpongeBob takes offense to Squidward's insult to Gary and decides to enter his pet into the snail race to retaliate against Squidward. Patrick also decides to enter into the competition, albeit with his pet rock, who he christens "Rocky."
With only one day to go until the big day, SpongeBob decides to train Gary as hard as possible, and ends up training him practically to the point of exhaustion. On the day of the race, Gary is so exhausted from SpongeBob's brutal training that he is barely able to make it to the stadium. In fact, Gary's exhaustion is so great that he is initially unable to start in the race. During the race, his eyes burst like a balloon, his shell breaks open (like a car engine) and he spins out of control, leaving skid marks. SpongeBob, seeing the error of his ways, tells Gary that he can stop, but Gary keeps on going, loses control of himself, hits the wall, and explodes completely. An upset SpongeBob runs up to him onto the track, which the announcer says is an "automatic disqualification," and embraces him, crying.
Snellie, who is almost at the finish line, feels sorry for Gary and turns around to comfort him, and the two instantly fall in love. Squidward is shocked at this and walks onto the track. SpongeBob and Squidward then see that, much to their surprise, Patrick's rock has won the race. However, Patrick has the trophy engraved in Squidward's honor knowing how much he wanted to win, and gives it to him. As part of a gag where Squidward's last name is mispronounced throughout the episode, Squidward's name is printed "Squidward Tortellini" much to his dismay. Sandy suddenly appears onscreen and ends the episode by kicking SpongeBob into the air for his sexist insult towards Gary the day before.
Running gags
Someone mispronouncing Squidward's last name.
Patrick thinking his rock is a snail.
Someone telling Patrick his snail is a rock and Patrick responding, "Yeah, thanks. I know. He's got nerves of steel."
Production
Art
Music
( ‣ ) Production music

( • ) Original music

( ◦ ) SpongeBob music

 ‣ Fight! Fight! Fight! - Will Schaefer [title card]
 • William Tell Overture - ? [SpongeBob playing bugle]
 ‣ Dancing The Hula - Kapono Beamer [Squidward's new snail]
 ‣ Apalachian Banjo Duel - Larry Hochman [" Gary's a mutt."]
 • ? Vibes - Nicolas Carr [Gary imagines himself watching TV]
 ‣ Meet the Family - Alan Hawkshaw [Gary imagines himself watching TV]
 ‣ Deadline - Sam Spence ["Looks like we're gonna start our training now, ladies."]
 ‣ Astronauts March - Sam Spence [protein shake]
 ‣ Meet the Family - Alan Hawkshaw [Gary watching TV]
 ‣ Pell-Mell - Sam Spence [sprints]
 ‣ Meet the Family - Alan Hawkshaw [Gary watching TV again]
 ‣ Steve's March - Sam Spence [training montage]
 ‣ Hawaiian Link (B) - Richard Myhill [Gary is exhausted]
 ‣ The Zodiac - David Lindup [at the stadium]
 ‣ Fight! Fight! Fight! A - Will Schaefer [pre-game ceremony]
 • Bad Marching Band - Brad Carow, Robert Lee Faust, Ira Nepus [tired band]
 ‣ Charge - Will Schaefer ["The torch is lit! Let the race begin!"]
 ‣ Open - Tom Hedden [pep talks]
 • Drum Creshendo - Nicolas Carr [drumroll]
 ‣ The Wild Bunch - Sam Spence [race starts]
 ‣ Dramatic Cue (G) - Ronald Hanmer [SpongeBob runs onto the track]
 ‣ Hawaiian Cocktail - Richard Myhill ["Oh, Gary, I'm sorry!"]
 ‣ Romeo & Juliet Overture - Peter Ilyich Tchaikovsky, Fiachra Trench [Snellie comforts Gary]
 ‣ Miss World (C) - Tony Kinsey [ending]

Release
This episode is available on the SpongeBob Goes Prehistoric, Complete 3rd Season, Where's Gary?, The Ultimate Box Set, First 100 Episodes, Double Feature Volume 2, Exposed!: The Ultimate Box Set, 3 DVD Pack, The Ultimate SpongeBob Box Set, SpongeBob SquarePants Vol. 5, Mighty Sporting of You, Complete Third Season, From the Beginning, Part 2, The SpongeBob SquarePants Collection, Snail's Meow, The SpongeBob SquarePants 8 Season DVD Collection, Favorite Episodes, Easter with SpongeBob, Triple Pack 4, Favorite Episodes Volume 2, 2-Season TV Pack, The Third & Fourth Seasons, Big Hits: Volume 2, and The Best 200 Episodes Ever DVDs and on VideoNow.
This episode is also available on the UK version of the SpongeBob Goes Prehistoric VHS tape.
Reception
"The Great Snail Race" was ranked #35 during the Best Day Ever event from November 9–10, 2006.
Trivia
General
This episode and its sister episode were originally scheduled to premiere on November 22, 2002 in the United States, but reruns of "Wet Painters" and "Krusty Krab Training Video" aired in their place. The episodes were rescheduled for December 20, 2002, but reruns of "Sailor Mouth" and "Artist Unknown" aired in their place.[1][2]
The music cue "Fight! Fight! Fight! (a)" played during the title card and when Lightning Larry lights the torch is the tune to "Now That We're Men" from The SpongeBob SquarePants Movie.
According to sound designer Jeffery Hutchins, Gary breaking down like a car engine is actually coming from a Camaro as Hutchins pulled a spark plug wire out. A friend of his recorded the Camaro from his truck side by side up the hill to the Hollywood sign.[3]
This episode marks the first time Gary falls in love. It would happen again in "Gary in Love."
The Bikini Bottom mayor in this episode is also the first mayor of New Kelp City in "What Ever Happened to SpongeBob?"
In the Brazilian dub, Squidward's last name "Tentáculos" is misspelled "Tem Tacos" (have clubs) by the mailman and "Tem Óculos" (have eyeglasses) by Patrick. Snellie is called "Caracolina," a combination of "Caracol" (snail) and "Carolina" (a given name).
This episode was paired up with different episodes in different marathons:
Starting with this episode, while the title card is showing, a description of the music appears in the closed-captions (American TV airings only).
There is an online game of the same name based on this episode.
The band members at the Snail Race are wearing the same uniforms as Squidward's Super Band from "Band Geeks."
This episode marks the first time SpongeBob is the main antagonist in an episode.

Specifically speaking, SpongeBob acts like an antagonist to Gary because of his brutal training and his enraged yelling at him for not taking off in the race.

The show that Gary watches in his daydream is implied to be the same one that Patrick watches in "Rock-a-Bye Bivalve."
In the Indonesian dub, Squidward refers to Snellie's certificate paper as "koran" (newspaper).
Sandy's scenes were removed in all book adaptations of this episode, likely due to SpongeBob's sexist comment.
This is the only episode on the Where's Gary? (DVD) that is not from season 4.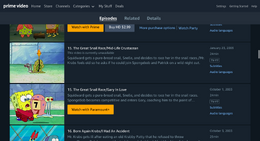 This episode was originally paired with "Mid-Life Crustacean." However, due to that episode being banned in 2021, this episode got paired up with the season 7 episode "Gary in Love" on American iTunes[6] and some streaming services.
Cultural references
"Lightning Larry Luciano" is likely a reference to the mobster "Lucky Luciano."
The torch that indicates the start of the race is a parody of the Olympic flame, a symbol of the Olympics.
The coffee mug that the sports guy drinks (the I ❤️ BB mug) is a reference to the I ❤️ NY slogan
Errors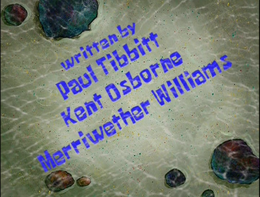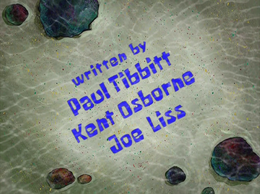 Merriwether Williams is credited as the third writer in the opening credits on this episode in the original airing,[7] early airings,[8] DVD releases, and international non-US airings. However, in recent airings on Nickelodeon USA, digital versions, and streaming releases, Joe Liss is credited instead.
In the audience at Oyster Stadium, Fred is missing his pants. Also, in the back, Incidental 41's legs and Incidental 40's legs are missing.
When SpongeBob says, "Gary, are you listening to me?!," he is shown out of the Oyster Stadium.
SpongeBob was wearing red pants, but in Oyster Stadium, there is a close-up where Gary is on the floor and SpongeBob's pants are blue.
When SpongeBob says, "Don't give me that look!," Gary is in the outer lane, when in reality, he is in the middle lane.
Gary crashes into a wall and is still on the track.

When the race begins, the track is in the center of the stadium, far from the walls.

When Patrick is standing on Squidward's neck, his legs are not seen out the window.
There are only three lanes in the track. However, when Gary is losing control, there are more lanes.
Right after Squidward says, "That's Tennisballs!" and when Patrick blinks, his eyelids are pink.
When Gary is spinning out of control, there are at least five lanes on the track, but before, there are only three.
When SpongeBob runs to help Gary in the race, Patrick's "snail" disappears.
Video
References
Golden Reel Awards

Best Sound Editing in Television Animation – Music
Nominees: Stephen Hillenburg, Donna Castricone, Nicholas R. Jennings, Alan Smart, Peter Burns, Doug Lawrence, Derek Drymon, Alex Gordon, Donna Grillo, Jennie Monica, Krandal Crews, Jim Leber, Justin Brinsfield, Tony Ostyn, Nicolas Carr (for "Mermaid Man and Barnacle Boy"/"Pickles;" 2000) • Nicolas Carr (for "Fools in April"/"Neptune's Spatula" in 2001; for "Jellyfish Hunter"/"The Fry Cook Games" in 2002; for "Wet Painters"/"Krusty Krab Training Video" in 2003; for "The Great Snail Race"/"Mid-Life Crustacean" in 2004) • Jimmy Lifton, D.J. Lynch, Jeff Hutchins, Tony Ostyn and Paulette Lifton (for "Mid-Life Crustacean;" 2004)
Best Sound Editing in Television Animation – Sound
Nominees: Nicolas Carr (for "Karate Choppers;" 2000) • Andrea Anderson, Jimmy Lifton, Monette Holderer, D.J. Lynch, Vincent Gutisetti, Jeff Hutchins and Gabriel Rosas (for "Rock Bottom"/"Arrgh!;" 2001)
Best Sound Editing in Television – Animation
Nominees: Timothy J. Borquez, Jeff Hutchins and Daisuke Sawa (for "The Secret Box"/"Band Geeks;" 2002)

Best Sound Editing in Television Animation
Nominees: Jimmy Lifton, Jeff Hutchins, Tony Ostyn and Chris Gresham (for "Nasty Patty"/"Idiot Box;" 2003)

Best Sound Editing in Television: Animated
Nominees: Jimmy Lifton, Nicolas Carr, D.J. Lynch, Jeff Hutchins, Tony Ostyn, Chris Gresham and Paulette Lifton (for "Pranks a Lot"/"SpongeBob Meets the Strangler;" 2005) • Vincent Gutisetti, Jimmy Lifton, Nicolas Carr, Monique Reymond, D.J. Lynch, Mark Howlett, Jeff Hutchins, Aran Tanchum, Mishelle Smith and Paulette Lifton (for "Have You Seen This Snail?;" 2006) • Nicolas Carr, Mishelle Fordham, Monette Becktold, Jeff Hutchins, Timothy J. Borquez, Tom Syslo, Jason Stiff, Tony Orozco and Kimberlee Vanek (for "SpongeHenge;" 2008)
Best Sound Editing: Television Animation
Nominees: : Chiho Oyamada Carr, Nicolas Carr, Mishelle Fordham, Daisuke Sawa, Monette Becktold, Jeff Hutchins, Timothy J. Borquez, Tom Syslo, Eric Freeman, Dan Cubert, Lawrence Reyes, Jason Stiff, Tony Orozco and Kimberlee Vanek (for "Suction Cup Symphony;" 2009) • Chino Oyamada Carr, Nicolas Carr, Mishelle Fordham, Monette Becktold, Jeff Hutchins, Timothy J. Borquez, Eric Freeman, Tom Syslo, Keith Dickens, Jason Stiff, Sergio Silva, Tony Orozco and Kimberlee Vanek (for "SpongeBob SquarePants vs. The Big One;" 2010)
Best Sound Editing – Sound Effects, Foley, Dialogue and ADR Animation in Television
Nominees: Devon Bowman, Justin Brinsfield, Nicolas Carr, Andrea Anderson, Mishelle Fordham, Monette Becktold, Jeff Hutchins, Eric Freeman, Tony Orozco and Danny Tchibinda (for "Gary's New Toy;" 2013) • Mishelle Fordham, Monette Becktold, Jeff Hutchins, Timothy J. Borquez, Tom Syslo, Eric Freeman, Bobby Crew, Keith Dickens, Gabriel Rossas and Tony Orozco (for "It's a SpongeBob Christmas!;" 2013)