The First 100 Episodes is a SpongeBob SquarePants DVD set that was released on September 22, 2009 and it contains all of the episodes from seasons 1, 2, 3, 4 and 5. It was re-released on May 23, 2017.
Cover
The cover shows SpongeBob walking on the front cover. Many Jellyfish are all around him. The title says "The first 100 episodes" with "the first" written on a board in white text, the number 100 written in a sponge-like font, and "episodes" written on a blue background in white text.
Each case in the 2009 release had two discs, each with a different character theme, while the 2017 re-release has the same discs, just all in one larger case.
Episodes
Disc 1
Disc 2
Disc 3
Disc 4
Disc 5
Disc 6
Disc 7
Disc 8
Disc 9
Disc 10
Disc 11
Disc 12
Disc 13
Special features (Disc 14)
Specials
Audio commentaries
Music videos
Reception
R.L. Shaffer of IGN gave this collection a 8 out of 10, saying that "This DVD presentation is outstanding, packed with a decent assortment of extras, a snazzy case and a pretty solid A/V presentation. If you don't already own the first 100 episodes, I'd highly suggest picking this set up. The discounted price, if nothing else, should appeal to fans who've yet to purchase the first five seasons."[2]
Trivia
"Christmas Who?," "Party Pooper Pants," "Ugh," "The Sponge Who Could Fly," "Have You Seen This Snail?," "Dunces and Dragons," "Friend or Foe," "Atlantis SquarePantis," "Pest of the West," and "What Ever Happened to SpongeBob?" are all counted as double-length episodes. "Christmas Who?" counts as three chapters and "Atlantis SquarePantis" counts as six chapters.
The voting segments from the original first airing of "Shanghaied" are featured on this DVD box set, along with the alternative endings.
"Atlantis SquarePantis" is counted as one chapter on Disc 12, unlike the SpongeBob's Atlantis SquarePantis DVD which counts it as six chapters.
Disc 14 contains all three special features and a music video.
"Goo Goo Gas" aired on July 19, 2009, making it the only episode on the entire box set that aired in 2009, while all the other episodes aired between the years of 1999 - 2008. Even its sister episode, "Le Big Switch," aired on September 29, 2007.
This is so far the only DVD set release to have all 100 episodes (196 segments) from the first five seasons.
This is the first DVD set to use the new Nickelodeon logo. However, this DVD set was released on September 22, 2009 and the network itself did not start officially using the logo until September 29, 2009.

Despite the box using the 2009-present logo, the 1984 - 2009 Nickelodeon Splat logo is used on the DVD menus.

Inside the disc cases of the 2009 release, it lists the episode descriptions and the original air dates.
This DVD set (2009 release) had two separate discs in cases.
This DVD set was released seven years after the Employee of the Month video game was released and three years after "New Leaf" premiered.
This DVD (2009 release) uses thin cases just like the season sets.
The 2017 re-release had all 14 discs held in one case in 4 double-sided "EPIK PAK" DVD holders, the content and design on each disc is unchanged.
On June 4, 2019, a sequel to this DVD was released titled The Next 100 Episodes which contains all of the episodes from seasons 6-9.
The DVD cover doesn't have the SpongeBob SquarePants Logo, unlike all the other dvds.
Errors
The Walmart website once said that this DVD is rated R despite SpongeBob DVDs not being rated in the United States and SpongeBob SquarePants being a children's series.

This error has since been fixed.[3]

There are three errors made with episode production numbers on this DVD. The episode "Squid on Strike" is labeled as Episode 40b instead of 40a, "Just One Bite" is labeled as Episode 43b instead of 43a, and "Ghost Host" is labeled as Episode 70b instead of 70a.
Some of the air date listings have been messed up. Example: It says that "Employee of the Month" aired on March 8, 2000. The episode actually aired on October 2, 1999.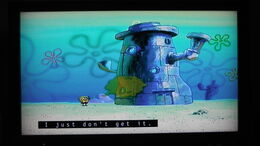 In "Fungus Among Us," when SpongeBob says, "Gary the Snail," the closed-captioning incorrectly refer to his name as "Gary D. Snail."
Gallery
References
Community content is available under
CC-BY-SA
unless otherwise noted.