The First 100 Episodes is a SpongeBob SquarePants DVD set that was released on September 22, 2009 and it contains all of the episodes from seasons 1, 2, 3, 4, and 5. It was re-released on May 23, 2017.
Episodes
Disc 1 (Season 1)
Disc 2 (Season 1)
Disc 3 (Seasons 1-2)
Disc 4 (Season 2)
Disc 5 (Season 2)
Disc 6 (Seasons 2-3)
Disc 7 (Season 3)
Disc 8 (Seasons 3-4)
Disc 9 (Season 4)
Disc 10 (Season 4)
Disc 11 (Seasons 4-5)
Disc 12 (Season 5)
Disc 13 (Season 5)
Special features (Disc 14)
Specials
Audio commentaries
Music videos
Reception
R.L. Shaffer of IGN gave this collection a 8 out of 10, saying that "This DVD presentation is outstanding, packed with a decent assortment of extras, a snazzy case and a pretty solid A/V presentation. If you don't already own the first 100 episodes, I'd highly suggest picking this set up. The discounted price, if nothing else, should appeal to fans who've yet to purchase the first five seasons."[2]
Trivia
"Christmas Who?," "Party Pooper Pants," "Ugh," "The Sponge Who Could Fly," "Have You Seen This Snail?," "Dunces and Dragons," "Friend or Foe," "Atlantis SquarePantis," "Pest of the West," and "What Ever Happened to SpongeBob?" are all counted as double-length episodes.
The voting segments from the original first airing of "Shanghaied" are featured on this DVD box set, along with the alternative endings.
The uncut version of "Procrastination" is included on disc 5.
"Atlantis SquarePantis" is counted as one chapter on disc 12, unlike the SpongeBob's Atlantis SquarePantis DVD which counts it as six chapters.
"Goo Goo Gas" premiered on July 19, 2009, making it the only episode on the entire box set that premiered that year, while all the other episodes premiered between the years of 1999 - 2008. Even its sister episode, "Le Big Switch," premiered on September 29, 2007.
Disc 14 contains all three special features and a music video.
This is the first DVD set to use the new Nickelodeon logo. However, this DVD set was released on September 22, 2009, and the network itself did not start officially using the logo until September 29.

Despite the box using the 2009 logo, the 1984 Nickelodeon Splat logo is used on the DVD menus.

Inside the disc cases of the 2009 release, it lists the episode descriptions and the original airdates.
This DVD set (2009 release) had two separate discs in cases.
This DVD (2009 release) uses thin cases just like the season sets.
The 2017 re-release had all 14 discs held in one case in 4 double-sided "EPIK PAK" DVD holders, the content and design on each disc is unchanged.
On June 4, 2019, a sequel to this DVD was released titled The Next 100 Episodes which contains all of the episodes from seasons 6-9.
On July 15, 2019 (on Amazon) and August 27, 2019 (in stores), this DVD set and The Next 100 Episodes were released in a bundle called The Best 200 Episodes Ever.
Errors
The Walmart website once said that this DVD is rated R despite SpongeBob SquarePants DVDs not being rated in the United States and SpongeBob SquarePants being a children's series.

This error has since been fixed.[3]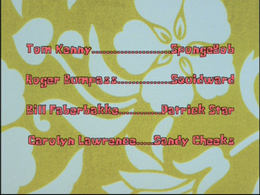 In the closing credits for "Reef Blower" and "Tea at the Treedome," Bill Fagerbakke's name is misspelled as "Bill Faberbakke."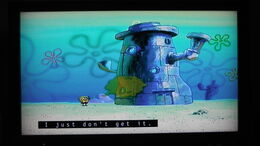 In all Nickelodeon USA airings and the iTunes version of the episode "Something Smells," SpongeBob walks up to a building and says, "Hi, building!," which causes it to flee from SpongeBob's breath. He goes up to Patrick and says, "I just don't get it!" and Patrick says, "I don't either."

On this DVD release, the Nautical Nonsense and Undersea Antics Volume 1 VHS tapes, the Nick Scene It? DVD game, Canadian airings on YTV and Nickelodeon Canada, Polish airings, UK airings, and Australian airings, the scene instead goes like this:
SpongeBob: (walks up to a building and waves) I just don't get it! (the building flees)
Patrick: (off-screen) I don't, either. (SpongeBob walks up to Patrick; the rest of the scene goes as normal, resulting in the same lines being repeated). According to the audio commentary on the Season 2 DVD, this was a sound mixing error. The music also repeats itself incorrectly at that point. It is made obvious since SpongeBob's mouth still clearly says the intended line. The closed-captioning on this DVD matches the incorrect audio.

The disc 3 episode description of "Bubble Buddy" states, "With Patrick out of town..." However, in the episode, Patrick's note just says that he has gone to get more giant paper.
In the episode listing for disc 4, the airdate given for "Christmas Who?" is Friday, December 7, 2001, even though that episode actually premiered a year earlier on December 6, 2000.[4]
"Graveyard Shift" is listed as "The Graveyard Shift" on the episode selection screen and episode listing for disc 5.
"Nasty Patty" is listed as "The Nasty Patty" on the episode listing for disc 6.
In the 2017 re-release of the DVD set, "Funny Pants" is misspelled as "Funny Pantss."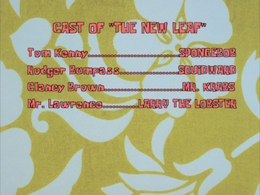 "New Leaf" is listed as "The New Leaf" on the episode listing for disc 10. It was called "The New Leaf" during the Best Day Ever marathon, as well as on the closing credits and the Nickelodeon schedule.
The disc 10 episode description of "Best Frenemies" reads, "Mr. Krabs reveals that he and Plankton were once the best of friends." However, this description actually refers to "Friend or Foe." Interestingly, the description for "Friend or Foe" is different from that of"Best Frenemies," which reads, "It's the history of the Krabs/Plankton rivalry! With a special appearance by Patchy!"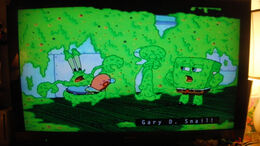 In "Fungus Among Us," when SpongeBob says, "Gary the Snail," the subtitles incorrectly refer to his name as "Gary D. Snail."
There are three errors made with episode production numbers on this DVD. "Squid on Strike" is labeled episode 40b instead of 40a, "Just One Bite" is labeled 43b instead of 43a, and "Ghost Host" is labeled 70b instead of 70a.
Gallery
References
Community content is available under
CC-BY-SA
unless otherwise noted.