This is the page about
The First & Second Seasons
. If you were looking for the article about
season 1
, then see
List of season 1 episodes
.
This is the page about
The First & Second Seasons
. If you were looking for the article about
season 2
, then see
List of season 2 episodes
.
The First & Second Seasons is a SpongeBob SquarePants DVD set that was released on February 5, 2018 and contains contains all the episodes from the first and second seasons, except for "Help Wanted."
Season releases
Episodes
Season 1
Disc 1
Disc 2
Disc 3
Season 2
Disc 1
Disc 2
Disc 3
Special features
Specials
Audio commentaries
Music videos
In the Key of Sea: Krusty Krab Karaoke
SpongeBob Dancin' Pants
Storyboards
Other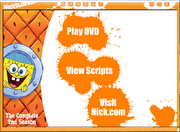 Trivia
"Help Wanted," the pilot episode of the series, was not included due to copyright issues with Tiny Tim's song "Livin' in the Sunlight, Lovin' in the Moonlight" being played in this episode. According to Derek Drymon, this is because Nickelodeon did not want to pay Tiny Tim's estate for the rights.[1] However, it is included as a bonus feature on disc 3 of The Complete 3rd Season, The Third & Fourth Seasons, and 10 Happiest Moments DVDs. It is also available as a normal episode on The First 100 Episodes, SpongeBob, You're Fired!, The Pilot a Mini-Movie and the Square Shorts, and The Best 200 Episodes Ever DVDs.
The uncut version of "Procrastination" is included.
This, Big Hits: Volume 1, The Legend of Boo-Kini Bottom, and SpongeBob SquarePants Holiday Collection were the last SpongeBob DVDs to be released during Stephen Hillenburg's lifetime.
Video
References
Community content is available under
CC-BY-SA
unless otherwise noted.