If you were looking for the article about the
season
, then see
Season 6
.
The Complete Sixth Season is a SpongeBob SquarePants DVD box set that was released on November 13, 2012 and contains all 47 episodes from season 6.
Description
It's an entire season of hilarious SpongeBob firsts! He's round, tanned, and boringly normal! Plus, our intrepid fry cook becomes a tabloid reporter, tries professional wrestling, crashes Pearl's slumber party, and shrinks his last pair of square pants! The horror! And there's more - much, much more in this Season 6 collection!
Episodes
Disc 1
Disc 2
Disc 3
Disc 4
Special features
Shorts
"SpongeBob SquarePants vs. The Big One" shorts
"Truth or Square" shorts
"The Clash of Triton" shorts
Music videos
Specials
Trivia
General
"SpongeBob SquarePants vs. The Big One," "Truth or Square," and "The Clash of Triton" are all counted as double-length episodes.
"Truth or Square" is the only episode from season 6 to be presented in a widescreen format. On this DVD, the episode "Truth or Square" is actually in full screen 4:3 letterbox with black bars on the top and bottom rather than true widescreen. On The Pilot a Mini-Movie and the Square Shorts DVD though, the episode is in true widescreen, filling the 16:9 display sets that the episode was produced in.
The Japanese DVD has more characters than just SpongeBob on the cover. That release is also titled "The Complete 6th Season."
This DVD uses the extended 59 minute version of "Truth or Square."
The Region 4 release of this DVD uses an alternate version of "Truth or Square." It removes almost all Patchy segments and shortens it from 59 minutes to 42 minutes. This version is also used in reruns.
On the DVD description on the backside, the following episodes are referenced:
Errors
The episodes are not listed by packaging order, and not even by airdate order. Instead, the episodes are listed by the order used on the season 6 compilation DVDs:
Even though "Squid's Visit" is 116a and "To SquarePants or Not to SquarePants" is 116b, disc 2 has the opposite (116b and 116a).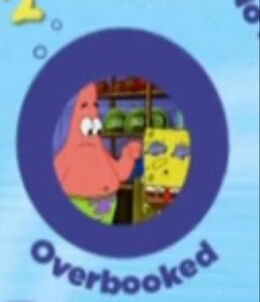 In the episode selection on disc 4, the image for "Overbooked" is not from that episode; the image is actually the same one used for "Porous Pockets."

The image is shown twice on the episode selection on discs 3 and 4.

On the backside, "Pet or Pests" is mistakenly listed as "Pets or Pests."
The Region 2 and Region 4 releases list the episode "SpongeBob SquarePants vs. The Big One" as "SpongeBob and the Big Wave."

This is because that is what the episode is called in those regions.
In the closed captioning version of "The Card," when SpongeBob says, "Dear Neptune!" while freaking out about Patrick possibly putting the #54 card in his pocket, the closed-captioning says, "Damn, Neptune!"
Alternate covers
Disc 1
Disc 2
Disc 3
Disc 4
See also
Digital media (V • E)
Themed:
10 Happiest Moments • Absorbingly SpongeBob • All Hands on Deck! • All Aboard for Laughs • Best of SpongeBob • Beware the Hooks • Bizarro Bikini Bottom • Bikini Bottom Tales • Bikini Bottom Getaways • Bob Esponja Vol. 1 • Bundled Up in Bikini Bottom • Calling All Heroes! • Celebrate the Sea • Driving Bikini Bottom Crazy! • Extreme Kah-Rah-Tay • Factory Fresh • Fine Arts Collection • Friend or Foe? • From the Beginning, Part 1 • From the Beginning, Part 2 • Get to Work! • Ghouls Fools • Glumly Squidward • Heroes of Bikini Bottom • High Tides and Wild Rides • It's a SpongeBob Christmas! • It Came from Goo Lagoon • Laugh Pack • Let's Play • Loveable Sponge • Mermaid Man & Barnacle Boy: Defenders of the Deep • Nautical Nonsense (digtial release) • Mighty Sporting of You • Out to Sea • On the Road • On the Road Again • Oceans of Laughs • Orange Collection • Patchy's Playlist • Patrick's Day • Patrick SquarePants • Rockin' Bikini Bottom • Sheldon Plankton: Mean and Green • Simply Patrick • Snail's Meow • Seaworthy Celebrations • SpongeBob's Atlantis SquarePantis • SpongeBob's Frozen Face-Off • SpongeBob's Pest of the West • SpongeBob SquarePants, iSponge Offer Pack • SpongeBob SquarePants Has Hit Rock Bottom • SpongeBob SquarePants Specials Collection, Vol. 1 • SpongeBob SquarePants Specials Collection, Vol. 2 • SpongeBob vs. The Big One • SpongeBob, You're Fired! • SpongeShorts • Spongicus • SpookTacular • Sportingly Sandy • Super Spongy Square Games • Treasures of the Sea • Sweet & Sour Squidward • Tales of a Teenage Whale • The Seascape Capers • The SpongeBob Musical: Live on Stage! • Viking-Sized Adventures • Waves of Adventure
Season:
The Complete 1st Season • The Complete First Season • The Complete 2nd Season • The Complete Second Season • The Complete 3rd Season • The Complete Third Season • The Complete Fourth Season • The Complete Fifth Season • The Complete Sixth Season • Complete Seventh Season • The Complete Eighth Season • The Complete Ninth Season • The Complete Tenth Season • The Complete Eleventh Season • The Complete Twelfth Season
Movies:
The SpongeBob SquarePants Movie • The SpongeBob Movie: Sponge Out of Water • The SpongeBob Movie Double Pack • SpongeBob Double Feature • The SpongeBob SquarePants Double Feature
Nickelodeon Compilations:
Holly Jolly Holiday Specials • Jolly Saint Nick • Love is Everywhere! • Nick-or-Treat! • Nickelodeon 5 Family Films • Nickelodeon Fool Proof Fun • Nickelodeon's Happy Holiday Pack • Nickelodeon Holly Jolly Holiday Specials • Nickelodeon Hot Picks! • Nickelodeon Kids Choice Awards 2009 • Nickelodeon Summer Pack 2009 • Shocktober! • Shocktober! Vol. 2
Miscellaneous:
Season 6 Volume 5 • Season 7 Volume 1 • Season 7 Volume 2 • Season 7 Volume 3 • Season 7 Volume 4 • SpongeBob Schwammkopf, Staffel 8, Vol. 1 • SpongeBob Schwammkopf, Staffel 9, Vol. 1 • SpongeBob Schwammkopf, Staffel 9, Vol. 2 • SpongeBob Schwammkopf, Staffel 11, Vol. 1 • SpongeBob Schwammkopf, Staffel 11, Vol. 2 • SpongeBob Schwammkopf, Staffel 11, Vol. 3 • SpongeBob Schwammkopf, Staffel 11, Vol. 4 • The Tom Kenny Collection