The Tentacles family is the family of Squidward Tentacles.
Family Tree
Squidward Tentacles
Squidward is a light blue octopus. He has a brown shirt, droopy nose, and six tentacles. He is always trying to get away from SpongeBob and Patrick. It is shown in "The Original Fry Cook" that Squidward once had blond hair, similar to his cousin. He acts as if his neighbors are the worst things that have ever happened to him, but when he's away for a long time, he secretly craves to be around SpongeBob and Patrick.
Squidasaurus Rex
Squidasaurus Rex is most likely related to Squidward by ancient evolutionary coincidence.
Squog
Squog lived during the prehistoric era of Bikini Bottom. He appeared in the episode "Ugh" and made a cameo in "Atlantis SquarePantis." He shares the same interests as his descendant Squidward Tentacles, such as painting. He doesn't mind being around SpongeGar and Patar but gets really annoyed at SpongeGar's pet snail Prehistoric Gary, the ancestor of Gary.
Squidly Tentacles
Squidly Tentacles lived in Bikini Bottomshire during the medieval era. Squidly looks almost exactly like Squidward, although he wore two-color, jester-like clothes. Squidly was the same color as Squidward. He looked almost exactly like Squidward. He is nice to SpongeBob and Patrick, unlike his descendant, Squidward. He was the court jester to King Krabs, but was later imprisoned because of his inability to play the clarinet with ease. He even cursed his descendant, Squidward. Squidly appeared in the episode "Dunces and Dragons," in which he met time travelers SpongeBob and Patrick and set out to rescue Princess Pearl.
They succeeded, and at the end, Squidly accidentally went to SpongeBob and Patrick's time. He is voiced by Rodger Bumpass, who also voiced Squidward. Squidly has also sung many songs in his one appearance.
Hopalong Tentacles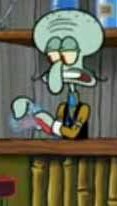 Hopalong Tentacles lived during the 19th century, when Bikini Bottom was known as Dead Eye Gulch. Hopalong appeared in the episode "Pest of the West." He worked for William Krabs, an ancestor of Eugene H. Krabs, at a local saloon known as the Krusty Kantina.
Grandma Tentacles
Grandma Tentacles is Squidward's paternal grandmother. She is first mentioned when Squidward says his grandmother give him a particular soap in "The Two Faces of Squidward." She was later seen at the end of the episode "Chum Fricassee." Her appearance is similar to Squidward's, but she looks more like Mama Tentacles, she is more blue than any of the other members of the Tentacles Family, and she carries around a walker. Her husband was Grandpa Tentacles. She is rather angry toward Squidward, continually slamming her walker down on Squidward's feet and yelling at him.
Jeff Tentacles
Jeff Tentacles is Squidward's father and Mrs. Tentacles' husband. Although he has not appeared on screen, he was mentioned in "Krab Borg" at the Krusty Krab when Squidward told SpongeBob that his father loved him very much. He made a live appearance in the book Hooray for Dads! Mr. Tentacles was shown to have a similar personality to his son.
Mrs. Tentacles
Mrs. Tentacles is Squidward's mom and Squeeze's aunt. She is seen in the episode Krusty Towers when SpongeBob and Mr. Krabs are stealing cookies from her to fulfill Squidward's request. In "Ghost Host," her face is shown by the Flying Dutchman while trying to scare Squidward saying, "Squidward, why don't you call me?" It is known that Mamma Tentacles has turned out to be a strangely insensible character compared to her son, Squidward. Her appearance as a part of Squidward's imagination in "Fools in April" was a lot different than her later appearances, since she had much longer hair and no wrinkles.
Squeeze Tentacles
Squeeze Tentacles is Squidward's cousin. He only had one appearance in the episode "Stanley S. SquarePants." His only line was "Whatever." He has bushy blond hair just like his cousin once had, wears a brown shirt like his cousin, and has pimples on his nose. His nose is smaller and points straight, and not down, like the rest of the Tentacles family.
Videos
Community content is available under
CC-BY-SA
unless otherwise noted.