"It's Squidward, silly!"

This article is in need of one or more better quality images. Please help Encyclopedia SpongeBobia by uploading a better image or editing the current image.
Please remove this message when finished.
Tales from the Deep is a SpongeBob SquarePants DVD that was released on January 28, 2003 and contains five episodes from season 1 and four episodes from season 3.
Episodes
Russian release
The Russian releases of the DVD have different episodes than other releases.
Tales from the Deep
House Party
Special features
Storyboards
Music videos
Specials
Other
Trivia
This is the first SpongeBob DVD for seven things:

The first DVD to contain previews, which can only be accessed through the main menu. These previews include a promo for other Nickelodeon DVDs and VHS tapes, and a Tak and the Power of Juju promo.
The first DVD to contain episode from just 2 seasons instead of 3.
The first DVD released in 2003.
The first DVD to include episode storyboards.
The first DVD with a cover that's based off a special/double-length episode.
The first SpongeBob DVD to feature Patrick on the front cover.
The first SpongeBob DVD to not have any episodes from season 2.

On the DVD cover, Patrick is not wearing a tie. However, in the episode this DVD is based on, Patrick is wearing a tie.
This DVD includes episodes from the Bikini Bottom Bash! and Deep Sea Sillies VHS tapes.
SpongeBob's line "Seriously?" is removed from the episode "Party Pooper Pants" on this DVD because there are no commercials on the DVD. However, the "seriously" line remains intact on the storyboard version featured on this DVD.
Errors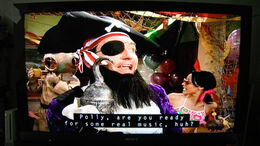 The closed-captioning version of "Party Pooper Pants" or as "SpongeBob's House Party" on the back of the DVD "Potty" is misspelled as "Polly."
Print advertisement
Alternate covers
References
Community content is available under
CC-BY-SA
unless otherwise noted.