"Suction Cup Symphony" is a SpongeBob SquarePants episode from Season 6. In this episode, Squidward writes a symphony.
Characters
Synopsis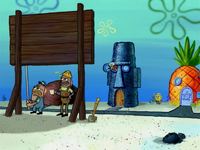 One average day in Bikini Bottom, Squidward is playing his clarinet when SpongeBob goes outside to do some gardening. He thinks that Squidward went to an Italian restaurant called Mario's. Suddenly, SpongeBob notices two construction workers putting up a billboard. Thinking Squidward's music is flatulence, SpongeBob becomes noisy to cover it up until Squidward alerts him to stop. Getting mad at the billboard workers, he then discovers the Bikini Bottom Symphony Orchestra is holding a competition for an original score.
Meanwhile, Patrick accidentally breaks his buttocks and SpongeBob decides that he would see a doctor but he does not having health insurance, so he decides to bring the doctor to Patrick by acting as his doctor. Squidward tries not to get distracted by SpongeBob's home doctoring. After turning in his score, he finds that he wrote down all of SpongeBob's doctoring. When it is Squidward's time to perform, he finds SpongeBob squeezing a rubber duck and Patrick going "Woo!" while SpongeBob is on a seat, bashing Patrick's brain, causing a flatulence noise and making his eyes pop out. All while Squidward is conducting the orchestra and barely paying attention to his conducting, due to SpongeBob and Patrick distracting him with their odd procedures to each other.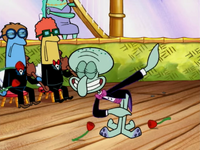 The audience gives a round of applause to Squidward, who is happy. SpongeBob says to make sure Squidward does not get a "swelled head." The camera cuts to only Squidward, whose head inflates due to Patrick squeezing the pump of the blood pressure, and the screen cuts to black, ending the episode with the sound of an explosion.
Production
Art
Music
( ‣ ) Associated production music

( • ) Original music

( ◦ ) SpongeBob music

 • Clownfish Capers - Sage Guyton, Jeremy Wakefield [title card]
 • ? - Nicolas Carr, Barry Anthony [Squidward playing clarinet]
 ‣ Dramatic Impact (3) - Ivor Slaney [SpongeBob notices the construction workers]
 ‣ ? ["I'll cover for him."]
 • ? - Nicolas Carr, Barry Anthony [Squidward playing clarinet]
 ‣ Comic Walk - Sidney Torch ["SpongeBob, can you keep it down?"]
 ‣ Playful Bridge 5 - Harry Bluestone, Emil Cadkin ["Original compositions wanted?"]
 ‣ Big Show Theme - Robert Sharples [Squidward imagines himself in a limo]
 ‣ Piano Concerto No. 1 - Peter Ilyich Tchaikovsky [Squidward conducting]
 • Steel Licks 12 - Jeremy Wakefield [Squidward melts]
 • Grass Skirt Chase - Sage Guyton, Jeremy Wakefield [Squidward runs outside and kisses construction workers]
 • The Pollywog Strut - Nicolas Carr, Barry Anthony [Squidward puts his game face on]
 ‣ Dramatic Impact (6) - Ivor Slaney ["Due tomorrow?!"]
 ‣ Drama Link (G) - Hubert Clifford [Squidward screams]
 • The Pollywog Strut - Nicolas Carr, Barry Anthony ["Don't worry, Squidward, we'll do it together."]
 • Gator - Steve Belfer [Patrick broke his butt]
 ‣ Monocle And Pocket-Watch - Brian Gulland [SpongeBob taking Patrick's blood pressure]
 • Mailbox Tension Sting - Nicolas Carr ["Come on... be inspired."]
 ‣ Wild Eyes - Ronald Hanmer [brainstorm]
 • Parting of the Clouds - Nicolas Carr [rainbow appears]
 ‣ Piano Concerto No. 1 - Peter Ilyich Tchaikovsky [Squidward starts writing/Squidward continues writing]
 • Steel Licks 3 - Jeremy Wakefield [rainbow melts]
 • Goofy Conversation 2 - Nicolas Carr, Barry Anthony [SpongeBob doing tests on Patrick]
 ‣ Abject Terror - Paul Lewis [Squidward still writing]
 • Steel Licks 24 - Jeremy Wakefield [Squidward's finished]
 ‣ Film Fanfare (a) - Dick Stephen Walter ["I did it! I did it! I did it!..."]
 • Vibe Q Sting - Nicolas Carr [conductor looking at sheet music]
 • Credit Card Heaven - Nicolas Carr [choir]
 • ? - Nicolas Carr
 • The Suction Cup Symphony - Gary Stockdale
 ‣ Hawaiian Link (B) - Richard Myhill [Squidward starts to walk away]
 ‣ Take A Bow 1 - David Lindup [everyone cheers]
 • Lap Steel - Nicolas Carr [ending]

Release
This episode is available on the Spongicus, Season 6 Volume 1, Fine Arts Collection, Mighty Sporting of You, SpongeBob SquarePants Vol. 9, The SpongeBob SquarePants Collection, Kids Double Pack: Volume 6, 3 DVD Value Pack Volume 2, The Best 200 Episodes Ever, Time Travel, The SpongeBob SquarePants 8 Season DVD Collection, The Ultimate SpongeBob Box Set, SpongeBob's Legendary Adventures, Complete Sixth Season, SpongeBob Pack: Volume 1, and Next 100 Episodes DVDs.
Trivia
General
This episode was originally titled "Underwater Boogaloo."[2]
This is the second episode in which Mario is mentioned. The first was "The Bully."
This is the second episode in which Squidward is seen conducting a band. The first was "Band Geeks."
In "Suds" and "The Splinter," Patrick impersonates a doctor and treats SpongeBob. This time, the tables are turned: SpongeBob pretends to be a doctor and treats Patrick.
The storm in Squidward's brain is similar to the one in "Breath of Fresh Squidward."

When Squidward finally finishes writing his song, he has that same look on his face that he has in "Squid's Day Off" when he locks himself inside his house.

However, sand is added to his eyes in this episode.

The fish playing the piano in this episode is the same one that SpongeBob sits next to at Reef Cinema in "Something Smells."
This is the first episode to play the track Film Fanfare (a) since "The Secret Box" in season 2.
The machine that Patrick is in looks exactly like the laughing machine SpongeBob dreams about in "Funny Pants."
This episode premiered on Eddie Deezen's 51st birthday.
In Poland, the explosion sound at the end is cut from Nickelodeon airings, but left intact on PULS 2 airings.
In recent airings when the episode ends with a popping sound from Squidward's forehead was cut by mistake. But in the DVD and Digital releases, the ending was left intact.

However, in Nicktoons airings, the popping sound is also left intact.

In the Welsh dub, this episode is called "Simffoni'r Sugnwr," which translates to "Symphony Sucker."
This is the first episode where the track Monocle and Pocket-Watch plays.
Errors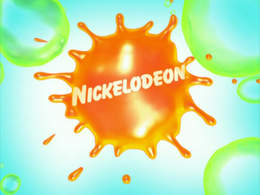 Along with its sister episode "Spongicus," there is no year or copyright information anywhere in the end credits.
In the TV Guide & SpongeBob Episode Guide, there is no space between the words, "Suction" & "Cup" in this episode's title. Instead, it's named, "Suctioncup Symphony".
Squidward would have seen "Bikini Bottom Symphony Orchestra" on the billboard since "Original Compositions Wanted" was the part that was not visible.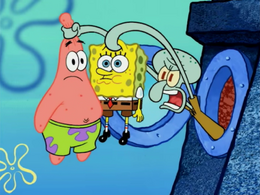 When Squidward drops SpongeBob and Patrick out of the window, SpongeBob's freckles are missing.
In the first close-up shot of SpongeBob squeezing the rubber duck next to Patrick on stage, his arm is limp with his hand facing toward the ground, but in the next shot, his hand is pressing up against his side with his arm in a 'V' position.
All the musicians still continued playing their instruments after the music ends.
In some of the wider shots of the orchestra, Richard A. Bottomfeeder is seen with a yellow body and blue hair instead of a green body and black hair.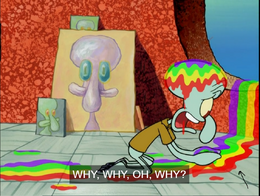 The first and third time Squidward attempts to recollect his rainbow the red hue on Squid's hand is slightly different than the other parts of the rainbow.
References
^

Airdate confirmed on Apple TV
Golden Reel Awards

Best Sound Editing in Television Animation – Music
Nominees: Stephen Hillenburg, Donna Castricone, Nicholas R. Jennings, Alan Smart, Peter Burns, Doug Lawrence, Derek Drymon, Alex Gordon, Donna Grillo, Jennie Monica, Krandal Crews, Jim Leber, Justin Brinsfield, Tony Ostyn, Nicolas Carr (for "Mermaid Man and Barnacle Boy"/"Pickles;" 2000) • Nicolas Carr (for "Fools in April"/"Neptune's Spatula" in 2001; for "Jellyfish Hunter"/"The Fry Cook Games" in 2002; for "Wet Painters"/"Krusty Krab Training Video" in 2003; for "The Great Snail Race"/"Mid-Life Crustacean" in 2004) • Jimmy Lifton, D.J. Lynch, Jeff Hutchins, Tony Ostyn and Paulette Lifton (for "Mid-Life Crustacean;" 2004)
Best Sound Editing in Television Animation – Sound
Nominees: Nicolas Carr (for "Karate Choppers;" 2000) • Andrea Anderson, Jimmy Lifton, Monette Holderer, D.J. Lynch, Vincent Gutisetti, Jeff Hutchins and Gabriel Rosas (for "Rock Bottom"/"Arrgh!;" 2001)
Best Sound Editing in Television – Animation
Nominees: Timothy J. Borquez, Jeff Hutchins and Daisuke Sawa (for "The Secret Box"/"Band Geeks;" 2002)

Best Sound Editing in Television Animation
Nominees: Jimmy Lifton, Jeff Hutchins, Tony Ostyn and Chris Gresham (for "Nasty Patty"/"Idiot Box;" 2003)

Best Sound Editing in Television: Animated
Nominees: Jimmy Lifton, Nicolas Carr, D.J. Lynch, Jeff Hutchins, Tony Ostyn, Chris Gresham and Paulette Lifton (for "Pranks a Lot"/"SpongeBob Meets the Strangler;" 2005) • Vincent Gutisetti, Jimmy Lifton, Nicolas Carr, Monique Reymond, D.J. Lynch, Mark Howlett, Jeff Hutchins, Aran Tanchum, Mishelle Smith and Paulette Lifton (for "Have You Seen This Snail?;" 2006) • Nicolas Carr, Mishelle Fordham, Monette Becktold, Jeff Hutchins, Timothy J. Borquez, Tom Syslo, Jason Stiff, Tony Orozco and Kimberlee Vanek (for "SpongeHenge;" 2008)
Best Sound Editing: Television Animation
Nominees: : Chiho Oyamada Carr, Nicolas Carr, Mishelle Fordham, Daisuke Sawa, Monette Becktold, Jeff Hutchins, Timothy J. Borquez, Tom Syslo, Eric Freeman, Dan Cubert, Lawrence Reyes, Jason Stiff, Tony Orozco and Kimberlee Vanek (for "Suction Cup Symphony;" 2009) • Chino Oyamada Carr, Nicolas Carr, Mishelle Fordham, Monette Becktold, Jeff Hutchins, Timothy J. Borquez, Eric Freeman, Tom Syslo, Keith Dickens, Jason Stiff, Sergio Silva, Tony Orozco and Kimberlee Vanek (for "SpongeBob SquarePants vs. The Big One;" 2010)
Best Sound Editing – Sound Effects, Foley, Dialogue and ADR Animation in Television
Nominees: Devon Bowman, Justin Brinsfield, Nicolas Carr, Andrea Anderson, Mishelle Fordham, Monette Becktold, Jeff Hutchins, Eric Freeman, Tony Orozco and Danny Tchibinda (for "Gary's New Toy;" 2013) • Mishelle Fordham, Monette Becktold, Jeff Hutchins, Timothy J. Borquez, Tom Syslo, Eric Freeman, Bobby Crew, Keith Dickens, Gabriel Rossas and Tony Orozco (for "It's a SpongeBob Christmas!;" 2013)