Object
The stuffed animal barbell is a piece of weight-lifting equipment owned by SpongeBob. It is a bar with plush toys on the ends instead of weights. Because SpongeBob is a sponge, he is weak and struggles to lift the barbell on many occasions. It first appears in the pilot episode "Help Wanted."
Description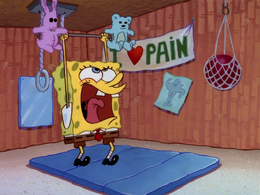 It has a blue teddy bear on one side and a pink bunny on the other. In other episodes, it has a yellow bear on one side and a purple bunny on the other.
SpongeBob lifts his stuffed animal barbell as part of his morning routine, as it helps him exercise and get ready for work.
Role in series
"Help Wanted"
SpongeBob wants to be in top physical condition when he applies for a job at the Krusty Krab, so he tries to exercise with the stuffed animal barbell. It takes all of his effort to lift it above his head. When SpongeBob finishes exercising, the barbell slowly floats to the ground, showing how lightweight it is.
SpongeBob uses the barbell when he works out at home. He calls it a "state-of-the-art weight set" and tells Sandy that he gets smelly when he exercises with it. In one scene, the barbell appears next to a box of stuffed animals such as a giraffe, a moose, an elephant, and other teddy bears. This implies that SpongeBob can add or switch the toys on the ends of the barbell.
After SpongeBob is sent home to take a vacation, he goes to bed and restarts his morning routine. As part of it, he briefly works out by lifting the barbell.
The barbell appears in the deleted scene "Thank Gosh It's Monday" when SpongeBob sings while getting ready for his day at the Krusty Krab.
Trivia
SpongeBob's weight set also includes a pair of metal suspension trainers and a medicine ball that hangs from the ceiling. The barbell is the only piece that he is ever shown using.
In "Ripped Pants," SpongeBob creates a makeshift barbell out of a stick with marshmallows on the ends. Similar to his stuffed animal barbell, he struggles to lift the stick, despite it being very lightweight.
Community content is available under
CC-BY-SA
unless otherwise noted.