If you were looking for the article about the
storyboard artist
, then see
Stephen Herczeg
.
If you were looking for the article about the
comic book artist
, then see
Stephen DeStefano
.
Person
Stephen McDannell Hillenburg[1] (August 21, 1961 - November 26, 2018; aged 57) was the creator of SpongeBob SquarePants. He was an American artist and teacher of marine science, and developed the idea for the series while working at the Ocean Institute in California.
The character of SpongeBob was based on an educational book he had illustrated called The Intertidal Zone, and the character of Pearl was inspired by his time as a supervisor of whale watches at the Ocean Institute.[2][3] He named Karen Plankton after his wife, Karen Hillenburg.[4]
Hillenburg was a strong supporter of balancing on-model and off-model animation; he felt that overusing exaggerated animation made it lose its impact.[5] According to Jay Lender, Hillenburg "had impeccable taste--one of the great lessons I learned from him was about not going to excess. If the paintings and off-model takes were going to have any punch, they needed to NOT be the norm."[5]
He was the showrunner from 1999 until 2004, when the first movie was completed. He was the original voice of Potty the Parrot before the role was passed onto Paul Tibbitt and Mr. Lawrence. He continued to be credited as the executive producer for seasons four to twelve, but his role was much less involved; he received this credit for every episode, regardless of whether or not he contributed at all, making it a "vanity credit" rather than an actual one.[6][7]
It was announced he was diagnosed with ALS (Amyotrophic lateral sclerosis) on March 13, 2017.[8] His deteriorating health made it difficult for him to speak or offer input on the series. According to Vincent Waller, Hillenburg stopped coming to Nickelodeon Animation Studio in August 2018, three months before his passing.[9] Hillenburg passed away on November 26, 2018, due to complications from ALS.[10]
Biography
In 1984, Stephen Hillenburg graduated from Humboldt State University with a bachelor's degree in Natural Resource Planning and Interpretation, with an emphasis on Marine Resources. He became a marine biology teacher at the Orange County Marine Institute—now known as the Ocean Institute—in Dana Point, California. Hillenburg's love for the sea and its creatures inspired him to create teaching tools for his students with characters that would later become the main characters of SpongeBob SquarePants.[11]
In 1987, Stephen Hillenburg pursued a degree in Experimental Animation at the California Institute of the Arts in Valencia and earned his Master of Fine Arts in 1992. Also during the same year, he won an award for Best Animated Concept at the Ottawa International Animation Festival for his animated short "Wormholes," which was shown at several international animation festivals. From 1993 to 1996, he worked on the Nickelodeon animated series Rocko's Modern Life; during this time, he continued to fine-tune the aquatic series concept that he had begun in the 1980s. It would eventually be pitched to Nickelodeon as SpongeBoy Ahoy! and subsequently renamed SpongeBob SquarePants.[11]
In 2007, a frivolous lawsuit, claiming that a toy inventor named Troy Walker came up with the SpongeBob concept, was filed against Nickelodeon and Hillenburg by a plaintiff wanting a "ridiculous" total of $1.6 billion from Nickelodeon. The claimant, Troy Walker, did not do enough research on his claims before making them, setting his implausible story in 1991, years after Hillenburg had started work on his concept. A summary judgment quickly ruled in Viacom's favor over the flimsy claims.
In March 2017, Hillenburg revealed that he had been diagnosed with amyotrophic lateral sclerosis (ALS), a terminal illness that affects and causes the death of neurons that control the brain and the spinal cord. He tried to work on the series as best as he could from then on.
On November 26, 2018, Hillenburg passed away from ALS-related complications. He was cremated and his ashes were scattered across the coast of California, close to where Bikini Bottom resides.[12][13] The series has continued to go on since then, as Vincent Waller stated on Twitter.[14]
Trivia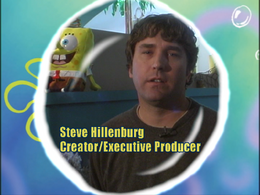 He was sometimes referred to as "Steven and Steve Hillenburg."
Stephen Hillenburg drew inspiration from his own life while designing the main characters. Mr. Krabs was based on Hillenburg's former manager at a sea-themed restaurant. Pearl was inspired by his regular supervision of whale watches while working as a marine science educator. SpongeBob's design was influenced by Hillenburg's appearance as a young child, with "nerdy gapped teeth."[15][16]
Vincent Waller has confirmed on Twitter that Stephen Hillenburg was alive during the storyboard and writing phases of the episode "SpongeBob's Big Birthday Blowout." However, he did not contribute to the episode's boarding or script.[17]

Additionally, a thank you and in memory of message for Stephen Hillenburg appears in the endings of "SpongeBob's Big Birthday Blowout" and The SpongeBob Movie: Sponge on the Run as a dedication to him.

According to Vincent Waller, he was about 5 feet, 8 inches tall.[18]
According to Everybody's Talking: The Voices Behind SpongeBob SquarePants, while Tom Kenny was practicing the voice of SpongeBob, Stephen Hillenburg read several of Squidward's lines since his voice actor (Rodger Bumpass) had not been cast yet.[19]
When the Bikini Atoll island is shown at night, a human finger is visible in the water to portray a reflection of the moon. According to the "Christmas Who?" audio commentary, Stephen Hillenburg filmed the Bikini Atoll island at Steve Belfer's house in his friend's pool in California.[20]
During the start of production, he established several rules and restrictions:

SpongeBob should never get his driver's license, no matter what he does. This is because Hillenburg loved the dynamic between SpongeBob and Mrs. Puff, so SpongeBob getting his license would end it. Another reason is that it saved the show from being butchered by Nickelodeon executives who wanted to turn SpongeBob into a kid.
No revealing the identity of Pearl's mother or the Krabby Patty Formula and keep them a secret throughout the series.[21]
SpongeBob should not have a romantic interest, so he made him able to reproduce asexually like real sea sponges.
According to Vincent Waller on Twitter,[22] Stephen Hillenburg himself said he hated the idea of SpongeBob having a crossover episode with another cartoon. This is because he believed that crossovers would not work out, due to the series taking place underwater and SpongeBob would be considerably smaller compared to other cartoon characters, as he is only four inches tall.[23][24] The only episode of another Nickelodeon show featuring a SpongeBob character is "Big Time Beach Party" from Big Time Rush, which features Patchy the Pirate. Since Big Time Rush is a live-action sitcom and Patchy is a live-action character, there has still never been an official SpongeBob crossover episode with another Nick cartoon outside of video games and promos.
It is also known that Stephen Hillenburg himself said he didn't see any potential spin-off series for SpongeBob.[25] According to an interview with Paul Tibbitt: "Steve would always say to me, 'You know, one of these days, they're going to want to make SpongeBob Babies. That's when I'm out of here.'"[26]
He also worried about the excessive merchandising of the show and the consequences it would have on the planet. In a New York Times interview,[27] Sherm Cohen recalled that Hillenburg told him: "My biggest nightmare is that I'm going to be at the beach one day, and one of these dolls is going to wash up on the shore like garbage." According to Cohen, "being a marine biologist who also surfs, Stephen doesn't want to be responsible for bringing a glut of garbage into the world."
In the same interview, he treated one of his old classmates with disdain after said classmate introduced him as the creator of SpongeBob, due to his resentment towards the show's popularity.
In some interviews, he recalled that when he first pitched SpongeBob, Nickelodeon executives said they would only greenlight the show if he made SpongeBob and the gang into children. He was about to quit Nickelodeon and give up on the show until he came up with a compromise (putting SpongeBob in a boat driving school so he could remain an adult-aged character).[28]

Stephen Hillenburg is the first creator of a Nickelodeon animated series to pass away.
Errors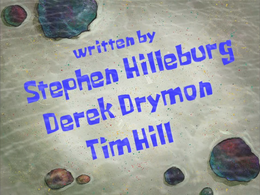 In "Help Wanted," Stephen Hillenburg's name is misspelled as "Stephen Hilleburg," missing the "N" in his surname.
Gallery
Photos
Artwork by Hillenburg
Video
References
Emmy Awards

Primetime Emmy Awards
Outstanding Animated Program (for Programming Less Than One Hour)
Nominees: Sean Dempsey, Derek Drymon, Juli Murphy Hashiguchi, Sam Henderson, Stephen Hillenburg, Jay Lender, Mark O'Hare, Kent Osborne, Alan Smart, Paul Tibbitt, Tom Yasumi (for "New Student Starfish"/"Clams," 2003) • Derek Drymon, Juli Murphy Hashiguchi, Stephen Hillenburg, Kent Osborne, Andrew Overtoom, Alan Smart, Paul Tibbitt (for "Ugh," 2004) • Mike Bell, C.H. Greenblatt, Stephen Hillenburg, Alan Smart, Paul Tibbitt, Vincent Waller, Tom Yasumi (for "Fear of a Krabby Patty"/"Shell of a Man," 2005) • Casey Alexander, Luke Brookshier, Stephen Hillenburg, Tom King, Dani Michaeli, Chris Mitchell, Andrew Overtoom, Alan Smart, Paul Tibbitt and Tom Yasumi (for "Bummer Vacation"/"Wigstruck," 2007) • Steven Banks, Charlie Bean, Stephen Hillenburg, Dani Michaeli, Chris Reccardi, Alan Smart, Aaron Springer, Paul Tibbitt, Tom Yasumi (for "The Inmates of Summer"/"The Two Faces of Squidward," 2008)

Outstanding Special Class - Short-Format Animated Programs
Nominees: Dina Buteyn, Stephen Hillenburg, Dani Michaeli, Alan Smart, Aaron Springer, Paul Tibbitt and Tom Yasumi (for "Dear Vikings," 2009)

Outstanding Short-format Animated Program
Nominees: Luke Brookshier, Dina Buteyn, Nate Cash, Stephen Hillenburg, Doug Lawrence, Andrew Overtoom, Alan Smart and Paul Tibbitt (for "That Sinking Feeling," 2011) • Marc Ceccarelli, Stephen Hillenburg, Kyle McCulloch, Jennie Monica, Jack Pendarvis, Alan Smart, Paul Tibbitt, Vincent Waller, Tom Yasumi (for "Company Picnic," 2016) • Luke Brookshier, Marc Ceccarelli, Stephen Hillenburg, Jennie Monica, Adam Paloian, Alan Smart, Vincent Waller, Tom Yasumi (for "Plankton Paranoia," 2019)

---
Daytime Emmy Awards
Outstanding Directing in an Animated Program
Directors: Andrew Overtoom, Andrea Romano, Alan Smart and Tom Yasumi (2010) • Casey Alexander, Luke Brookshier, Nate Cash, Zeus Cervas, Sean Charmatz, Andrew Overtoom, Andrea Romano, Alan Smart, Aaron Springer, Paul Tibbitt, Vincent Waller and Tom Yasumi (2012)
Outstanding Special Class Animated Program
Animators: Dina Buteyn, Stephen Hillenburg and Paul Tibbitt (2010)

Outstanding Children's Animated Program
Nominees: Stephen Hillenburg, Jennie Monica Hammond and Paul Tibbitt (2012) • Stephen Hillenburg, Marc Ceccarelli, Vincent Waller and Jennie Monica (2018)

Outstanding Performer in an Animated Program
Voice actors: Rodger Bumpass as Squidward Tentacles (2012) • Tom Kenny as SpongeBob SquarePants (2018) • Tom Kenny as SpongeBob SquarePants (2020)

Outstanding Sound Editing – Animation
Nominees: Todd Brodie, Nicolas Carr, Mishelle Fordham, Chris Gresham, Matt Hall, Jeffrey Hutchins, James Lifton, Paulette Lifton, D.J. Lynch, Aran Tanchum and Kimberlee Vanek (2012) • Mishelle Fordham, Vincent Guisetti, Jeffrey Hutchins, James Lifton, Paulette Lifton, D.J. Lynch, Wes Otis, Monique Reymond and Aran Tanchum (2013) • Devon Bowman, Nicolas Carr, Mishelle Fordham, Jeff Hutchins, Aran Tanchum and Vincent Guisetti (2014)

Outstanding Sound Mixing for an Animated Program
Nominees: D.J. Lynch, Justin Brinsfield, Ryan Greene, Manny Grijalva, Jeff Hutchins and Aran Tanchum (2020)

---
Golden Reel Awards

Best Sound Editing in Television Animation – Music
Nominees: Stephen Hillenburg, Donna Castricone, Nicholas R. Jennings, Alan Smart, Peter Burns, Doug Lawrence, Derek Drymon, Alex Gordon, Donna Grillo, Jennie Monica, Krandal Crews, Jim Leber, Justin Brinsfield, Tony Ostyn, Nicolas Carr (for "Mermaid Man and Barnacle Boy"/"Pickles;" 2000) • Nicolas Carr (for "Fools in April"/"Neptune's Spatula" in 2001; for "Jellyfish Hunter"/"The Fry Cook Games" in 2002; for "Wet Painters"/"Krusty Krab Training Video" in 2003; for "The Great Snail Race"/"Mid-Life Crustacean" in 2004) • Jimmy Lifton, D.J. Lynch, Jeff Hutchins, Tony Ostyn and Paulette Lifton (for "Mid-Life Crustacean;" 2004)
Best Sound Editing in Television Animation – Sound
Nominees: Nicolas Carr (for "Karate Choppers;" 2000) • Andrea Anderson, Jimmy Lifton, Monette Holderer, D.J. Lynch, Vincent Gutisetti, Jeff Hutchins and Gabriel Rosas (for "Rock Bottom"/"Arrgh!;" 2001)
Best Sound Editing in Television – Animation
Nominees: Timothy J. Borquez, Jeff Hutchins and Daisuke Sawa (for "The Secret Box"/"Band Geeks;" 2002)

Best Sound Editing in Television Animation
Nominees: Jimmy Lifton, Jeff Hutchins, Tony Ostyn and Chris Gresham (for "Nasty Patty"/"Idiot Box;" 2003)

Best Sound Editing in Television: Animated
Nominees: Jimmy Lifton, Nicolas Carr, D.J. Lynch, Jeff Hutchins, Tony Ostyn, Chris Gresham and Paulette Lifton (for "Pranks a Lot"/"SpongeBob Meets the Strangler;" 2005) • Vincent Gutisetti, Jimmy Lifton, Nicolas Carr, Monique Reymond, D.J. Lynch, Mark Howlett, Jeff Hutchins, Aran Tanchum, Mishelle Smith and Paulette Lifton (for "Have You Seen This Snail?;" 2006) • Nicolas Carr, Mishelle Fordham, Monette Becktold, Jeff Hutchins, Timothy J. Borquez, Tom Syslo, Jason Stiff, Tony Orozco and Kimberlee Vanek (for "SpongeHenge;" 2008)
Best Sound Editing: Television Animation
Nominees: : Chiho Oyamada Carr, Nicolas Carr, Mishelle Fordham, Daisuke Sawa, Monette Becktold, Jeff Hutchins, Timothy J. Borquez, Tom Syslo, Eric Freeman, Dan Cubert, Lawrence Reyes, Jason Stiff, Tony Orozco and Kimberlee Vanek (for "Suction Cup Symphony;" 2009) • Chino Oyamada Carr, Nicolas Carr, Mishelle Fordham, Monette Becktold, Jeff Hutchins, Timothy J. Borquez, Eric Freeman, Tom Syslo, Keith Dickens, Jason Stiff, Sergio Silva, Tony Orozco and Kimberlee Vanek (for "SpongeBob SquarePants vs. The Big One;" 2010)
Best Sound Editing – Sound Effects, Foley, Dialogue and ADR Animation in Television
Nominees: Devon Bowman, Justin Brinsfield, Nicolas Carr, Andrea Anderson, Mishelle Fordham, Monette Becktold, Jeff Hutchins, Eric Freeman, Tony Orozco and Danny Tchibinda (for "Gary's New Toy;" 2013) • Mishelle Fordham, Monette Becktold, Jeff Hutchins, Timothy J. Borquez, Tom Syslo, Eric Freeman, Bobby Crew, Keith Dickens, Gabriel Rossas and Tony Orozco (for "It's a SpongeBob Christmas!;" 2013)
---
Miscellaneous
British Academy Children's Awards

---
Annecy International Animated Film Festival
---
Artios Awards
Outstanding Achievement in Casting – Animation TV Programming
Nominees: Sarah Noonan (2010)
Outstanding Achievement in Casting – Television Animation
Nominees: Sarah Noonan (2011; 2013)
---
ASCAP Film and Television Music Awards

Top Television Series
Nominees: Steven Belfer, Nicolas Carr, Derek Drymon, Mark Harrison, Stephen Hillenburg, Pat Irwin, Stephen Marston, Blaise Smith, Barry Trop and Ron Wasserman (2011-2013)
---
BMI Film & TV Awards

BMI Cable Award
Nominees: Michael Bolger, Sage Guyton, Eban Schletter and Jeremy Wakefield (2013)
---
Satellite Awards

---
THEA Awards

---