"We're not getting paid to clean stuff!"

This article is in need of cleanup in order to comply with Encyclopedia SpongeBobia's Manual of Style. Please help this Wiki by making this article clean and tidy!
Please remove this message when finished.
Squidward is usually shown to be annoyed with SpongeBob, yet the two share a close relationship. Squidward has repeatedly hinted that he enjoys SpongeBob's company and at times, openly reveals this.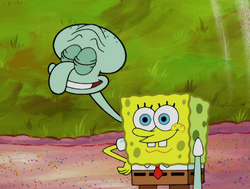 Interactions throughout the series
As seen in "Truth or Square," Squidward was once living a happy life in Bikini Bottom with a fancy garden next to his house. One day, a pineapple fell off a boat and crushed his garden, immediately becoming the home of SpongeBob SquarePants after he moved into the neighborhood. Patrick appeared to have already been living next door to Squidward sometime before the incident.
SpongeBob seems to be the character who Squidward is most annoyed by, but SpongeBob usually ignores this and is often very nice to Squidward despite he tends to annoy him, mostly by accident. However, there are times when Squidward goes too far with SpongeBob, Patrick, or both, like when he reads SpongeBob's secret diary in Little Yellow Book, overreacts to his neighbors even when they try to help him, makes fun of them, acts quite hypocritical when he says that they're the worst neighbors ever, tried to destroy their friendship a couple of times and even tried to kill them a few times, with the episodes "Naughty Nautical Neighbors," "Good Neighbors," and "Sportz?" being examples of that.
Throughout the show, there have been some instances where SpongeBob was aware that Squidward was annoyed at him, such as in the episode "SpongeBob You're Fired," where Squidward asks SpongeBob if he knows he hates him and he replies "Yes, yes I do.", and in other occasions, SpongeBob is the one who gets mad at him. There are also a few instances in which SpongeBob feels concerned or worried for Squidward as well.
Times SpongeBob has exhibited negativity towards Squidward
While SpongeBob is usually very nice to Squidward in most episodes, there have been some instances where he has been mad at him and even acted mean towards him.
Times when Squidward was nice to SpongeBob
While Squidward is normally annoyed by SpongeBob, he has shown kindness towards him at some points in the series. He is generally nicer to SpongeBob than he is to Patrick.
Times SpongeBob felt genuine concern for Squidward
Trivia