"Future!"

This episode has not yet aired. The information may rapidly change as soon as more information becomes available.
"Squid Noir" is a SpongeBob SquarePants episode from season eleven. In this episode, when Squidward's clarinet disappears, he has to become a hard-boiled detective to track it down.
Characters
Production
The episode was confirmed by Vincent Waller on March 16, 2017.[1]
As part of the SpongeBob: You Bring The Color promotion, people are able to color images of several scenes of this episode that will be in the draw for any of the scenes to be part of the actual episode. The competition ends on November 10, 2017.
Trivia
This episode will premiere in the US, as part of the event based on the You Bring the Color game, where players color a screenshot from the opening of the show and scenes of this episode, and there's a chance for them to see their colors live on TV.
This is the first and only episode to have a 3D title card.
Cultural references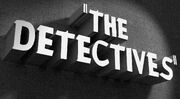 The title is a reference to the concept of film noir (French for "black film"), a genre of crime movies popular in the 1940s and 50s.
The titlecard is similar to the typical film noir ones.
Videos
References