Sponge for Hire is a SpongeBob SquarePants DVD that was released on November 2, 2004 and contains eight episodes from season 3. It is based on the episode "Krusty Krab Training Video."
Cover
The setting of the cover is inside of the Krusty Krab. It portrays SpongeBob smiling with Mr. Krabs, while his arm is around SpongeBob. SpongeBob is also holding his spatula, and the title is transcribed in red and orange text.
Episodes
Special features
Storyboards
Other
Nicktoons Recipe Book (Can only be accessed with CD-ROM)
Trivia
Errors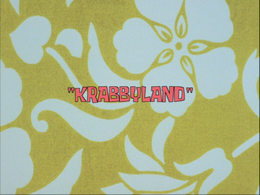 On the credits of the DVD, "Krabby Land" is misspelled as "Krabbyland."
In the episode selection menu, an image from "As Seen on TV" can be seen, even though that episode is not on this DVD.
The SpongeBob SquarePants theme song is shown after the closing credits to "Krusty Krab Training Video" since the episode starts with the opening credits.
Mr. Krabs has black eyebrows on the cover instead of brown.
Alternate covers
Menu