Sponge for Hire is a SpongeBob SquarePants DVD that was released on November 2, 2004 and contains eight episodes from season 3. It is based on the episode "Krusty Krab Training Video."
Cover
The setting of the cover is inside of the Krusty Krab. It portrays SpongeBob smiling with Mr. Krabs, while his arm is around SpongeBob. SpongeBob is also holding his spatula, and the title is transcribed in red and orange text.
Episodes
Special features
Storyboards
Other
Nicktoons Recipe Book (Can only be accessed with CD-ROM)
Reception
Currently retired critic David Ryan of the DVD Verdict was favorable on the episodes featured. "Die-hard SpongeBob fanatics won't hesitate in picking up this disc, but casual viewers may contemplate waiting for the inevitable complete set of season three's episodes." He also praised the extras, and called the storyboard "enjoyable."[2]
Francis Rizzo III of DVD Talk was favorable on the DVD release. "Considering that all these episodes will eventually (and probably shortly) be available in a Season Three box set, is this really worth the cost? It depends on how you collect DVDs." He also regarded the storyboards featured, as "an extra of value to any would-be animator."[1]
Zach B. of DVDLaunch praised the video quality but noted that "the filter Paramount puts its animated titles through result in a good deal of noise and a bit of shimmering, and yet again the "SpongeBob" episodes suffer from that problem a bit."[3]
Trivia
Errors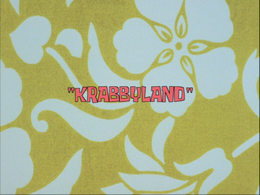 On the credits of the DVD, "Krabby Land" is misspelled as "Krabbyland."
In the episode selection menu, an image from "As Seen on TV" can be seen, even though that episode is not on this DVD.
The SpongeBob SquarePants theme song is shown after the closing credits to "Krusty Krab Training Video" since the episode starts with the opening credits.
Mr. Krabs has black eyelashes on the cover instead of brown.
Alternate covers
References
Community content is available under
CC-BY-SA
unless otherwise noted.