"It's Squidward, silly!"

This article is in need of one or more better quality images. Please help Encyclopedia SpongeBobia by uploading a better image or editing the current image.
Please remove this message when finished.
Sponge Crazy is a collection of three SpongeBob SquarePants DVDs. It was only released in the United Kingdom in 2007 and contains seven episodes from season 1, ten episodes from season 2, and three episodes from season 3. It also contains the first movie.
DVD releases
Episodes
Nautical Nonsense and Sponge Buddies
Tide and Seek
Movies
Special features
Animatics
Trivia
Errors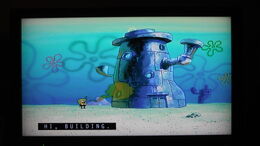 In all Nickelodeon USA airings of the episode "Something Smells" and the iTunes version, SpongeBob walks up to a building and says, "Hi, building!" which causes the building to flee from SpongeBob's breath. He goes up to Patrick and says, "I just don't get it!" and Patrick says, "I don't either."

On this DVD release, the Nautical Nonsense and Undersea Antics Volume 1 VHS tapes, the Nick Scene It? DVD game, Canadian airings on YTV and Nickelodeon Canada, Polish airings, UK airings, and Australian airings, the scene instead goes like this:
SpongeBob: (walks up to a building and waves) I just don't get it! (the building flees)
Patrick: (off-screen) I don't, either. (SpongeBob walks up to Patrick; the rest of the scene goes as normal, resulting in the same lines being repeated). According to the audio commentary on the Season 2 DVD, this was a sound mixing error. The music also repeats itself incorrectly at that point. It is made obvious since SpongeBob's mouth still clearly says the intended line. However, the closed-captioning on this DVD still uses the original correct line.

In "Ripped Pants," SpongeBob wears underwear under his swimsuit, but on the cover of this DVD, he does not have underwear on.
"Graveyard Shift" is listed as "The Graveyard Shift" on the episode selection screen and the back of the DVD.
The episode selection screen for the first five episodes has a strange sand border on the far right of the screen.
The Paramount logo appears on the DVD, even though it was made by the Metropolis DVD company.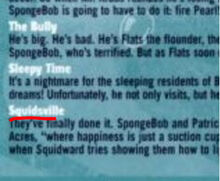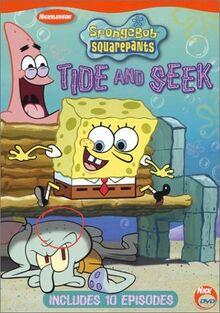 On the DVD cover, Patrick is missing his left leg. This was fixed only on some of the international covers.
The main menu shows clips from "Krab Borg," "Nature Pants," "Just One Bite," and "Something Smells," although these four episodes are not on this DVD.
DVD Menus
Tide and Seek
Video
Refrences