SpongeGuard on Duty is a SpongeBob SquarePants VHS tape that was released on June 1, 2004 and contains two episodes from season 1, two episodes from season 2, and one episode from season 3. It is based on the episode of the same name.
Episodes
NOTE: An asterisk (*) indicates that the episode is only included on the UK release.
Trivia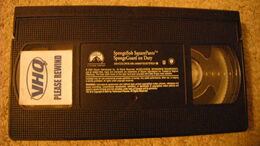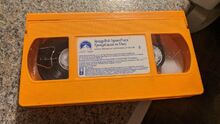 Both orange-colored and black-colored copies of this tape exist. Orange-colored Nickelodeon tapes became rare after 2001, so the black copies are far more common.
On the back, a small screenshot from the episode "Doing Time" is seen. However, that episode is not in this VHS tape, but it is on the DVD version, so that explains why there is a screenshot from said episode.
Community content is available under
CC-BY-SA
unless otherwise noted.