"We're not getting paid to clean stuff!"

This article is in need of cleanup in order to comply with Encyclopedia SpongeBobia's Manual of Style. Please help this Wiki by making this article clean and tidy!
Please remove this message when finished.
SpongeBob SquarePants is a popular animated television series, and has been referenced in popular culture numerous times. The following is a list of its references in video games.
Amanda the Adventurer
In the ending credits of Episode 1, the names of Leif Erikson and Smitty Werbenjägermanjensen can be seen. This is a reference to "Bubble Buddy" and "One Krabs Trash," respectively.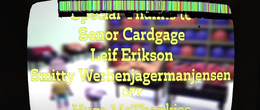 In level 1 of "Tropigal Paradise," SpongeBob's house can be seen in the water.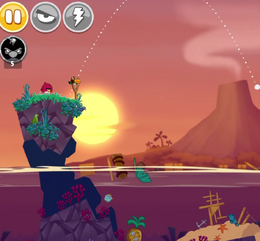 In one of the buildings, there is a piece of paper that states "What I learned in Boating School is..." which is a reference to the episode "No Free Rides."
In the Crypto Hack game mode, of the possible passwords is "sPoNGeBOb4357."
Block City Wars: Mafia Town
When the Hot Rod is unlocked, a SpongeBob paint skin can be selected. The bars on the front have SpongeBob's teeth, and on the back right is a picture of Patrick Star.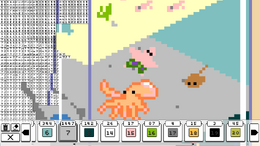 In one of the coloring pages, a beady-eyed starfish wearing green swim trunks with purple spots lies on one of the ocean floors.
Danganronpa V3: Killing Harmony
Tenko asks Keebo if he would be "stuck living under the sea, beneath a rock or in a pineapple?" when he explains he would sink into water. This is referring to Patrick and SpongeBob's respective residence.
At the bottom of the ocean floor, a decrepit version of SpongeBob's house appears. This has since been removed.
If the element "plankton" is obtained, a quote said by Plankton will be displayed.
During an ad for the game, a time card appears reading "Several Days Later" and is read out by a French narrator in the style of the SpongeBob time cards.
Gone Fishin'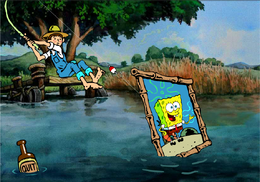 In this online game, a portrait of SpongeBob appears as one of the items the boy can reel out of the water.
Henry Stickmin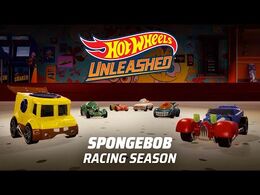 "I can turn into a skyscraper!"

This section is too short. You can help Encyclopedia SpongeBobia by

expanding it

.
A sponge can be fought. A message that displays when it attacks "It smacks you with a piece of its pineapple house. Gah. Who lives in a pineapple under the sea, anyway?" as well as a message that displays when it misses "It sings its incredibly annoying theme song. You tune it out." are both references to the SpongeBob SquarePants Theme Song.
The game contains a DLC level pack based on SpongeBob SquarePants. It includes 4 levels + 1 hub level. It was released on March 24, 2016 but was deleted from the PS Store on April 3, 2020. The levels contain many references to the TV show.
"I can turn into a skyscraper!"

This section is too short. You can help Encyclopedia SpongeBobia by

expanding it

.
One of the splash texts that come up on the title screen reads "Lives in a Pineapple Under The Sea!", a reference to the SpongeBob SquarePants Theme Song.
When the Lolcat language is enabled in the Java Edition, the "Sponge" and "Wet Sponge" items will be renamed to "Spangblob" and "wet Spangblob", respectively.
Escaping her confinement and exploring the cellar, Esther will come across a crack in the wall but will have no way to break it. After escaping Mr. Hopp and acquiring a crowbar, Esther may head back to the crack in the wall and use the crowbar to break through to the other side. Inside, Esther will find a shell surrounded by candles with the words "All Hail" painted onto the wall. In this joke ending, Esther asks the shell what she must do about the situation she is in and it replies "...nothing". Esther obeys the shell's instructions and does nothing, like in the episode "Club SpongeBob."
My Boo Album
One of the collectible stickers in a game is a yellow Boo wearing SpongeBob's pants, and a small starfish beside it. The sticker is named SpongeBoo.
My Town: Daycare
A SpongeBob mask can seen among the objects on the shelf on a room.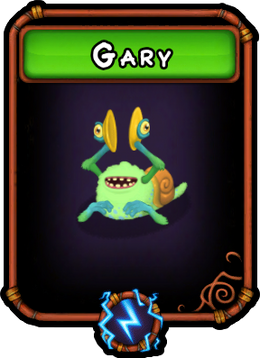 The snail-based monster Scargo has a chance of being named Gary, referencing SpongeBob's pet snail of the same name.
The Epic Spunge monster, who is a sponge, has pineapples on its head, referencing SpongeBob's house.
In Plants vs. Zombies: Garden Warfare, there is a map called "Driftwood Shores," which has multiple stores that have a sign that says "Porous Bob's" with a sponge logo design. The sign also says that Porous Bob's sells scuba supplies, a reference to the location of the series, and neck ties, an item of clothing that SpongeBob is regularly seen wearing.
In Plants vs. Zombies 2, one of the costumes for the Garlic resembles the glove hat.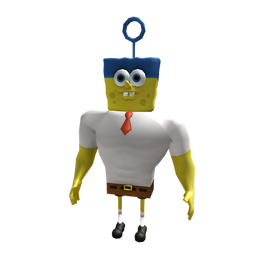 Roblox officially partnered up with Nickelodeon and made a mini Invincibubble shoulder pal that the player can put on their avatar's shoulder. There was also an Invincibubble hat that the player could wear on top of their avatar's head. It is no longer available since it was specially released for The SpongeBob Movie: Sponge Out of Water.
The "Drunken Sailor (B)" music track rendition from SpongeBob SquarePants can be heard playing on a radio.[1]
In Scribblenauts, the name "living sea sponge" can be typed as a human and can make a spatula, which can also be picked up.
In Scribblenauts Unlimited, there is an easter egg from Lost Kingdom of Parentheses that has a rock, a tiki mask, and a pineapple. Tapping on them and pressing 'use' will spawn a starfish, a musical squid, and a sponge respectively.
SpongeBob appears as one of the characters the player has to guess.
Snail Bob has a picture of Gary in his house, with the caption "Cousin Gary."
One of the enemies that can be fought looks similar to Gary.
A Splatfest in April 2016 was themed around SpongeBob vs. Patrick. The winner of the Splatfest was Team Patrick, having the most wins over Team SpongeBob.
Splitter Pals
On level 9, the yellow ball has SpongeBob's face.
Starlight 2
SpongeBob appears as one of the puzzles the player has to solve.
References