SpongeBob SquarePants is a popular cartoon and has been referenced in popular culture numerous times.
The show is mentioned in the Gone series' book Fear, when some kids are acting out the episode "Texas."
SpongeBob is mentioned at the end of a Jimmy Neutron comic. Other Nicktoons appear as well.
SpongeBob makes a cameo at the end of an All Grown Up! comic. He can be seen on the TV show that the Cooper twins were watching.
SpongeBob is referenced several times throughout the Dork Diaries book series.

In Dork Diaries: Tales From a NOT-SO Fabulous Life, Nikki says that MacKenzie, who had been kicked in the shin by Nikki's younger sister Brianna the previous day, showed up to school the next morning with crutches with heart stickers on them to match her new Gucci handbag, along with a SpongeBob Band-Aid below her left knee.
In Dork Diaries 2: Tales From a NOT-SO Popular Party Girl, Nikki says that her little sister Brianna's plastic toy spider is "a spider you'd find in a Barbie Dream House or hanging out with SpongeBob SquarePants."
In Dork Diaries 3: Tales From a NOT-SO Talented Pop Star, Nikki mentions that Theo, a student at her school, could be "SpongeBob's twin brother."
In Dork Diaries 4: Tales From a NOT-SO Graceful Ice Princess, Nikki says that her little sister Brianna changed into her SpongeBob pajamas after they returned home from the Nutcracker ballet.
In Dork Diaries 5: Tales From a NOT-SO Smart Miss Know-it-All, at one point when Nikki and Mr. Zimmerman are having a conversation, he tells Nikki to hurry up and get out because SpongeBob will be coming on in 2 minutes and that he is "the last Great American hero".

SpongeBob has appeared many times in the comic strip Off the Mark.
A 2003 Sunday comic strip of Garfield showed the logo having Garfield looking like SpongeBob with bubbles floating over him and the Garfield logo is in a parody of the SpongeBob logo.

In a Simpsons Comics issue, Lenny and one of Homer's friends are dressed like Patrick and SpongeBob respectively.
In the crime series of books named Monk, the title character is known to have been watching a SpongeBob marathon on Nickelodeon and loved it. This is in the book Mr. Monk on the Road.
In a Simpsons Comic, Bart is in the androids dungeon where lots of comics are in the background ,and on the counter is a book called SpongeSteve, which SpongeBob can be seen on the cover of the comic book.
SpongeBob appears in the comic strip Mother Goose & Grimm when Grimm is so focused on the show, he does not come to dinner.
SpongeBob is mentioned in a 2014 comic strip of Dennis the Menace.
In the novel The Leftovers, one of the characters, Nora Durst, watches the series to cope with losing her son. The episodes "Snowball Effect" and "Slimy Dancing" are described.
In another Monk book the book, it says that someone looks like SpongeBob SquarePants.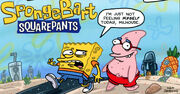 In a Bart Simpson Comics issue, Bart has a dream with a parody of SpongeBob SquarePants entitled "SpongeBart SquarePants." It features Bart Simpson as SpongeBob, Milhouse Van Houten as Patrick, Mr. Burns as Squidward, and Krusty the Clown as Mr. Krabs. The "Krusty Krabby Burger" is a parody of the Krusty Krab.
In The House of Dark Shadows, David references the episode "SquidBob TentaclePants."
In the IDW Comic In a universe where..The Ghostbusters Never Crossed the Streams, close to the end of the book, there is a SpongeBob reference where pictures on a roof have a parody of SpongeBob on them named "LoofaJoe RectangleShorts".
In James Patterson's I Funny!, the main character, Jamie Grimm, says that the president will live with SpongeBob.
In I Totally The Funniest!, SpongeBob appears in the pool.
In the Entertainment section of the in the Guinness World Records 2016: TV section, SpongeBob is listed for holding the world record of most wins at the Nickelodeon Kids Choice Awards. Above the listed fact is a licensed stock art image of SpongeBob waving " Hello," with a small fun fact talking about his origins on the side.
In Girls in Pants: The Third Summer of the Sisterhood, one of the chapter's titles is Patrick's quote from "Patty Hype," "I can't see my forehead."
In Big Nate

Nate loses his lucky SpongeBob wristband.
Arthur mentions SpongeBob after Nate says "Friends are supposed to stand by you and trust you and listen to you!"
Nate and Peter relate because Peter's in first grade and Nate watches SpongeBob SquarePants.
Nate has a SpongeBob lunchbox

In Liam, the comic Liam's Origin Story, Liam can be seen feeding Popcorn to a Pufferfish which looks like Ms Puff. SpongeBob, Patrick, Squidward, and Mr. Krabs can be seen in the nuclear tank as well.
In Room: A Novel, Jack watches the SpongeBob SquarePants episode "Frankendoodle" and touches SpongeBob and Patrick, but not Squidward due to being creepy.
Community content is available under
CC-BY-SA
unless otherwise noted.