Character
The SpongeBob SquarePants copies, also known as SpongeCopies, are clones of SpongeBob SquarePants who appear in two episodes. In "Overbooked," they were created by Sandy, and in "CopyBob DittoPants," they were created by Plankton.
Description
The copies look the same as the original SpongeBob, except their ties are white when created, then blue after Plankton colors them with a marker to keep track of who is the right one.
Towards the end of the episode, the clones turn into a light gray hue then roll up into the shape of a burrito and vanish in mid-air. There are 299 clones.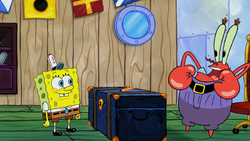 Role in series
"Overbooked"
Sandy clones SpongeBob as part of her science experiment.
"CopyBob DittoPants"
The clones are created by Plankton with his copy machine in an attempt to steal the Krabby Patty secret formula. Originally, he only created one clone, but said clone was contaminated by the original SpongeBob. Plankton then makes another, who also comes into contact with the original. Afterwards, he makes a whole legion of clones, but they all vanish later as Plankton uses a cheap toner to make them.
The original SpongeBob is saddened by their disappearances, as he viewed them as his friends and got along very well with them, while Plankton is disappointed that the clones never revealed the secret formula to him prior to their vanishing.