SpongeBob Saves the Day! is a SpongeBob SquarePants online game.
It was released in 2019.
Gameplay
In this game, the player must help make SpongeBob's favorite holiday the best day ever by doing tasks for his friends. He first visits Patrick to make him a Jelly Patty and changes Junior's diaper. At the end, SpongeBob has a party with his favorite friends: Squidward, Mr. Krabs, Pearl, Sandy, Mrs. Puff, and Gary.
"I can turn into a skyscraper!"

This section is too short. You can help Encyclopedia SpongeBobia by

expanding it

.
Characters
All ten of the main characters appear in the game, along with a variety of one-time and background characters. SpongeBob is the only playable character.
Locations
Unused content
An unused character dubbed "Yummer," who appears to be a humanoid monster with a realistic, smiling mouth and set of eyes, can be found on one of Mrs. Puff's sprite sheets in the Krusty Krab as well as another Krusty Krab sprite sheet featuring Mr. Krabs and Incidental 106, the latter of which contains what appears to be an alternate pose for Yummer, indicating that it may have had an animation at one point. In the game's library.json file, Mrs. Puff's first sprite sheet is defined as "t_tmpYummer," which is believed to be the name of the monster.
The creator of Yummer (whose original name was "Yum") later stated that Yummer was a 3D-modeled placeholder. The character gained a small cult following and was later referenced in Nickelodeon All-Star Brawl in the character data for SpongeBob as a joke by the developers.[1][2]
An unused sprite in Patrick's spritesheet features him without eyes.
Walkthrough
Trivia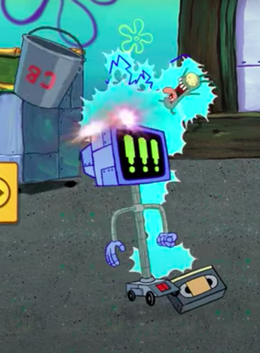 The golden jellyfish from Capture Craze reappears in this game.
Plankton and Karen appear in this game, but they are the only main characters who do not come to SpongeBob's party at the end.
To get rid of Plankton and Karen, the player uses a bucket of water to drop on Karen, making her malfunction and zap Plankton. Oddly, the sprite used for the bucket is a Chum Bucket bucket helmet, which Plankton and Karen use for their own evil deeds. Also, Karen is a waterproof computer that lives underwater, so water should not have this effect on her.
References