SpongeBob LongPants is a SpongeBob SquarePants DVD that is available in Spain, Netherlands, Germany, and Australia. It contains eight episodes from season 9 and is based on the episode of the same name.
Cover
The cover shows SpongeBob as his SpongeRobert alter-ego, confidently standing in the middle of the road with a grin on his face. Mr. Krabs and Squidward appear to look at him angrily and Patrick appears to be observing him while sipping on a drink. There are quite a few locations in Bikini Bottom shown in the background, which include the Krusty Krab, a lighthouse, SpongeBob's house, Squidward's Easter Island head, and a few Bottomite houses.
Episodes
Trivia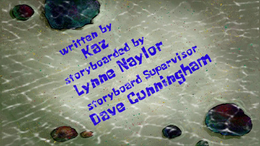 American TV airings of the episode "SpongeBob LongPants" have Kaz credited as his full name, Kaz Prapuolenis, in the opening credits, but the DVD version just credits him as Kaz.
Alternate covers
Community content is available under
CC-BY-SA
unless otherwise noted.