This is the page about
SpongeBob Goes Prehistoric
. If you were looking for the article about
the episode this DVD is based on
, then see
Ugh
.
SpongeBob Goes Prehistoric is a SpongeBob SquarePants DVD that contains two episodes from season 1, three episodes from season 2 and four episodes from season 3. It was released on March 9, 2004 and is based on the episode "Ugh."
Episodes
Special features
Video game demos
Reception
Ian Jane of DVD Talk and Zach B. of DVDLaunch praised the episodes featured on the DVD, but noted the lack of extras on it. The latter one said: "I'm not even sure if a demo should count this as an extra since it's more or less an advertising ploy to go out and get the game. [...] Maybe Paramount should start lowering the retail prices on these [DVDs]?".[1][2]
Trivia
This DVD contains previews for various shows. These include older SpongeBob DVDs and VHS tapes, The Adventures of Jimmy Neutron: Boy Genius DVDs and VHS tapes, Rugrats Go Wild, and The Wild Thornberrys Movie.
Advertisements in this DVD case are also advertisements for other Nickelodeon VHSs (also known as "videos") and DVDs for Jimmy Neutron: Sea of Trouble on VHS and DVD, SpongeBob: Tide and Seek on DVD, SpongeBob: Sea Stories on video and DVD, and SpongeBob: The Seascape Capers on video and DVD. On the other side is an ad for SpongeBob books.
This is the first SpongeBob DVD where the Nickelodeon logo is shortened to "Nick" on the front cover. On the VCD cover, the international covers, and the disc though, the full Nickelodeon logo remains.
This is the third DVD with a cover that's based off a special/double-length episode. The first is Tales from the Deep and the second is Christmas.
This DVD was re-released the Triple Pack 4 DVD along with Home Sweet Pineapple and Where's Gary? on June 2, 2015.
Errors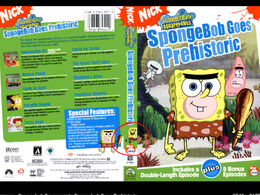 SpongeGar has two sleeves on the front of this DVD, while he only has one in the episode (on his left arm).

This also happens on the VHS cover.

SpongeBob in his "modern" appearance appears on the spine in place of SpongeGar.
Alternate covers
Videos
References
Community content is available under
CC-BY-SA
unless otherwise noted.