"SpongeBob Appreciation Day: Patchy's Beach Bash!" is a SpongeBob SquarePants episode, produced as a stand-alone special for season twelve. In this episode, Patchy and some of SpongeBob's biggest fans wash up on the island above Bikini Bottom to celebrate SpongeBob Appreciation Day.
Characters
The following characters appear in archive footage:
Production
The special was confirmed by DirecTV and Zap2it.
It was officially announced by Nickelodeon's on October 4, 2019, during their "SpongeBob Appreciation Day!" 20th anniversary panel at New York Comic-Con, where it was confirmed for a 2020 release.
Release
This episode is available on the Digital DVD with the same name.
Trivia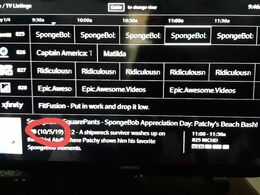 This special aired on January 4, 2020, but on the Nickelodeon TV schedule, it says October 5, 2019. The latter is when it was originally supposed to air.
This is the first special and first SpongeBob-related material to premiere in 2020 and the 2020s decade.
This is The Guy on the Penny's first appearance in a decade since "Truth or Square" in 2009.
In the theme song, the animation of SpongeBob rearranging himself is replaced by fan favorite clips from the series and the episodes show are:
The credits are played in the beginning clip on Bikini Atoll.
This was the first special not to credit Stephen Hillenburg.
Community content is available under
CC-BY-SA
unless otherwise noted.