"SpongeBob Appreciation Day: Patchy's Beach Bash!" is a SpongeBob SquarePants episode, produced as a stand-alone special for season 12. In this episode, Patchy and some of SpongeBob's biggest fans wash up on the island above Bikini Bottom to celebrate SpongeBob Appreciation Day.
Characters
The following characters appear in archive footage:
Production
The special was confirmed by DirecTV and Zap2it.
It was officially announced by Nickelodeon's on October 4, 2019, during their "SpongeBob Appreciation Day!" 20th anniversary panel at New York Comic-Con, where it was confirmed for a 2020 release.
Release
Videos
Trivia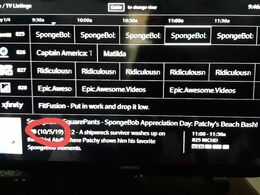 References