SpongeBob, You're Fired! is a SpongeBob SquarePants DVD that was released on April 29, 2014 and contains a total of four episodes from season 1, two episodes from season 2, two episodes from season 3, two episodes from season 5, two episodes from season 7, and two episodes from season 9.
It is based on the episode of the same name.
Episodes
International releases
Trivia
General
The Region 1/North American release does not feature the series' logo.
The DVD title contains a comma after SpongeBob's name and an exclamation point after "fired," unlike the title of the episode it is based on.
Most of the episodes on this DVD are related to SpongeBob's job at the Krusty Krab, except for "Wet Painters."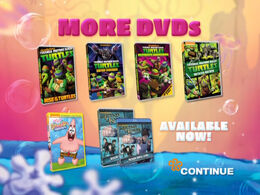 This DVD has no previews. Instead, it just shows a picture advertising DVDs of other Nickelodeon shows, such as the SpongeBob and Friends: Patrick SquarePants DVD, Teenage Mutant Ninja Turtles DVDs, and The Legend of Korra Book One: Air on DVD and Blu-ray.
Unlike all other DVD releases, the music score for "Employee of the Month" is left unchanged on this DVD.
In some countries, there is a version of this DVD that has the episodes "SpongeBob You're Fired," "Free Samples," "Karen 2.0," "For Here or to Go," "Chum Fricassee," "Move It or Lose It," and "Fiasco!"
This DVD is rated PG in the UK.
This is the first SpongeBob DVD to be rated PG in Australia for "mild coarse language."
This is the second DVD to include season 9 episodes. The first was Extreme Kah-Rah-Tay.
This is one of the only four DVDs where "Help Wanted" has a chapter number other than 1. The first three are 10 Happiest Moments and The Complete 3rd Season including it's 2012 re-release.
This DVD was released on iTunes on the same day as the DVD.
Unlike most SpongeBob DVDs, each episode on this disc is self-contained with the intro and credits attached to the beginning and end of each episode. The Nickelodeon logo is even at the start of each episode.
The 2014 Nickelodeon Productions logo has been added to the end of each episode.
Errors
On the episode selection screen and on the back of the DVD, "SpongeBob You're Fired" is incorrectly listed as "SpongeBob, You're Fired!," adding a comma and exclamation point to the title.

Although, that is the title of this DVD.

On the back of the DVD, there is a description that talks about the content on the DVD. However, in the DVD description, it mentions "a court case," but the episode it is referring to is not on this DVD. It also mentions "Squidward and SpongeBob's unemployment," referring to "Squid on Strike," which is also not on the DVD.
Although the Australian version has different episodes, it still has a picture of "Welcome to the Chum Bucket" on the back.
Alternate covers
Video
Digital media (V • E)
Themed
10 Happiest Moments • Absorbingly SpongeBob • Best of SpongeBob • Beware the Hooks • Bizarro Bikini Bottom • Bob Esponja Vol. 1 • Bundled Up in Bikini Bottom • Calling All Heroes! • Celebrate the Sea • Driving Bikini Bottom Crazy! • Extreme Kah-Rah-Tay • Factory Fresh • Fine Arts Collection • Friend or Foe? • From the Beginning, Part 1 • From the Beginning, Part 2 • Get to Work! • Ghouls Fools • Glumly Squidward • Heroes of Bikini Bottom • High Tides and Wild Rides • It's a SpongeBob Christmas! • It Came from Goo Lagoon • Laugh Pack • Loveable Sponge • Mermaid Man & Barnacle Boy: Defenders of the Deep • Mighty Sporting of You • On the Road • On the Road Again • Orange Collection • Patchy's Playlist • Patrick's Day • Patrick SquarePants • Rockin' Bikini Bottom • Sheldon Plankton: Mean and Green • Simply Patrick • Snail's Meow • SpongeBob's Atlantis SquarePantis • SpongeBob's Frozen Face-Off • SpongeBob's Pest of the West • SpongeBob SquarePants, iSponge Offer Pack • SpongeBob SquarePants Has Hit Rock Bottom • SpongeBob SquarePants Specials Collection, Vol. 1 • SpongeBob SquarePants Specials Collection, Vol. 2 • SpongeBob vs. The Big One • SpongeBob, You're Fired! • SpongeShorts • Spongicus • SpookTacular • Sportingly Sandy • Super Spongy Square Games • Sweet & Sour Squidward • Tales of a Teenage Whale • The Seascape Capers • The SpongeBob Musical: Live on Stage! • Viking-Sized Adventures
Season
The Complete 1st Season • The Complete First Season • The Complete 2nd Season • The Complete Second Season • The Complete 3rd Season • The Complete Third Season • The Complete Fourth Season • The Complete Fifth Season • The Complete Sixth Season • Complete Seventh Season • The Complete Eighth Season • The Complete Ninth Season • The Complete Tenth Season • The Complete Eleventh Season • The Complete Twelfth Season
Movies
The SpongeBob SquarePants Movie • The SpongeBob Movie: Sponge Out of Water • The SpongeBob Movie Double Pack • SpongeBob Double Feature • The SpongeBob SquarePants Double Feature
Nickelodeon Compilations
Holly Jolly Holiday Specials • Jolly Saint Nick • Nick-or-Treat! • Nickelodeon 5 Family Films • Nickelodeon Fool Proof Fun • Nickelodeon's Happy Holiday Pack • Nickelodeon Holly Jolly Holiday Specials • Nickelodeon Hot Picks! • Nickelodeon Kids Choice Awards 2009 • Nickelodeon Summer Pack 2009 • Shocktober! • Shocktober! Vol. 2
Miscellaneous
Season 6 Volume 5 • Season 7 Volume 1 • Season 7 Volume 2 • Season 7 Volume 3 • Season 7 Volume 4 • SpongeBob Schwammkopf, Staffel 8, Vol. 1 • SpongeBob Schwammkopf, Staffel 9, Vol. 1 • SpongeBob Schwammkopf, Staffel 9, Vol. 2 • SpongeBob Schwammkopf, Staffel 11, Vol. 1 • SpongeBob Schwammkopf, Staffel 11, Vol. 2 • SpongeBob Schwammkopf, Staffel 11, Vol. 3 • SpongeBob Schwammkopf, Staffel 11, Vol. 4 • The Tom Kenny Collection