Object
SpongeBob's pants are pants worn by SpongeBob SquarePants in almost every single episode, beginning with "Help Wanted."
Description
SpongeBob's pants are, as his surname implies, square pants worn by SpongeBob to fit the shape of his body. They are brown and contain a red tie in the middle, a black belt, and white clothing behind at the upper top with parts of them folded. In "Little Yellow Book," it is revealed that the pants are formed up of clothing - a white shirt, red tie, and black belt - hence the interchangeability of the terms "shirt" and "pants." Underneath them, he has been shown to wear an average white pair of underwear.
The pants are also inflatable. As the name implies, the pants inflate. They are the plot element of "The Sponge Who Could Fly." They also appear in the games Lights, Camera, Pants! and Dancin' Tentacles.
Role in series
SpongeBob's pants play a crucial role as a defining trait of his character, so much so that they are in his last name. The singing part of the theme song even begins with Hans putting them on SpongeBob after he walks out of his pineapple house in his underwear.
The first instance of his pants being a central theme of an episode is "The Sponge Who Could Fly," in which unknowingly inserting a hair dryer into them causes him to reach the sky and attain the ability to fly. Although he initially dreams of flying with the jellyfish in Jellyfish Fields, he becomes a superhero to the Bikini Bottomites, saving them in dangerous situations, though the constant requested assistance eventually annoys him and causes him to make a move to Jellyfish Fields to pursue his dreams. During the process, Canonball Jenkins flies through SpongeBob's pants and rips them apart, thus deflating them.
SpongeBob is shown to have a closet full of varieties of his pants, as seen in "A Day Without Tears" and "To SquarePants or Not to SquarePants."
Trivia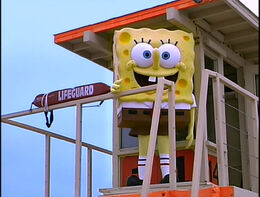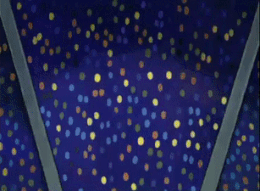 See also