Online game
SpongeBob's Jellyfishin' Game is a SpongeBob SquarePants online game. It is based on "Jellyfishing."
History
The game was developed by Adobe Shockwave and released in 1999. The game is no longer on the official Nickelodeon website, but it can be found in the data of the site,[1] along with other Adobe Shockwave games of SpongeBob SquarePants.

Walkthrough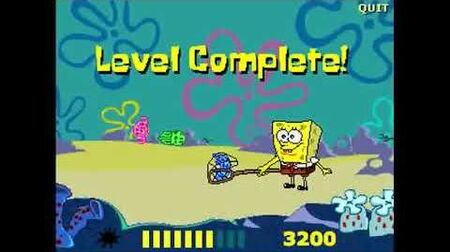 Trivia

At the time of release, the player would have received a free screensaver when they played the game.
The voice clips "Let's go!," "I think I've got it!," "It's the jellyfish!," and "Oh, ouchie!" are used from "Jellyfishing," while "Here, jellyfish!," "Oh, jelly!," "Aha!," and "I finally gotcha!" are from "Jellyfish Jam."
This is the first SpongeBob SquarePants online game to be based off an episode.
References
I can turn into a skyscraper!

This article is in need of expansion, but it is not a stub. You can help Encyclopedia SpongeBobia by adding more information. Please remove this template when done.