SpongeBob's Bubblegram Game is a SpongeBob SquarePants online game. It is based on "Bubblestand."
History
The game was developed by Adobe Shockwave and released in 2000. The game is no longer on the official Nickelodeon website,[1] but it can be found in the data of the site,[2] along with other Adobe Shockwave games of SpongeBob SquarePants.
Gameplay
Move the bubble that SpongeBob has made and send it to Patrick. Be careful, to avoid Squidward's music!! The game ends when you run into Squidward's music.
Characters
Playable
Non-playable
Walkthrough
Trivia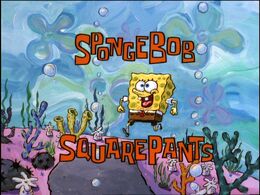 Part of the title screen is taken from the 1997 SpongeBob intro used in the original pilot version of "Help Wanted."[3][4]
Gallery
References