"Snowball Effect" is a SpongeBob SquarePants episode from season three. In this episode, SpongeBob and Patrick have a snowball fight and try to get Squidward to join in as well.
Characters
Synopsis
An iceberg travels across the surface of the ocean and stops over Bikini Atoll, causing it to snow underwater in Bikini Bottom. Everyone notices and starts to have fun in the snow, while SpongeBob and Patrick decide to have a snowball fight. Meanwhile, Squidward is relaxing at his house, sitting near a fire and drinking a hot cup of tea. He hears the sounds of SpongeBob and Patrick's snowfort building and tells them to quiet down. They try to convince him to come out and play with them, both trying to get him on their own side, but Squidward shoots both of them down.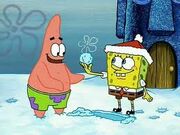 Squidward decides that, as entertainment, he will watch them fight, hoping they will get hurt. SpongeBob and Patrick realize that snowball fights are for children, and they sign a peace treaty. Squidward tries to convince them to continue for his entertainment, but repeatedly gets hit with a snowball by Patrick as a result. He then decides to throw a snowball and misses both of them. SpongeBob and Patrick then proceed to duck behind their fort and mercilessly begin to pelt Squidward with snowballs. Afterwards, a frustrated Squidward proceeds to throw a snowball and hits SpongeBob right in the face. He soon becomes exhilarated and begins relentlessly pelting SpongeBob and Patrick with more snowballs. After being hit by a snowball containing his clarinet, SpongeBob and Patrick decide that Squidward is taking the snowball fight far too seriously and sneak off.
When Squidward notices that the snowballs have "stopped falling," Squidward becomes paranoid and riled-up, realizes his fort is too small, and decides to make his fort bigger and eventually builds it to the size of a tower. Squidward continues to throw snowballs as an overhead tree branch keeps dropping snow on his head that he believes are snowballs being thrown by SpongeBob and Patrick. Meanwhile, the two of them relax in the pineapple, watching TV while drinking hot chocolate and eating popcorn.
Production
Deleted scene
There's a scene which shows Squidward entering the snowman dungeon which he made and yelling "I'll bring them to my snow dungeon and extract their valuable secrets." like mad. This scene couldn't past the storyboard.
Art
Music
( ‣ ) Associated production music

( • ) Original music

( ◦ ) SpongeBob music

 ‣ Wonderland of Snow - Terry Day [title card]
 ‣ America, A Dream Comes True - Gregor F. Narholz [opening]
 ‣ The Jolly Sleighride - Ib Glindemann [Bikini Bottom covered in snow]
 ‣ Danger Zone - Mike Sunderland ["This is serious, SpongeBob."]
 ‣ Harp Ding - Nicolas Carr ["Snowball fight?"]
 ‣ Vibe Q Sting - Nicolas Carr [Patrick trying to make a snowball]
 ‣ Battle Begins - Nicolas Carr [SpongeBob and Patrick glare at each other]
 ‣ Romantic Waltz - Geoffrey Herman [Squidward relaxing]
 ‣ The Merry March (a) - Paddy Kingsland [SpongeBob and Patrick building forts]
 ‣ Tomfoolery - David Snell [Patrick choking on snow]
 ‣ Comic Walk - Sidney Torch ["Snowball fights are for immature children."]
 ‣ Vibe Q Sting - Nicolas Carr ["Hmm..."]
 ‣ Tympup (a) - Sammy Burdson, John Charles Fiddy [SpongeBob and Patrick shake hands]
 ‣ Comic Walk - Sidney Torch [peace treaty]
 ‣ Twelfth Street Rag - Sage Guyton, Jeremy Wakefield [Squidward trying to start another snowball fight]
 ‣ Marshall Strength Link - David Snell [SpongeBob and Patrick throw snowballs at Squidward]
 ‣ Harp Ding - Nicolas Carr ["That was actually kind of exciting."]
 ‣ I Saw Three Ships 29 (c) - Richard A. Harvey ["I have never felt so live."]
 ‣ Earl's Revenge - Sage Guyton, Jeremy Wakefield [Squidward throwing snowballs]
 ‣ Vibe Sting - Nicolas Carr ["What's going on?"]
 ‣ Sponge Monger - Sage Guyton, Jeremy Wakefield [ending]

Reception
Release
Trivia
Cultural references
Errors