Character
Sluggo[1] Star [2] is Gary the Snail's father and Herb Star's brother, who is seen on the Starfish Minister's poster in the episode "Rule of Dumb."
Description
He is a small light purple slug with a light green underside. He has yellow eyes, and black pupils as well.
History
At the end of the episode, the elder starfish finds a coffee stain revealing Gary to be Sluggo's son, and the true and rightful king of Bikini Bottom.
Trivia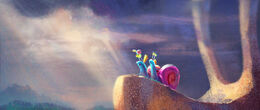 Given that the right to become King was passed to Gary, rather than Patrick, this means that Sluggo is the older brother of Herb.
Concept art from a scrapped storyline of The SpongeBob Movie: Sponge on the Run showcase that Gary originated from another planet with very different parents. It's unknown if Gary's father on the concept art is Sluggo or another character.
References