"Shell of a Man" is a SpongeBob SquarePants episode from season 4. In this episode, Mr. Krabs molts and loses his shell just before meeting up with his Navy Buddies so SpongeBob takes his place.
Characters
Synopsis
At the Krusty Krab, SpongeBob is in the middle of making a Krabby Patty, and when he is finished, he cries as he gives it to Squidward so that he can give it to customer number 5. The customer is revealed to be SpongeBob, who grabs the order, and eats it. Meanwhile, outside the Krusty Krab, Mr. Krabs calls SpongeBob into his "Hidey Hole" under the dumpster, where he keeps his belongings from when he was in the Navy in a treasure chest.
After taking the chest into his office, Mr. Krabs tells SpongeBob about his days as "Armor Abs Krabs", the nickname he was given due to his tough armor. He explains that that night, he is having a Navy reunion and is going to see all his tough and manly Navy buddies. Afterwards, SpongeBob leaves the office, but suddenly Mr. Krabs let out a wail of despair. Walking back into the office, he finds Mr. Krabs' shell, completely empty, and finds Mr. Krabs himself, naked and squishy.
Mr. Krabs explains he grew too big for his shell and molted, and is now in despair because he no longer looks tough or manly, looking "pink and soft". After a little bit of slapstick, SpongeBob accidentally launches into Mr. Krabs' shell, which gives Mr. Krabs an idea: for SpongeBob to impersonate him at the reunion, as SpongeBob can also do a convincing impression of his voice.
Later, at the reunion, SpongeBob initially puts on a convincing performance, but goes onstage to accept his "Trophy of Manly Toughness." He tells a story of him jellyfishing in Jellyfish Fields, and nearly reveals his true identity, before Mr. Krabs tells him to get offstage.
He attempts to leave, but Torpedo Belly insists that he body-slam him to test if he still has "armor abs." When he punches SpongeBob, he flies around the room, cracking the shell and revealing SpongeBob. They get angry, but the real Mr. Krabs emerges from the bush that he had been watching from and reveals himself. He begins to walk away in shame, until Muttonchop gives him back his trophy, saying that revealing his condition was the manliest thing anyone could ever do, and revealing that they have all had unmanly secrets as well: Muttonchop's sideburns are fake, Torpedo Belly had his torpedo removed long ago after his retirement from the Navy, Lockjaw Jones lost his Navy choppers and now has to wear dentures, and Iron Eye's eye is actually made of Formica.
As the episode closes with Mr. Krabs walking away with SpongeBob, he says "Yeah, poor suckers. At least my shell will grow back!" and they both start laughing.
Production
Music
( ‣ ) Production music

( • ) Original music

( ◦ ) SpongeBob music

 ‣ When Daylight Shines Captain Lenoe's - The Folk Players [Title card]
 • Snare Drum Suspense - Nicolas Carr [SpongeBob preparing the Krabby Patty]
 ‣ Ta-ra A - Sammy Burdson, John Charles Fiddy ["Perfection!"]
 ‣ Lonely Violin - Dick Stephen Walter [SpongeBob cries]
 • Flextone Sting - Nicolas Carr ["That's me!"]
 • Steel Licks 10 - Jeremy Wakefield [SpongeBob eats the Krabby Patty]
 • ? Vibes - Nicolas Carr ["Hello, what's this?"]
 ‣ Towerstreet 17 [#6] - Gerhard Narholz [Krabs' hidey-hole]
 ‣ Heavenly Voices (B) - David Farnon [choir]
 • Mystery Chime - Nicolas Carr [Krabs' navy stuff is shown]
 ‣ The Tip Top Polka/The Cliff Polka - Chelmsford Folk Band [Krabs' navy stuff/"Ok, maybe I'm a bit bigger. But I'm still the toughest of the tough."]
 ‣ Captain Lenoe's - The Folk Players ["Now be a good lad and go get your station in ship shape."]
 ‣ Unknown Track 3 - ? ["Aye aye, sir!"]
 ‣ Astronauts March - Sam Spence ["All right, let's get this place ship-shape!"]
 ‣ Danger Zone - Mike Sunderland ["Mr. Krabs. Mr. Krabs?"/SpongeBob sniffs Mr. Krabs' arm.]
 ‣ Against The Law (B) - Wilfred William Burns [Krabs hiding behind a barrel]
 ‣ Lonely Heart's Club A - David Bell, Otto Sieben ["It's true. I've molted."]
 ‣ Up She Rises - Sam Spence ["You're acting like there never was a man in that shell."]
 ‣ Lonely Heart's Club A - David Bell, Otto Sieben [Krabs kicks his shell]
 ‣ Drama Link (B) - Hubert Clifford [SpongeBob screams]
 • Grass Skirt Chase - Sage Guyton, Jeremy Wakefield [shell lands on SpongeBob's head]
 • Harp! - Nicolas Carr ["SpongeBob, you're a genius!"]
 • Lap Steel - Nicolas Carr ["I get to be a Navy Buddy?"]
 ‣ Brahms Lullaby - Curtis Frederick Schwartz [wallet in bed]
 ‣ When Daylight Shines/Captain Lenoe's - The Folk Players [at the reunion/"What do you say, Krabs? Just like old times."]
 • Percussion Announcement - Nicolas Carr [drum roll]
 ‣ What Shall We Do with the Drunken Sailor? - Okko Bekker [trophy awarded to Krabs]
 ‣ Finders Creepers - Paddy Kingsland [SpongeBob's speech]
 • Steel Sting - Jeremy Wakefield ["Huh?"]
 ‣ Towerstreet 17 [#24] - Gerhard Narholz ["Where do you think you're going?!"]
 • Showdown Tension - Nicolas Carr ["Let's have at it."]
 ‣ Towerstreet 17 [#17] - Gerhard Narholz [body slam]
 • Steel Licks 1 - Jeremy Wakefield [Krabs' shell breaks apart, revealing SpongeBob]
 ‣ Dramatic Impact (3) - Ivor Slaney [everyone gasps]
 ‣ Fates [#61] - Gregor F. Narholz ["This is who I am."/"C'mon, lad, let's go home."]
 ‣ The Dreadnought Tea Clipper (B) - Tim Laycock, Robert Alexander White ["I don't understand."]
 ‣ Tales From The Swamp (C) - Ron Goodwin [fake sideburns]
 ‣ Blow The Man Down - Brian Peters ["I had my torpedo removed long ago."]
 ‣ The Twin Sisters - Chelmsford Folk Band [ending]

Release
This episode is available on the Fear of a Krabby Patty DVD and VHS, Bob Esponja Vol. 1, Season 4 Volume 1, Absorbingly SpongeBob, First 100 Episodes, Really Big Box Set, The Ultimate SpongeBob Box Set, SpongeBob SquarePants Vol. 5, Complete Fourth Season, Nautical Nonsense, Treasures of the Sea, From the Beginning, Part 2, SpongeBob SquarePants: Volume 1, The SpongeBob SquarePants Collection, The SpongeBob SquarePants 8 Season DVD Collection, Favorite Episodes Volume 2, 2-Season TV Pack, The Third & Fourth Seasons, and The Best 200 Episodes Ever DVDs.
Reception
Trivia
General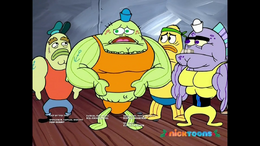 During production, this episode was originally titled "Molting." The case for the screener version of the Fear of a Krabby Patty VHS uses this title. American television broadcasts from 2019 onward also list the title as "Molting" in the on-screen credits.
At the beginning, when SpongeBob and Squidward talk in their usual work positions, the Krusty Krab through the window alternates from the outer walls and windows seen through the window to simple yellow, orange, and black paint.
It is revealed that Mr. Krabs has a hiding hole under the dumpster behind the Krusty Krab.
Mr. Krabs was known as Armor Abs Krabs in the navy.
Lockjaw Jones offers SpongeBob grog, a watered-down form of rum.
A yellow version of Reg from "No Weenies Allowed" can be seen at the Navy reunion. A purple version of the fish who says, "I ain't calling you for dinner" from the same episode can also be seen.
This along with its sister episode both end with SpongeBob and Mr. Krabs laughing.
This is the first episode for two things:
This is the second episode to have crabs on the title card. The first was "Krusty Love."
Foreshadowing: While at the reunion, Torpedo Belly does not have the torpedo in his chest like he did in the photo, foreshadowing the ending where the Navy Buddies are revealed to have dark secrets like Mr. Krabs.
This was the last episode until "Lost in Bikini Bottom" to credit storyboard artists in the opening credits. That is why this is the only episode in which Brad Vandergrift's name is seen in the opening credits.
In the Polish dub, this episode is called "Zmiana skorupy," which translates to "Changing the Shell."
In the French dub, this episode is called "Les Gars de la Marine," which translates to "The Guys of the Navy."
In the German dub, the episode is called "Harte Schale, weicher Kern," which translates to "Hard Shell, Soft Core."
During the Best Day Ever marathon, this episode was paired with "Squirrel Jokes."[5]
Errors
Number 5's Krabby Patty looks different in both shots.
When Mr. Krabs shows SpongeBob his navy treasures, the left flag with the white and blue triangles keeps rotating.
Mr. Krabs does not have his nose after he molts, and his shell does not have it either.

Also, before Mr. Krabs molts, his eyelids are red. But after he molts, they are pink.

SpongeBob is nearly as tall as Mr. Krabs' shell, but when Iron Eye punches him in the gut, he bounces around inside, making him appear very small in comparison to the shell.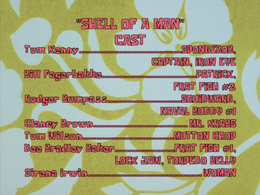 In the end credits of this episode, Lockjaw Jones' name is misspelled as "Lock Jaw" instead of "Lockjaw."

Also, in the end credits, Patrick is listed, even though he is neither seen nor heard in this episode.
References
Emmy Awards

Primetime Emmy Awards
Outstanding Animated Program (for Programming Less Than One Hour)
Nominees: Sean Dempsey, Derek Drymon, Juli Murphy Hashiguchi, Sam Henderson, Stephen Hillenburg, Jay Lender, Mark O'Hare, Kent Osborne, Alan Smart, Paul Tibbitt, Tom Yasumi (for "New Student Starfish"/"Clams," 2003) • Derek Drymon, Juli Murphy Hashiguchi, Stephen Hillenburg, Kent Osborne, Andrew Overtoom, Alan Smart, Paul Tibbitt (for "Ugh," 2004) • Mike Bell, C.H. Greenblatt, Stephen Hillenburg, Alan Smart, Paul Tibbitt, Vincent Waller, Tom Yasumi (for "Fear of a Krabby Patty"/"Shell of a Man," 2005) • Casey Alexander, Luke Brookshier, Stephen Hillenburg, Tom King, Dani Michaeli, Chris Mitchell, Andrew Overtoom, Alan Smart, Paul Tibbitt and Tom Yasumi (for "Bummer Vacation"/"Wigstruck," 2007) • Steven Banks, Charlie Bean, Stephen Hillenburg, Dani Michaeli, Chris Reccardi, Alan Smart, Aaron Springer, Paul Tibbitt, Tom Yasumi (for "The Inmates of Summer"/"The Two Faces of Squidward," 2008)

Outstanding Special Class - Short-Format Animated Programs
Nominees: Dina Buteyn, Stephen Hillenburg, Dani Michaeli, Alan Smart, Aaron Springer, Paul Tibbitt and Tom Yasumi (for "Dear Vikings," 2009)

Outstanding Short-format Animated Program
Nominees: Luke Brookshier, Dina Buteyn, Nate Cash, Stephen Hillenburg, Doug Lawrence, Andrew Overtoom, Alan Smart and Paul Tibbitt (for "That Sinking Feeling," 2011) • Marc Ceccarelli, Stephen Hillenburg, Kyle McCulloch, Jennie Monica, Jack Pendarvis, Alan Smart, Paul Tibbitt, Vincent Waller, Tom Yasumi (for "Company Picnic," 2016) • Luke Brookshier, Marc Ceccarelli, Stephen Hillenburg, Jennie Monica, Adam Paloian, Alan Smart, Vincent Waller, Tom Yasumi (for "Plankton Paranoia," 2019)

---
Daytime Emmy Awards
Outstanding Directing in an Animated Program
Directors: Andrew Overtoom, Andrea Romano, Alan Smart and Tom Yasumi (2010) • Casey Alexander, Luke Brookshier, Nate Cash, Zeus Cervas, Sean Charmatz, Andrew Overtoom, Andrea Romano, Alan Smart, Aaron Springer, Paul Tibbitt, Vincent Waller and Tom Yasumi (2012)
Outstanding Special Class Animated Program
Animators: Dina Buteyn, Stephen Hillenburg and Paul Tibbitt (2010)

Outstanding Children's Animated Program
Nominees: Stephen Hillenburg, Jennie Monica Hammond and Paul Tibbitt (2012) • Stephen Hillenburg, Marc Ceccarelli, Vincent Waller and Jennie Monica (2018)

Outstanding Performer in an Animated Program
Voice actors: Rodger Bumpass as Squidward Tentacles (2012) • Tom Kenny as SpongeBob SquarePants (2018) • Tom Kenny as SpongeBob SquarePants (2020)

Outstanding Sound Editing – Animation
Nominees: Todd Brodie, Nicolas Carr, Mishelle Fordham, Chris Gresham, Matt Hall, Jeffrey Hutchins, James Lifton, Paulette Lifton, D.J. Lynch, Aran Tanchum and Kimberlee Vanek (2012) • Mishelle Fordham, Vincent Guisetti, Jeffrey Hutchins, James Lifton, Paulette Lifton, D.J. Lynch, Wes Otis, Monique Reymond and Aran Tanchum (2013) • Devon Bowman, Nicolas Carr, Mishelle Fordham, Jeff Hutchins, Aran Tanchum and Vincent Guisetti (2014)

Outstanding Sound Mixing for an Animated Program
Nominees: D.J. Lynch, Justin Brinsfield, Ryan Greene, Manny Grijalva, Jeff Hutchins and Aran Tanchum (2020)