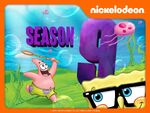 On January 3, 2011, Nickelodeon ordered 26 episodes for a ninth season, to bring the number of episodes up to 204 and pass the 200-episode milestone. Season 9 aired on July 21, 2012 with the episodes "Extreme Spots" and "Squirrel Record". This season marks the show's transition to HD by now having every episode produced in widescreen (16:9), the native aspect ratio of high definition.
Title card
#
Title
U.S. airdate
U.S. viewers

(millions)

179a
"Extreme Spots"
July 21, 2012
SpongeBob and Patrick are dying to join Johnny Krill's extreme sports team.

179b
"Squirrel Record"
July 21, 2012
Sandy tries to break a number of world records.

180a
"Patrick-Man!"
October 27, 2012
Patrick becomes a superhero and plans to clean up Bikini Bottom.

180b
"Gary's New Toy"
October 14, 2012
SpongeBob must take drastic measures when Gary becomes obsessed with his new red ball.

181a
"License to Milkshake"
September 7, 2012
SpongeBob returns to the milk-shake academy after discovering his milk-shake license has expired.

181b
"Squid Baby"
September 3, 2012
A head injury makes Squidward thinks he's a baby, and SpongeBob and Patrick must look after him.

182a
"Little Yellow Book"
TBA
Squidward finds SpongeBob's diary and reads in front of everyone in the Krusty Krab.

182b
"Bumper to Bumper"
November 17, 2012
SpongeBob once again fails at his boating test, but has gone too far this time.
[[File:|70px|center]]
'
"Eek, An Urchin!"
October 27, 2012
The Krusty Krab Krew have a problem on their hands when SpongeBob finds an urchin.

183b
"Squid Defense"
January 18, 2013
After Squidward's groceries are stolen, SpongeBob and Sandy teach him karate to protect himself.

184a
"Jailbreak!"
Early next year
Plankton is in jail, but he teams up with his cellmate to break out and steal the Krabby Patty formula!

186a
"Safe Deposit Krabs"
Early next year
Mr. Krabs has become part of Bikini Bottoms new bank! It's going to be up to SpongeBob and Patrick to save him.
[[File:|70px|center]]
'
"It Came From Goo Lagoon"
Early next year
A giant mucus bubble has formed over Goo Lagoon and in a desperate bid to get rid of it, ends up over all of Bikini Bottom! Note:Double Episode

184b
"Evil Spatula"
Early next year
SpongeBob takes evasive action and decides to replace his spatula! Plankton gives him a new one and SpongeBob starts to believe it's magic.

186b
"Plankton's Pet"
Early next year
After another failed attempt for the formula, Plankton decides that he wants a pet to help him instead of Karen.
Community content is available under
CC-BY-SA
unless otherwise noted.