Season 6 Volume 2 is a SpongeBob SquarePants DVD box set that was released on December 7, 2010 and contains the last 23 episodes from season 6.
Episodes
Disc 1
Disc 2
Shorts
Special features
Music videos
Specials
Trivia
The first disc includes previews of other Nickelodeon DVDs. These include older SpongeBob DVDs, Teenage Mutant Ninja Turtles: Turtles Forever DVD, and Avatar: The Last Airbender DVDs.
"The Clash of Triton" is counted as a double-length episode.
The following disc covers are based on these episodes:
This is so far the last volume-season DVD for the main series in North America.
This is the last SpongeBob season DVD in North America to have artwork on the discs.
The Thai cover for this DVD has many differences from the North American cover.

On the Thai cover, it has a pink background and bubbles rather than flowers and has the crying face SpongeBob made from "Karate Choppers."
Errors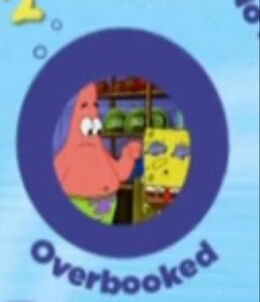 In the episode selection on disc 2, the image for "Overbooked" is not from that episode. The image is actually from "Porous Pockets."
In the closed captioning version of "The Card," when SpongeBob says, "Dear Neptune!" while freaking out about Patrick possibly putting the #54 card in his pocket, the closed-captioning says, "Damn, Neptune!"
Alternate covers
Video