| | |
| --- | --- |
| | "I can't hear you! It's too dark in here!" |
"We're not getting paid to clean stuff!"

This article is in need of cleanup in order to comply with Encyclopedia SpongeBobia's Manual of Style. Please help this Wiki by making this article clean and tidy!
Please remove this message when finished.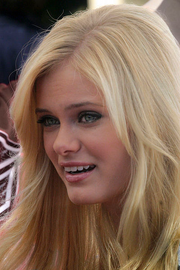 Sara Paxton (born April 25, 1988) was a cast member in the first two seasons of the show. She mostly did the voices of characters who were very young, such as teenagers and children. Her characters include the little girl who wanted some front teeth in "Christmas Who?" and the mean girl dressed as a witch from Scaredy Pants. Sara's most recognized role on the show was doing the voice of Monroe Timmy the little boy with the helicopter hat.
Biography
She started acting very young, appearing in several 1997 and 1998 movies like "Soldier", "Durango Kids", and "Perfect Game". She made her first lead role in the 2001 children's movie "The Ruby Princess Runs Away" as the Princess Jessica. She also appeared in small roles in popular kid movies "Hounded" and "Haunted Lighthouse", and guest starred in TV shows such as "Lizzie McGuire", "CSI: Crime Scene Investigation", "Malcolm In The Middle", and "Panel One". She was a series regular on the shows "Greetings From Tuscon", "Skater Boys", and "Quintuplets", all of which lasted one season. However, she gained extreme popularity when she starred in the lead role of the Discovery Kids show "Darcy's Wild Life" as spoiled princess Darcy Fields, whose actress mother forces her to live on a farm. She also starred as the villain Stacy in the teen hit "Sleepover", and was noticed for playing teenage alcoholic Sally on the drama "Summerland". She got even more popular as appearing as the lead in the 2005 teen comedy "Aquamarine", in which she played a mermaid who tries to find true love on land. In 2007 she starred in the fourth of the "Halloweentown" series, replacing Kimberly J. Brown as Marnie Piper. Sara did all her own stunts, including jumping from a balcony onto a broomstick. Sara appeared in her first dramatic role in the Lifetime original movie "The Party Never Stops", in which she played a promising track runner who becomes addicted to binge drinking. She played the villain again in the modern adaptation of Snow White in "Sydney White", as Rachel. She was acclaimed for her role. She appeared as the leading lady Jill in the parody film "Superhero Movie", and is due to appear as the lead in the upcoming horror film "The Last House On The Left", a remake of the 1973 film.